When restaurants began shuttering in March of 2020 due to the COVID-19 pandemic, 5 million U.S. servers, cooks, bussers and managers lost their jobs, not knowing if they would ever return. The mass exodus grew to a high of 14 million. Two years later, one million of them say they won't return.
The restaurant industry is undergoing a massive movement to overhaul practices that pre-date the pandemic. Those practices stretch back to days of plantation slavery and a Jim Crow system that has kept many restaurant workers – especially women of color – in some of the lowest-paying jobs in the country, while denying them opportunities for advancement.
Many industries have rebounded but the restaurant industry is still struggling to operate at full capacity.
"The restaurant upheaval is emerging as one of the few silver linings of the COVID-19 pandemic," says Saru Jayaraman, president of One Fair Wage and director of the Food Labor Research Center at the University of California, Berkeley. "It is an opportunity to eliminate race and gender inequities in the restaurant industry."
The service sector is one of the largest and fastest-growing sectors of the United States economy and one of the largest employers of women and people of color. It is also the lowest paying sector. Restaurant workers are twice as likely to need food stamps as the rest of the U.S. workforce, and three times as likely to live in poverty.
Prior to the pandemic, 99% of all restaurant owners paid tipped workers a subminimum wage of $2.13 plus tips – a wage that hasn't changed in 30 years. Just seven states require the same minimum wage as non-tipped workers.
Jayaraman is working hard to change that. "The great resignation represents the day that restaurant workers stood up for themselves, challenging the long-held story that higher wages would cause businesses to fail and put employees out of work," she says. "We now have a major opportunity to right what is wrong with the restaurant industry."
For the first time since Emancipation, thousands of restaurant owners are willing to raise wages and strive for equity in their hiring practices. One Fair Wage – a national organization that works to raise wages and improve working conditions in the service sector – wants that to be the new standard for restaurants across the country.
The restaurant industry's wage and labor structure stretches back to Emancipation, when freed enslaved people were paid next to nothing to work and held the lowest paying positions at the "back of the house."
Restaurant owners created the tipping system to avoid paying newly freed enslaved people any wages. Most restaurants today employ the same basic system. They pay their tipped workers a subminimum wage of $2.13 per hour, forcing them to rely on highly variable tips for the bulk of their income.
The restaurant workforce is 70% women – disproportionately women of color, who work in casual restaurants and earn less income than their non-Hispanic White counterparts.
During the pandemic, all restaurant workers saw their tips decline, but it was worse for BIPOC workers. A survey conducted by One Fair Wage indicates that implicit bias played a significant role. The 2021 survey found that 84% of Black workers were tipped less when trying to enforce COVID-19 protocols, compared to 70% of all tipped workers.
In the historical plantation model, formerly enslaved people were relegated to less visible, lower paying "back of the house" positions, ensuring the continuation of white supremacy. Today, while people of color struggle with poverty wages in both the 'front' and 'back' of house in casual restaurants, where most people work, in fine dining restaurants, most workers of color are concentrated in lower paying kitchen positions and fewer hold dining room positions.
Jayaraman says the time to change practices is now. COVID-19 pushed workers to stand up for themselves, and the historic COVID-19 staffing crisis has prompted thousands of restaurants nationwide to raise wages voluntarily.
"The most important thing we can do is get rid of these antiquated structures and, at the same time, provide upward mobility," says Jayaraman.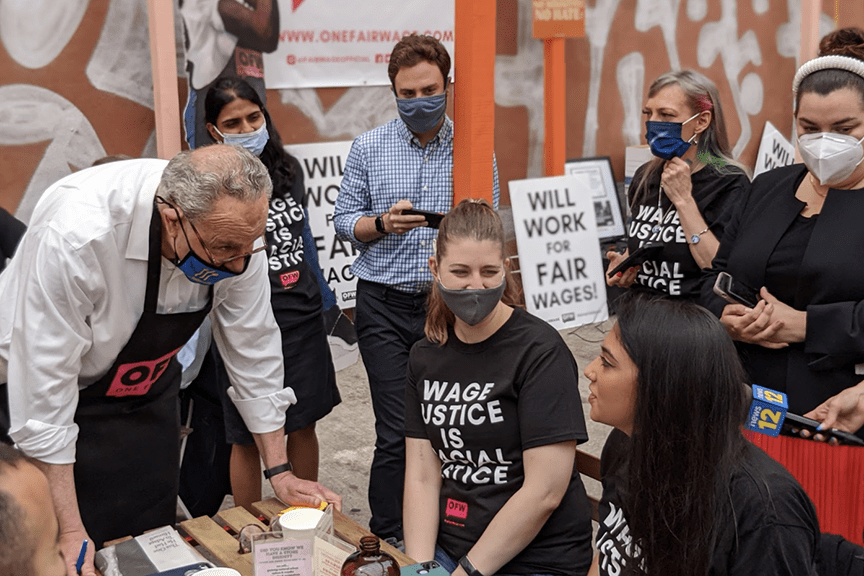 Ending the Subminimum Wage
One Fair Wage equips restaurant owners to racially desegregate their restaurants and profitably end the practice of paying tipped workers a subminimum wage. Pre-pandemic, 800 organizations sought help in creating a more equitable workplace. That number is now 2,500 and climbing.
In 2020, One Fair Wage partnered with elected officials from six states to launch High Road Kitchens (HRK), a program to help restaurant owners survive the pandemic on one condition: that they increase wages and racial and gender equity.
The initiative mobilized $7 million in public and private resources to help 300 restaurants raise wages and increase equity for 7,500 workers. HRK is demonstrating that the changes are good for business. As one restaurateur said, "It's the way of the future, right?"
Full-service restaurants have found it easier to retain employees in states that pay tipped workers a full minimum wage. Restaurant workers in California and Nevada earn a minimum wage of $13 and $8.25 an hour before tips, and those two states have seen the fastest restaurant industry employment growth.
As a finalist in the W.K. Kellogg Foundation's Racial Equity 2030 challenge, One Fair Wage plans to scale its HRK initiative nationally, delivering the dignity and equity that has so long eluded the country's millions of restaurant workers.
Over the next eight years, One Fair Wage will expand its HRK initiative to support and train 8,000 restaurant owners in five states to recruit and retain quality staff, increase wages, and establish equitable practices, all while improving their bottom-line profits. This will improve the lives of 200,000 workers, especially women of color. A Texas woman who worked at Applebee's for $2.13 an hour recently said, "I am worth more than $2 and I refuse to go back to that."
The bold initiative aims to:
Spur 20,000 workers and 1,000 employers to champion policy changes to end the subminimum wage for tipped workers in up to three states;
Ensure that 1 million workers in up to three states are paid a full, livable wage with tips on top;
Support 3,000 independent restaurant employers to raise wages and increase race and gender equity;
Encourage 5,000 additional independent restaurants to act based on the success of their peers;
Generate extensive media coverage to advance policy change at both the state and federal level; and demonstrate to thousands of employers the benefit of raising wages and creating racial and gender equity.
"In any other profession, you measure your success by your pay and whether or not you have the opportunity to move up," says Jayaraman. Most restaurants have failed to deliver that. "This is the epitome of what's been happening in our country for the haves and have nots."