As a young Black woman growing up on the West Side of Chicago, Meyiya Coleman knows the challenges teens face every day they walk down a street in their neighborhood or into a school hall. She's felt the anxiety and the resignation. She knows loss.
But that's not the story she wants to tell. Coleman wants to talk about how she became a resilient survivor, working to address the racism and community trauma that surrounds so many teens, negatively impacting their mental health. She wants teens to know that they too have the power to pursue change and heal in the process.
Coleman discovered her power when she was around eight years old, the day her cousin was shot at a local gas station. Her grandmother said, "that's enough," and pushed her to get involved with community activism. Through her journey, Coleman's grandmother brought her to Communities United, a survivor-led racial justice organization in Chicago.
"I never knew how many people were going through the same things as me," remembers Coleman. "It was healing just to hear all of these people sharing their different traumas, whether they were talking about the gun violence or losing a family member or being raped or being bullied, just different things like that." Today, Coleman uses her voice and lived experience in her role as Healing Through Justice Trainer at Communities United.
For more than a decade, Communities United (CU) has helped youth embrace their lived experience, identify the social injustices they see in their communities and use their voices and firsthand knowledge to advocate for change.
"The young people in our city, they're really hurting,' says Laqueanda Reneau, coordinator of CU's Survivors Alliance for Healing and Justice. "These issues have been in our community for a long time." Neighborhoods in the south and west sections of Chicago suffer from a lack of investment, and teens have few mental health resources to help them.
Reneau says that when tragedy strikes, teens try to brush it off as a common occurrence, thinking, "Oh yeah, somebody else got shot." It's the only way they think they can cope and handle whatever comes at them next.
"But it hurts. It still hurts," says Reneau. "People in our community need to be able to deal with these issues in a healthier way. Talking about these issues, not just covering them up, and knowing we can talk to people of power, that creates a process of healing for us."
As part of the W.K. Kellogg Foundation's Racial Equity 2030 challenge, Communities United has partnered with the Ann and Robert H. Lurie Children's Hospital of Chicago (LCH) to reshape Chicago's mental health system with an emphasis on purpose through an initiative they've aptly named Healing Through Justice.
Across the United States, the percentage of teens reporting poor mental health has risen significantly. Between 2009 and 2019, the percentage of teens who reported having "persistent feelings of sadness or hopelessness" rose from 26% to 37%. In 2021, it climbed to 44%, causing U.S. Surgeon General Vivek Murthy to issue a rare public health advisory on teen mental health. 
While the COVID-19 pandemic clearly had a significant impact on the mental health of adolescent students, the number of teens experiencing anxiety and depression was on the rise long before that.
For many Black and Brown teens, mental health is compounded by decades of community trauma based in systemic racism. Research shows that systemic racism profoundly impacts an individual's mental health and the well-being of their community. 
The current mental health system focuses on reacting to mental health problems after they become crises rather than addressing the racism at the root of those problems. Emergency room visits, school interventions and child welfare and juvenile justice systems don't address the individuals' distress or need to heal. 
Black and Brown youth are also barraged by false and racist narratives that undermine their identity, humanity and ability to lead, regardless of the reality. These narratives paint them as victims of racial trauma, instead of the resilient, strong people they are.
"Some of our therapeutic environments are hostile to youth of color," says Dr. John T. Walkup, M.D., who is chair of the Pritzker Department of Psychiatry and Behavioral Health at Lurie Children's Hospital. "They don't really appreciate them and their challenges and their strengths."
Leaders in health systems have long acknowledged that racism and trauma have a cumulative impact on the overall health of families and communities that stretches across generations. Despite this, health systems continue to focus on individual treatment when providing mental health services, says Walkup. 
"What we're learning together is that we can do a lot of therapy for trauma, or we can really get young people actively engaged in addressing the social justice issues that have affected their lives," says Walkup. "As they get more active in those issues, they heal themselves, and they heal their communities."
Coleman remembers attending a city council meeting to speak to the negative impact of policing in the schools. "I didn't have any medicine even though I was going through depression and anxiety," says Coleman. "But talking to those aldermen [city council representatives] about a lot of the things that were needed in my community excited me. It was so healing to tell my story and not have someone else paint their narrative of what they wanted my story to be."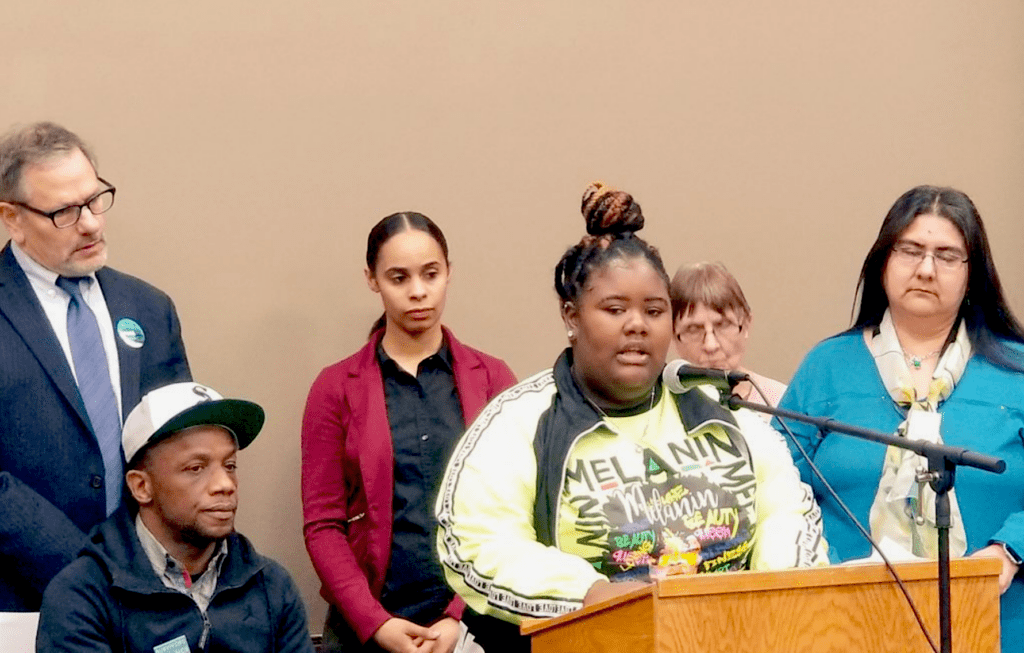 Healing Through Justice is an extension of the work that CU and LCH have done together for more than a decade. They work closely with youth leaders to create systems that are racially just and accountable to the communities that they serve. With Healing Through Justice, they are focused on creating a new healing-centered approach to mental wellness.
Youth leadership and action will be the driving force behind Healing Through Justice. The initiative will pursue three overarching strategies: youth leadership and healing, community engagement and leadership, and healing-centered mental health. 
For example, Healing Through Justice will launch a Youth Leadership Institute to:
Train 120 Youth Fellows in personal narrative creation, skill-building, advocacy and reflection. 

Engage another 4,000 young leaders to drive neighborhood engagement and communitywide healing,

And Youth Fellows will help shape mental health and wellness strategies.
To create a new sustainable healing-centered ecosystem led by community members, Healing Through Justice will guide six core community and health partners to develop strategies for community healing and systems change. This will include convening learning labs and annual training sessions for adult allies and systems leaders. Youth leadership will also lead systems transformation within LCH and the broader health system. 
By 2030, Healing Through Justice will greatly expand its reach beyond the 20,000 families in CU's current network. 
"Coming from a neighborhood that is predominantly Black and has all this gun violence and different things I saw at a young age, you know that this is something that needs to be changed," says Coleman. "It starts with myself, and after it starts with me, we need to make sure we have 100 more of me who can change systems and make them better."
Recognizing the value of Coleman's lived experience, the Vital Village Networks at Boston Medical Center recently invited Coleman and the Healing Through Justice executive director to be on their steering committee. 
"They're watching our work and they want to change their systems to make them better," says Coleman. She knows she has a valued perspective to give them. "I am a proud African American woman. This work is healing for me. It has changed my life."