This workplace transformation guide considers the state of racial equity, diversity and inclusion (REDI) for the investment management industry and shares insights, actions, common pitfalls and examples from leading organizations that are part of the Expanding Equity (EE) program network.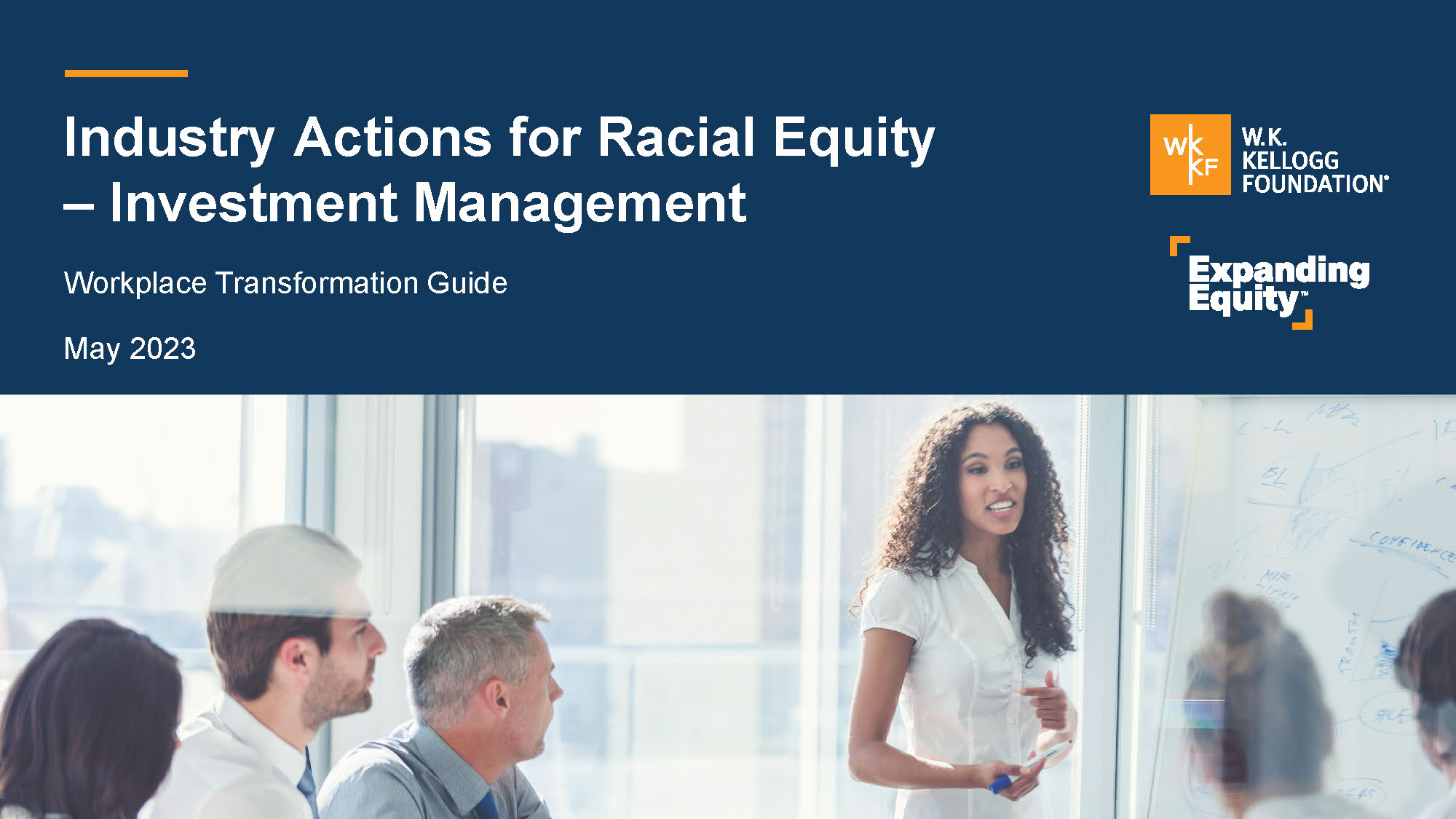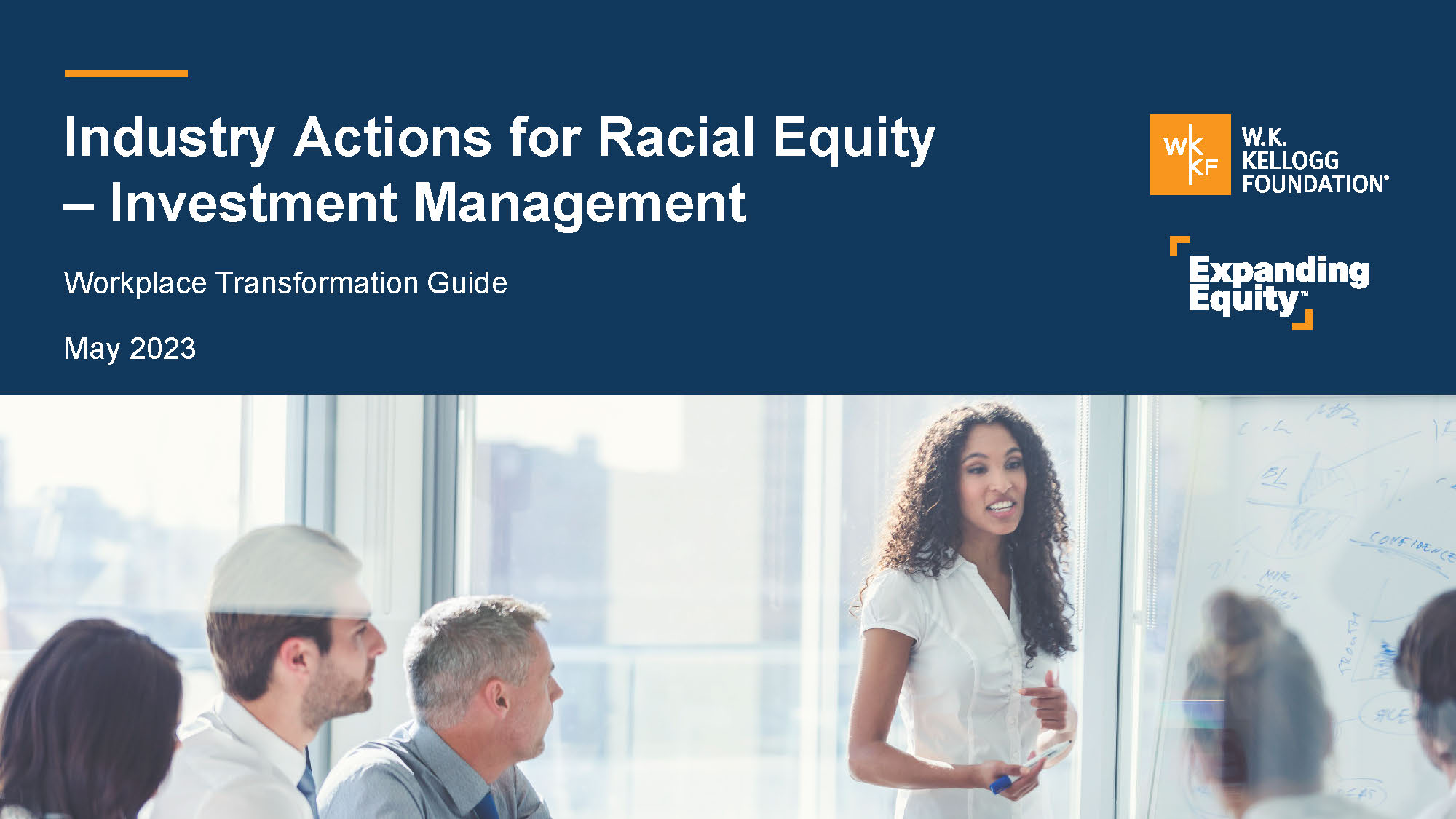 The guide recommends actions companies can take, organized by the four pillars – or areas of opportunity – of the EE program, where the investment management industry can advance REDI, including a mini-case study from a peer company:
Attract – Attracting and hiring professionals of color into the company to increase representation at all levels of the organization

Case study from Värde Partners on creating entry-level pathways

Belong – Ensuring that all professionals, regardless of racial/ethnic group identity, feel respected and can be successful

Case study from KKR on launching an inclusion network and expanding an Inclusion & Diversity Council

Promote – Ensuring that professionals of color feel supported and have the same advancement opportunities as White professionals​

Case study from BlackRock on implementing a sponsorship program for Black and Latinx managing directors and directors

Influence – Advancing racial equity through an organization's products, services or relationships in the industries and communities in which it operates

Case study from Vista Equity Partners on launching an external board program to source diverse board candidates for its portfolio companies
Why This Guidebook Matters
This guide will help leaders:
Understand the current research and the state of REDI in the investment management industry
Learn and gain inspiration from industry peers on what they are doing to attract diverse candidates, increase inclusion and belonging, promote and develop employees and ultimately advance REDI through products, services and relationships
Strengthen leadership skills and practices for advancing REDI and transforming company culture
Perspectives from Our Investments Team
We invited members of the Kellogg Foundation's investments team to share what they hope readers will consider in the guide:
"As investment professionals, we often look for patterns, trends and rely on historical data as input into our decision-making process. Developing a diverse and inclusive culture, however, is not a simple quantitative exercise. There's no clever rule, or model to back-test, that will deliver on the values and beliefs of our organizations. The Workplace Transformation Guide is no magic formula, but the four pillars for racial equity strategy do provide a roadmap that organizations of every size can leverage to transform your culture in ways that attract and retain the best talent, and foster an environment that enables every individual an opportunity to thrive."
"Advancing racial equity in investment management starts with each one of us. It is one of the best opportunities in our careers to increase organizational effectiveness, improve employee experiences and create a sense of belonging. The workplace transformation guide shares proven methods to start, maintain and further REDI efforts in our industry."
"It takes more than having the will to leverage a diverse and inclusive work environment to improve firm performance with fewer blind spots; it also takes skill. The Workplace Transformation Guide provides the blueprint for developing the skills in the four pillars needed to effectively sustain a diverse and inclusive culture for your organization."
"This guide has essential research and recommendations. When we consider the gaps that exist in the industry, many of us are looking for a workable roadmap for taking action to advance racial equity, diversity and inclusion. The organizational peer journeys and data included in the four case studies emphasize how taking REDI action raises productivity, purpose and profitability."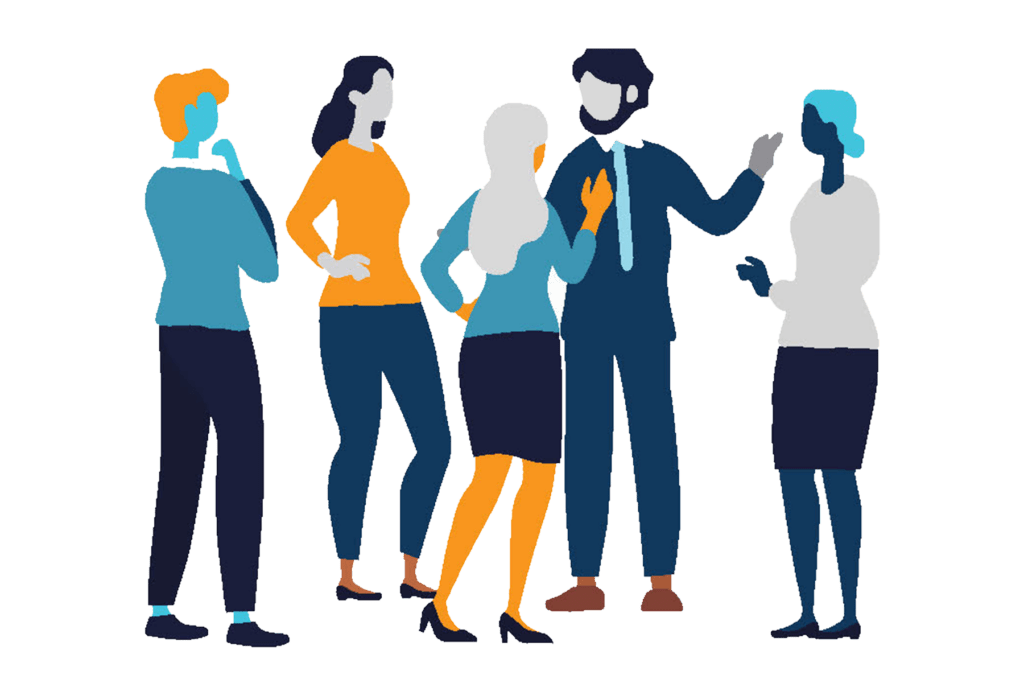 Watch a special LinkedIn Live conversation about report
Sign up to receive emails with more Expanding Equity resources, guidebooks and toolkits to support your organization's racial equity, diversity and inclusion efforts.