This post is also available in: Español (Spanish) Kreyòl (Haitian Creole)
My Name: Nichelle Lee Gilbert, Lee is important because my father was Tommy Lee Gilbert– an offering of his own name to his baby girl. He also named me after Nichelle Nichols, Captain Uhura. Nichols was the first African American woman to play a lead role on television and my father believed I would accomplish many firsts.
ANYTHING Tricia Hersey PERIODT Honor, Love, Trust, Respect BLACK WOMEN! #thenapministry #napbishop
Connection with community and building relationships. I believe that when you sit in relationship, in storytelling with community, you not only learn more about them, you learn more about yourself. It is through relationships that closeness and similarities are discovered and unwrapped. You realize that your experience, your struggle, your rise aligns to one another. I feel a profound calling to deepen those connections, as we strive toward systems-level change. 
What does racial equity mean to you?
The soundness of mind to understand that race is a social construct, it is a fabrication meant to oppress entire groups of people, assigning different meaning and value. The lens to approach dismantling white supremacy as a multi-racial coalition owning that power and leadership are within us, and together we rise. It means bold and difficult strides, self-examination and narrative shifting that places communities of color at the helm of the change they articulate for themselves and their families. It means radical self-love and root work, accountability and discomfort and the audacity to burn down what does not serve us. 
"We work alongside community – community are the drivers of change and effectively advocates on its own behalf," says Nichelle Lee Gilbert, associate director for Partnership for Community Action (PCA). "Community are the true experts when it comes to knowing what they and their families need to thrive."
Still, the voices of many New Mexico families all too often go unheard in the conversations that affect them the most and that's why PCA's mission to build community power is so important. "It is that power, those deep relationships and stories that guide this work, and what's happening here is an integration of supports …," says Gilbert. These supports she describes is what PCA offers as two-generational for both children and parents, where parents can access job training, business resources and policy information, while their children receive high-quality, dual language early childhood education.
PCA has spent 30 years building power in communities, connecting families to leadership and advocacy opportunities that support policy and system levels change. PCA focuses on critical community issues like education, economic sustainability, health equity and immigrant rights.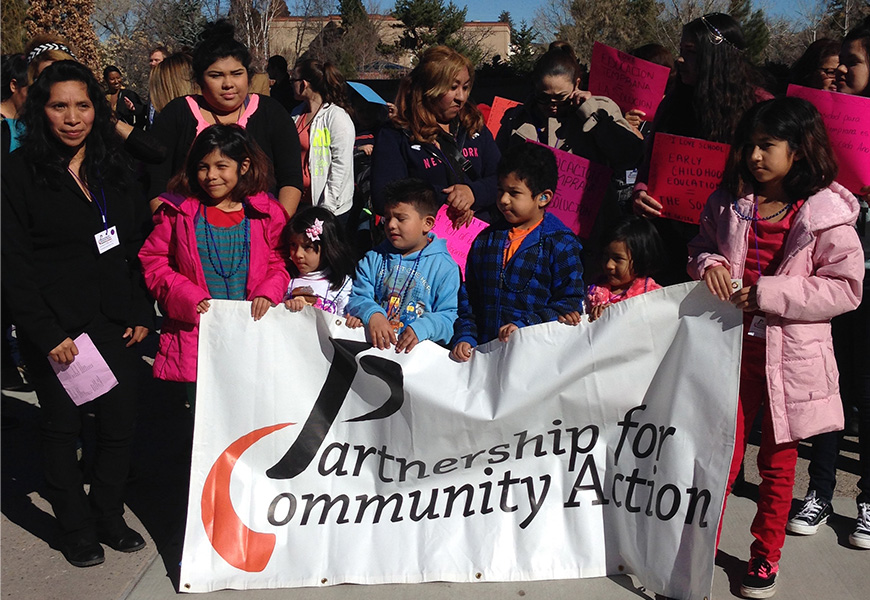 As a biracial woman, Gilbert's voice, leadership and core values are an intricate part of PCA's work. From her very first day, she felt that she was seen, heard and valued. Now for Gilbert, PCA is home.
"I remember Javier, our executive director, saying to me, 'we want to hear your perspective and strategic concepts for economic empowerment for women – all people, all families – especially for people of color.' I feel emboldened to share my story and my ideas," Gilbert shares.
An economic dream for community, centered on their own beliefs and values
One of PCA's most recent projects is a two-acre commercial campus with a 17,000 square foot facility that will house the Social Enterprise Center in Albuquerque's South Valley. Staff at PCA and Southwest Creations Collaborative call this economic development project their "liberation project."
"It's a restorative economic project with catalytic power," says Gilbert.
In 2015, PCA envisioned a redevelopment project centered on racial equity in Albuquerque's South Valley, a community that has been divested from for generations. Through thoughtful and intentional community engagement with local residents, the idea of the Social Enterprise Center (SEC) was born with support from the W.K. Kellogg Foundation and multiple public/private partnerships.
"Understanding that investments in human capital are critical to economic prosperity, we see this project as a place of racial healing and transformation in terms of developing economic and human capital. We knew the concrete slab and steel frame would not capture the magic, energy and economic liberation that was going happen on the inside and that's what drove our perseverance to see this community development project through during some very difficult times throughout the COVID-19 pandemic."
Gilbert goes on to explain that when the doors open in early 2022, the beliefs and values of community will be etched into the building.
The Social Enterprise Center will feature:
Textile manufacturing facility – Southwest Creations Collaborative – an all women directed and employed business that produces ornate pillows, bedding and clothing for national companies such as West Elm and Clarion, as well as local businesses like Ten Thousand Waves
Family/community training center
Business center and educational support services (banking, cooperative capital loans) for low-income families
High-quality dual-language early learning center (phase two)
Healthy food-based business (phase two)
Creating a place where families can come together to innovate, work and grow
A community-conceived social enterprise model, projected to employ 70 or more people on a family-friendly campus in the heart of the South Valley, will no doubt transform an entire community and ideas about what community economic support models can do for New Mexico and around the country.
Estimated annual economic impact from new job creation
Estimated annual economic impact from total project
With PCA's efforts, the potential employment impact over the next nine years for the region includes:
Learn more about the project from the leaders themselves.