This content is also available in: Español (Spanish) Kreyòl (Haitian Creole)
In Albuquerque, New Mexico, at Southwest Creations Collaborative's (SCC) 10,000-square-foot industrial building, a social enterprise group of 36 successful entrepreneurs — a culturally diverse mix of women, some of whom are immigrants — are busy designing and sewing protective gear for frontline workers across the state. Their goal is producing thousands of protective masks and gowns to keep first responders and health providers safe during the coronavirus pandemic.
Only a few weeks earlier, their focus was creating and producing ornate pillows and beautiful robes for commercial sale. That shifted rapidly in response to the public health crisis. Now, with steady precision, the women are producing washable protective face masks and safety gowns from medical-grade material. Susan Matteucci, SCC's executive director and one of eight founders, says that adaptive spirit is characteristic of the organization's entrepreneurs and their dedication to families and communities.
"Today, we are very fortunate to be a small part of taking care of community in this unprecedented moment," Matteucci says. "The beauty of the local community interconnectedness, a diverse group of people with the same values of helping people is what gives me, actually all of us, hope during these uncertain times."
Founded in 1994 in a parish hall, Southwest Creations Collaborative (SCC) started with a mission to alleviate poverty by creating cross-generational economic and educational opportunity through contract design and sewing. Today SCC is considered essential business because of its work as a supplier for longtime, valued partner Clariant, a manufacturer of desiccant gel packets to preserve products for shipping containers and pharmaceutical companies.
Responding to the COVID-19 crisis
Southwest Creations Collaborative's quick redirection in response to COVID-19 stemmed from a conversation with Victoria Tafoya, program officer for the W.K. Kellogg Foundation. Mindful of the shortages of protective gear for frontline workers, Tafoya was determined to find an organization that might help.
"Southwest Creations Collaborative immediately came to mind," she says, "not only because of their talent and commitment to community, but because of their strong mission to build economic and educational opportunity for women across generations. I just knew they would generate a solution to meet the demand, because our community depended on it."
Within minutes, Tafoya was introducing Chief Greg Perez of the Bernalillo County Fire Department to Matteucci and Southwest Creations Collaborative (SCC) which led to immediately developing solutions — and the start of this community-rooted partnership.
While the prosperous women of SCC were protected from the economic fallout, they were also protected by masks and social distancing measures in place prior to COVID-19. Still working every day, their production is up to 4,200 masks per week. Although Matteucci says the output hasn't come without hiccups. 
"Our biggest challenge now is elastic sourcing as literally everyone in the world is trying to find huge quantities available immediately," she says. "We are working diligently to fulfill all requests that come in within our staffing and materials limitations."
Even so, SCC has already produced more than 8,000 masks and 1,000 gowns for the Bernalillo County Department of Emergency Management to distribute to first responders, transit workers, daycare providers, sanitation workers and many more people serving the public throughout the county and Albuquerque metro area. And since SCC employees are essential workers during this time, they also receive masks for their families to ensure safety as they continue to produce protective equipment.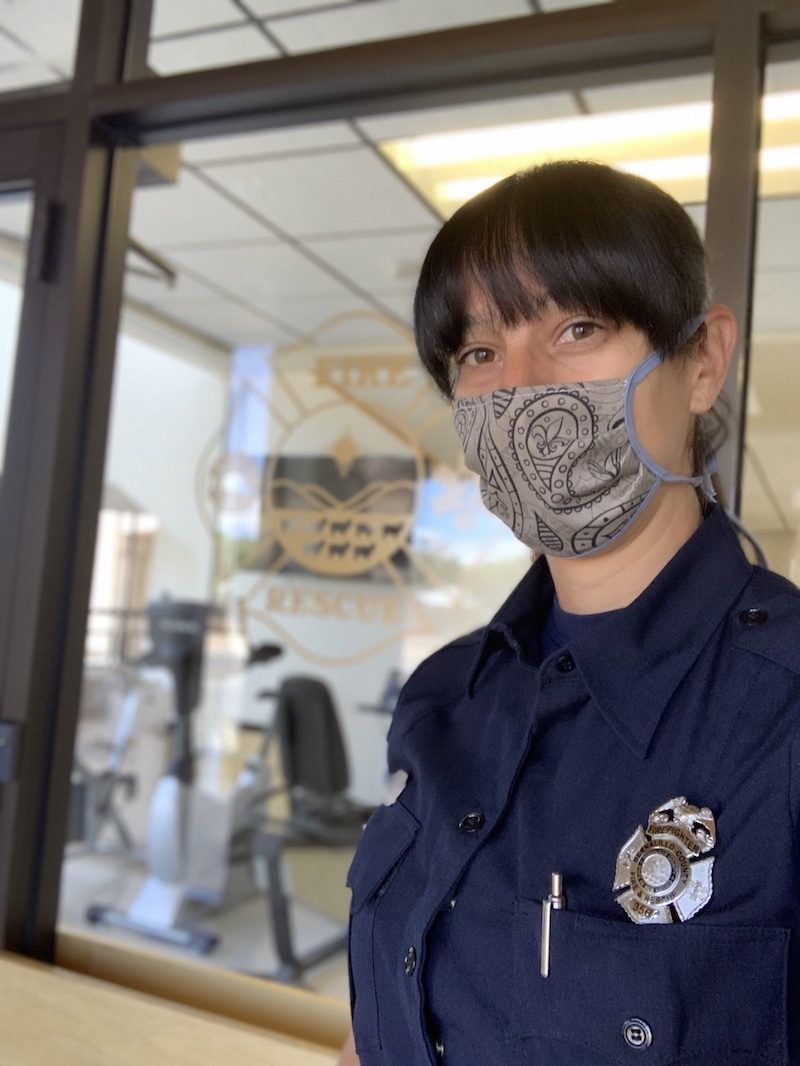 Decades of industry and service
Diana Camacho started working for the Southwest Creations Collaborative 26 years ago when it was still in the San Jose parish hall, and her children grew up in SCC's child care. "I love this place," she says. "The commitment we have to each other and the community is so important to us. We have an opportunity to help people right now – we come in every day knowing that we have a responsibility to them."
Camacho is part of the dynamic group of 36 women entrepreneurs who have been paving the path for future generations to overcome racial disparities, and the economic and health obstacles that most face. As they know firsthand, the path for women of color is not an easy one.
Sewing together offers a chance for them to share brave stories — for some, migration to the U.S. and for others, integration into policies and systems that were challenging. Stories may differ but what they share is a commitment to overcome together. Their collective intelligence and savvy business skills shine through in their successful, holistic, family-centered entrepreneurship model.
Developing and implementing two-generation strategies in early childhood development, employability, college readiness, and leadership, SCC also uses social entrepreneurship and popular education to address the root causes related to poverty in their community.
Using these proven strategies, today their community collaboration is responding to COVID-19 protection needs for the heroes in their communities.
To the frontline workers, though, the women of SCC are the heroes.