Creativity, expression and the written word provided a catalyst for reflection on the harmful effects of racism during a National Day of Racial Healing event in Mississippi. Approximately 50 people gathered at the Mississippi Museum of Art in Jackson for a multi-generational experience. Writer and MacArthur Genius Kiese Laymon offered the keynote via Zoom, and storytellers Talamieka Brice and Aurielle Marie shared insights during a panel discussion.
The evening began with dinner and small group conversation guided by Jackson's Black Youth Project. The youth arranged art supplies in the center of each dinner table and offered conversation prompts on a screen, sparking connective moments for attendees to get better acquainted. The prompts included questions such as "How do you define safety?" and "What activities do you participate in that you consider healing?"
In a one-on-one conversation guided by the prompts, Sharon Miles, an actress and performer who drove 90 miles from Hattiesburg to attend, said, "To be with artists means to be in safety. Artists create safe space to have difficult conversations."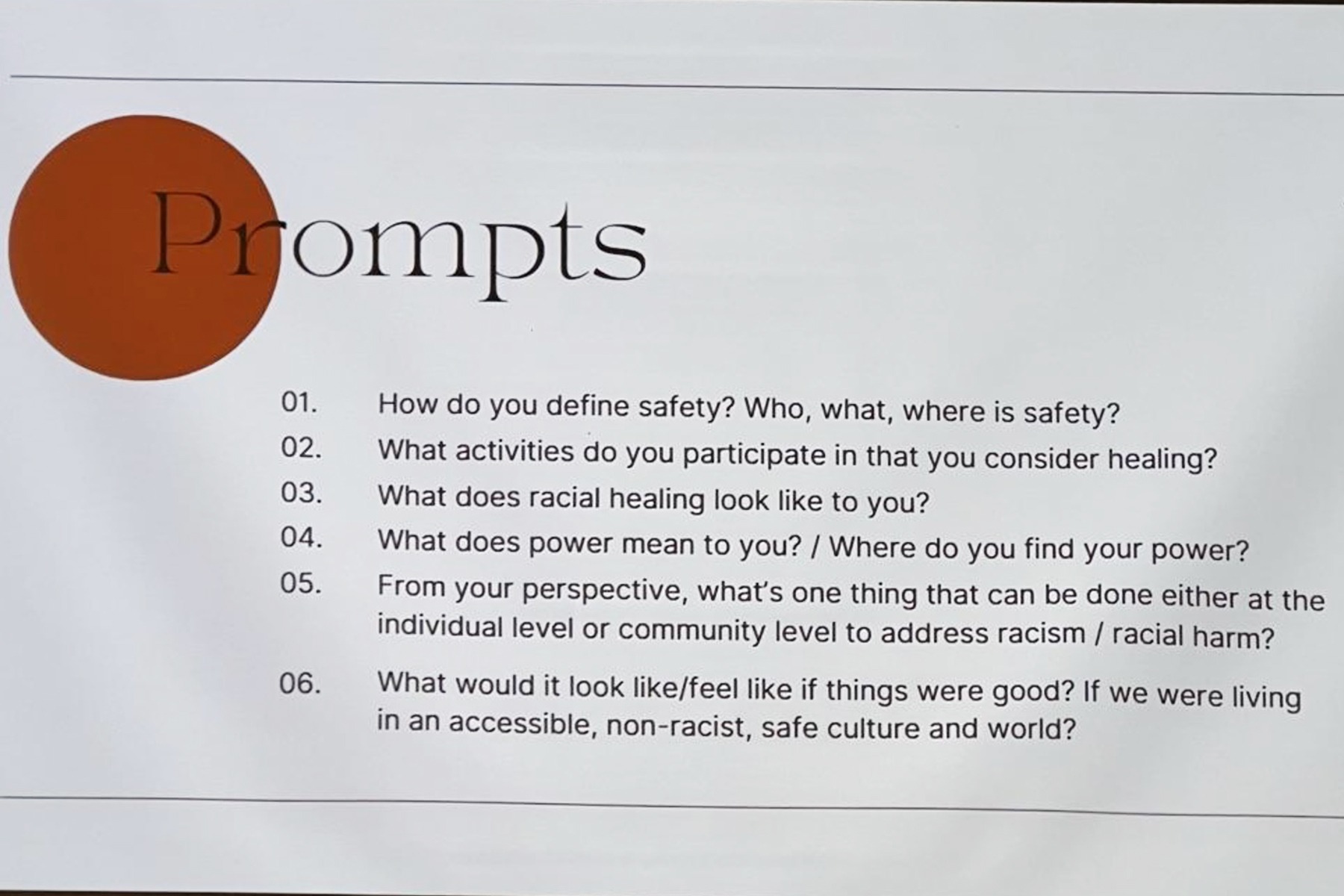 Miles described the role of art in her own racial healing as a Black woman. "I learned through art how traumatic racism was for me. You can walk around and not know what you carry, not recognize what you need to process or what scars you have." She explained that resonant pieces of art or music, or powerful performances, cause unconscious feelings and past experiences to surface into consciousness so they can be acknowledged and addressed.  
Miles' description of the healing power of art echoed the hopes of the event hosts. Von Gordon, executive director of the Alluvial Collective and co-host and emcee for the evening, shared a similar sentiment: "I think of James Baldwin, who through his writings made us see so much. Gordon Parks, through his lens, showed us the horror of systems and everyday struggles more than conversation ever could."
Portia Espy, president and CEO of the Mississippi Urban League, invited Alluvial Collective and the Mississippi Museum of Art to co-host the event. She sees art as a means to spark dialogue. "When you look at art, in a gallery or an art appreciation class, people will ask you: what do you see? Like the Mona Lisa: why do you think she is smiling? Is she smiling or not? What's the story? It's amazing to see how many perspectives you get looking at the same piece."
During the formal program, conversation turned toward the role of Southern Black artists in healing themselves, their ancestors and everyone who comes in contact with their creations.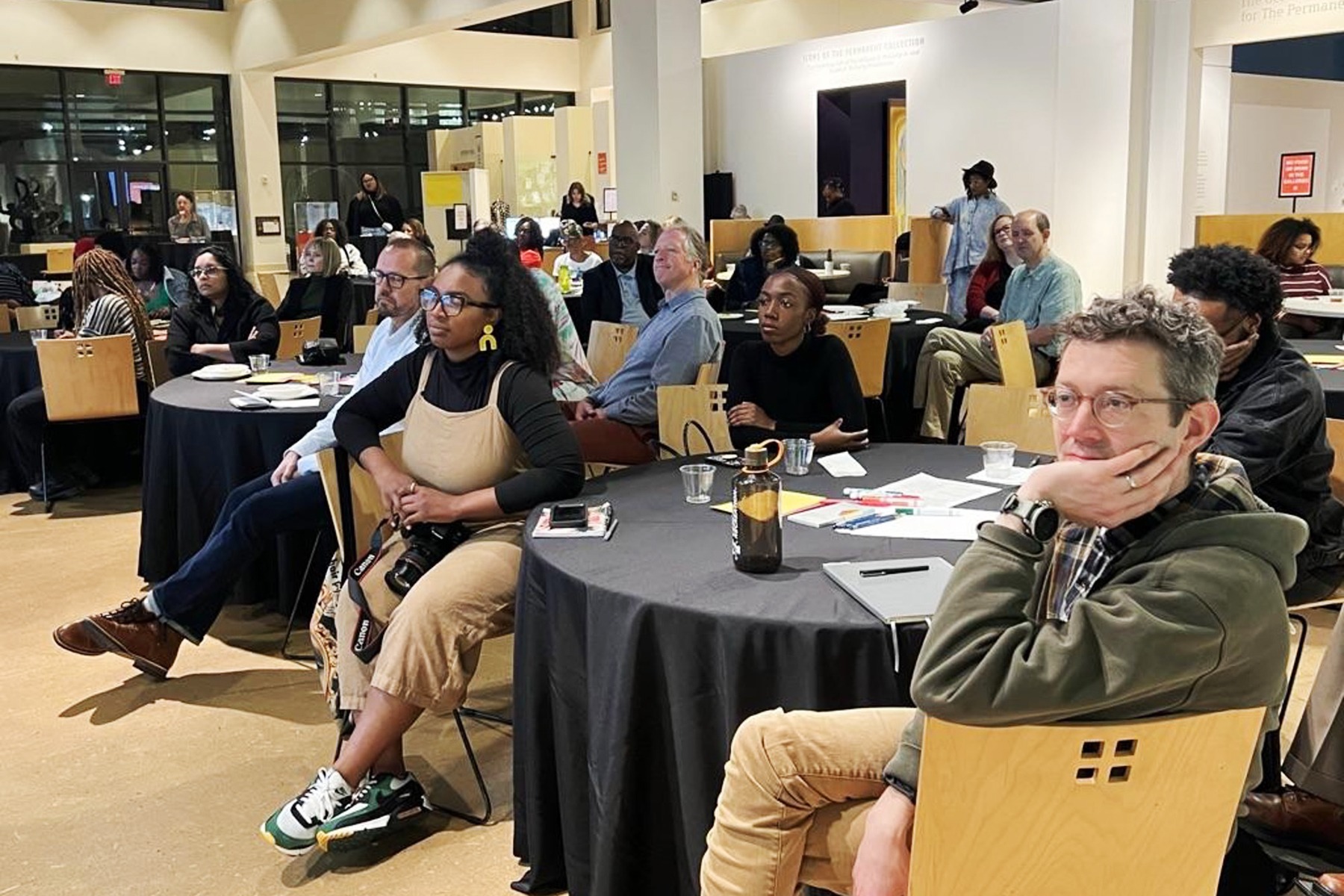 Aurielle Marie, award-winning poet, essayist, cultural strategist and author of the poetry collection Gumbo Ya Ya, said, "I love the South. It's where my grandmother taught me to sew. It is the best cooking. As the South goes, so does the Union. We come from a rich legacy of defying oppressive power and building community along the way. There is something special about being so close to America's original sin, to the site of so much trauma and so much healing."
"Art is the road to freedom," said fellow panelist Talamieka Brice, award-winning photographer and documentary filmmaker. "My ancestors were listed as objects on the slave master's ledger. But they were here, and they mattered. Art is what I need in order to say 'I was here and I mattered.'"
Kiese Laymon closed the evening with a personal account of his healing journey through the art of writing, starting with his childhood in Jackson to being named a MacArthur genius in 2022. Laymon's novel Long Division won the 2022 NAACP Image Award for fiction, while his essay collection How to Slowly Kill Yourself and Others in America was named a notable book in 2021 by the New York TImes. 
Laymon described his hometown, Jackson, as a community of genius: "I was never the most genius person in my neighborhood or in my home – that was my mom. Whatever awards someone lets me get, I am always committed to the place that made me."
He went on to recount the harm and humiliation imposed on him through interpersonal and structural racism, including teachers who told him he would never amount to anything. Art and writing became his refuge.  
Laymon closed by issuing a challenge to his fellow Mississipians, saying the talent of his family members and neighbors originated from the harm and humiliation of racism. 
"I survived the destruction by writing about the destruction. But what if [instead of harm and humiliation] we really supported the visions of our young people, what kind of genius could come from them?" he said.
The healing power of gathering
The healing power of conversation
The healing power of truth and action
The healing power of story