This post is also available in: Español (Spanish) Kreyòl (Haitian Creole)
In 2014, just 15.5% of Battle Creek's children were ready for kindergarten. By 2020, that rate has more than doubled to 39.2%.
Improvement on that scale doesn't happen by accident. In Battle Creek, it's the result of a decade-long collaborative focus involving organizations across the early childhood education and care spectrum – all committed to improving outcomes for children in the city. And if you ask partners today where that commitment started, they'd point to the data.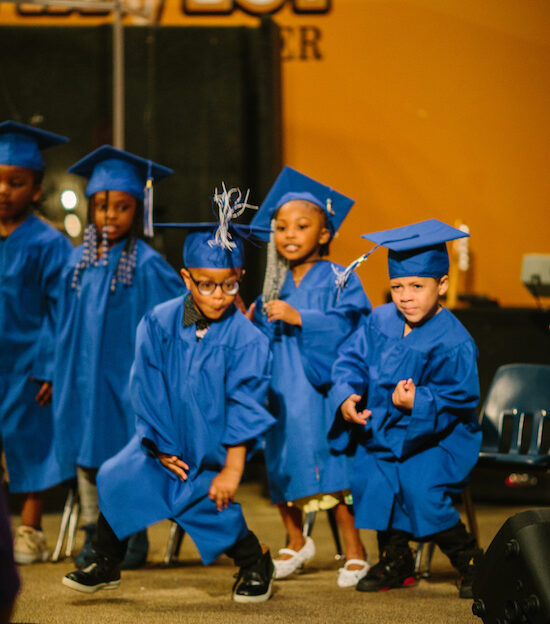 "Sharing data is an important initial step," says Dr. Chandra Youngblood, director of elementary education for Battle Creek Public Schools (BCPS). "You realize your shared fate. …It's about our whole community and all of our kids."
In 2010, the W.K. Kellogg Foundation funded the Early Development Instrument (EDI) to gather and centralize data about five key domains of young children's lives in Battle Creek.
The numbers helped local partners discover another barrier they needed to overcome.
"There was no infrastructure in place to utilize the data," says Kathy Szenda Wilson, co-executive director of BC Pulse. "It was a challenge to take everything that was there and know what to do with it … no one entity could take that data and figure out how to mobilize it. It was like drinking from a firehose."
BC Pulse, a project of the W.E. Upjohn Institute for Employment Research, was created in 2012 and took the lead on making sense of the data and drawing together community groups and leaders to consider it.
"Understanding those root causes is really important – the why behind everything – that's essential to be able to start developing strategies," says Maria Ortiz Borden, co-executive director of BC Pulse. "We brought in parents and leaders to think through how we're engaging families and then listened to them about why some of these things are happening in our community."
Moving forward to co-develop solutions wasn't always easy, partners admit, but they knew they had a responsibility to work together for children in the city.
"At this point, we can't unsee the data," says Erika Burkhardt, assistant superintendent for Early Childhood Services at the Calhoun Intermediate School District (CISD). "Once we dug into the data and saw the problems and needs that exist, we built relationships and trust with each other in order to move forward."
Tough conversations led to revelations.
"We realized the right people weren't always at the table," says Kathleen Moore, executive director of Battle Creek Shared Services Alliance. "Making sure we have the right folks from the community – not just speaking for the community – enabled us to affect change."
Bringing new people to the table required partners to be flexible and willing to change as they learned more.
"We adjusted our practices to meet the needs not only of the children but to be more productive for ourselves," Youngblood says. "That's a trust factor. We can do what we need to do in a more streamlined fashion."
The full community represented and served
EDI data showed that Battle Creek's children were not being served equitably. Neighborhoods with the poorest residents and most residents of color had the least access to quality early childhood education and care. In some neighborhoods, residents had no access to quality child care or education at all.
Battle Creek's early childhood partners made tackling these "child care deserts" a top priority.
"We've been able to bring more and more partners into the group," says Michelle Williamson, CEO of Community Action Agency of South Central Michigan. "Everyone has had their niche to inform the system and help it move forward."
Where there were gaps, partners helped build new entities. Harvest Learning Center, founded by Pastor Ivan Lee of New Harvest Christian Center, is one new addition.
"The support from this group has been critical," says Pastor Lee. "Without it, our program that just started out brand new just two years back – it wouldn't have been possible. Getting that support without a lot of push-back or rejection was very inspiring as well. That's not the case in a lot of other industries or fields."
"Pastor Lee nailed it," says Dr. Nkechy Ekere Ezeh, founder and CEO of Early Learning Neighborhood Collaborative, an organization founded in Grand Rapids that has expanded into a partnership with New Level Sports Ministries in Battle Creek to serve new communities in the city – especially communities of color. "Having BC Pulse and the other partners involved helped me, as a transplant, come into Battle Creek and co-lead some work. The relationships they have built are amazing. When I came in everybody was looking at how to literally make room at the table."
Battle Creek's children working toward continued success
Although partners say the results on kindergarten readiness are truly exciting, they continue to gather and monitor data to refine and improve early childhood education and care in Battle Creek. The success of the city's most vulnerable children depends on it.
"We know we need early identification of challenges kids might face," says Moore. "We know the earlier those challenges are caught, the greater the possibility those challenges can be addressed and the likelier those kids will be ready for kindergarten. Our home visiting program is such an important part of this. It really is a continuum. And the capstone is every child having access to preschool." 
And now that the coronavirus pandemic has shined a light on the critical role of child care providers and education in our society, they feel the time is right for the community to better support the work they do.
"During this pandemic we've learned that if we in the early childhood education sector don't have our stuff together, everything falls apart. The entire economy in our country depends on us doing this work well," says Szenda Wilson. "It's our moment to shine."
Partners in Battle Creek's Early Childhood Education and Care System