This post is also available in: Español (Spanish) Kreyòl (Haitian Creole)
Ethel Branch (Diné: Navajo) – a lawyer who was appointed the 11th Attorney General of the Navajo Nation in 2015 – has been a strong leader and advocate for the Diné people her entire life.
Growing up on the land of her ancestors with no running water or electricity, Branch describes her childhood as one filled with abundance. "I grew up with the beautiful land, water and cultural traditions, surrounded by family and learning the abundance of life's blessings," she says. For Branch and many others, the land provided just what was needed. They grew up respecting it for its blessings, and honoring and respecting Mother Earth – a way of life for Indigenous people.
At an early age, Branch noticed the injustices her family and thousands of others were facing. "I began to question why we didn't have the basic necessities," she recalls. "Why did we have to travel to get water when only miles away, even the poorest kids had air conditioning and running water?"
As a child, Branch could not understand why some families had basic human needs continually met while others struggled. As an adult, the inequities only became more unacceptable.
So when the pandemic hit in early March, she took action.
Branch began posting on her social media account, rallying people to step forward with donations through a GoFundMe page to help those most vulnerable in the Navajo and Hopi communities. "I wanted to help my community, especially our elders and those who have to drive two hours or more to get food and water," Branch says.
Branch was among the first to lead efforts to construct the safety net people needed in the pandemic, eventually co-organizing the largest grassroots initiative seen on the Navajo Nation. Within a day of establishing the GoFundMe campaign she assembled a team of incredible Navajo and Hopi women leaders – each bringing talents and the same commitment to restore balance and harmony by protecting their most important legacy: their people.
On the second day of the campaign these leaders and volunteer recruits began shopping for the food and other essential items elders and immunocompromised people in the most remote areas would need to self-quarantine for two weeks and be protected from the initial onslaught of COVID-19. On the third day of the campaign, they delivered their first load of food from Flagstaff to Navajo Community Health Representatives for distribution to high-risk families in need. When the first case of COVID-19 was identified on Navajo Nation, this food was mobilized to assist the community of Chilchinbeto to ensure families could safely isolate and quarantine.
As a result, Yee Ha'ólníi Doo – The Navajo & Hopi Families COVID-19 Relief Fund, a grassroots, Indigenous-led, nonprofit organization, was created.
Yee Ha'ólníi Doo - The Navajo & Hopi Families COVID-19 Relief Fund
Branch – a graduate of Harvard Law School, Harvard Kennedy School and Harvard College – is one of the incredible Indigenous women leading Yee Ha'ólníi Doo.
The governing board of Yee Ha'ólníi Doo is made up entirely of Navajo women, as is its senior staff. Its major partner in serving the Hopi community, the Hopi Foundation, is led by Hopi women. Through this collective effort, the Relief Fund – dedicated to helping Navajo and Hopi communities in Northern Arizona, Southern Utah and New Mexico combat the coronavirus – has raised more than $18 million since March 2020.
Cassandra Begay (Diné), Relief Fund co-founder and deputy director, who was raised by a single mother with six siblings, is grateful for her upbringing on the Navajo Nation and her mother's teachings on the importance of ancestral lands. Like Branch, she too realized the inequities her family faced, and so began her journey to dismantle the systems of oppression for many Indigenous communities.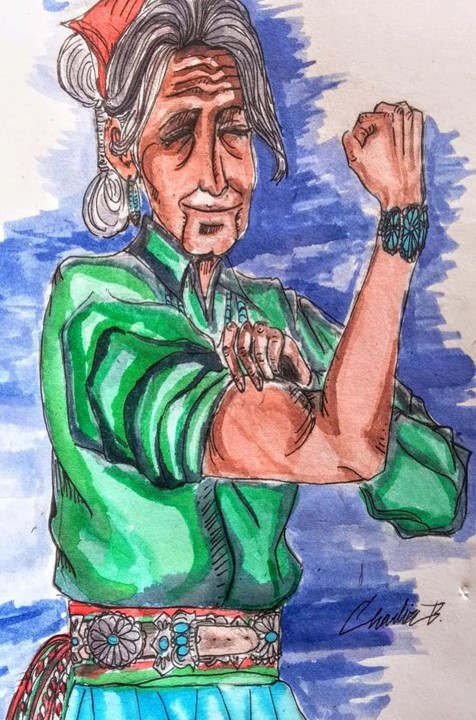 Begay brings a wealth of experience to the challenges presented by the pandemic. A graduate of Utah State University, she is the founder of Defend the Sacred Consulting, which works to close the gap of social inequality by building relationships to one another and to the environment. She is also a co-founder and former Tribal liaison for the Native Advocacy organization Peaceful Advocates for Native Dialogue and Organizing Support (PANDOS), a Native-led nonprofit that advocates for basic human rights. In addition, she is managing a media campaign in Native languages through the Relief Fund to promote health and safety awareness to prevent the spread of COVID-19.
The creativity and determination this group of leaders organized is evident in the pace and scope of the response to protect their communities.
Courage in the time of adversity
"I'm proud to be aligned with amazing women – all organized around spirit and heart work with the primary purpose to reduce the rate and spread of infection on the Navajo Nation and the Hopi Nation," Begay says of the organization and its impact.
"We are providing food, water and PPE (personal protective equipment) to people who are immunocompromised, elders, COVID-positive and struggling families so they can stay home and practice social distancing." Through the Relief Fund, PPE is provided to community members and various high-contact groups, such as community health representatives, first responders, police officers and medical staff.
Relief Fund co-founder and senior staff member Theresa Hatathlie-Delmar launched a sub-initiative early on called Navajo Seamstresses COVID-19 Dooda. The team organized more than 300 seamstresses – from Navajo and Hopi as well as off-reservation communities in the four corners states, New York and Georgia – to sew masks and other PPE for first responders, elders, quarantined communities and volunteers. The seamstress teams have sewn and coordinated donations of 187,550 masks, 3,252 surgical gowns, 863 scrub caps, 13 protective "bunny suits," 3,129 face shields, 700 stethoscopes and 1,747 ear savers for masks as of December 22, 2020.
What began as runs to the grocery stores and hauling water and food in the back of a borrowed flatbed trailer has grown into the largest social justice movement in the area, filling the enormous gap left by centuries of systemic injustices. 
Today, truckloads of shipments from Shamrock Foods, one of the largest food suppliers and distributors in the country, are being dropped off at many locations throughout Navajo and Hopi communities for distribution each week. In the most remote places where road access is an issue, more than 48,000 pounds of critical humanitarian relief items were flown in during July and August 2020, thanks to a partnership with Air Serv International, which normally conducts humanitarian relief efforts overseas.
Providing direct relief to more than 65,000 households with elders, immunocompromised individuals and children, which roughly translates into serving more than 260,000 individuals – more than the combined population of the Navajo and Hopi reservations.
Delivering $100,000 – $200,000 worth of food, water, PPE, cleaning supplies and other essential items in Kinship Care Packages to 10 – 20 Navajo and Hopi communities every week.
Distributing PPE kits to 30,000 individuals in more than 20 Navajo and Hopi communities at the rate of about 3,000 PPE kits each week through the end of the cold and flu season and the current staggering wave of COVID.
Serving the 12 Hopi villages, as well as other satellite Hopi communities, and 93 of the 110 Chapters on the Navajo Nation in Arizona, New Mexico and Utah.
Collaborating with other mutual aid, nonprofit, governmental and business partners such as Dennehotso Strong, Defend Our Community, Kaibeto Covid Relief, Bluff Area Mutual Aid, Utah Navajo Health System, Utah Dineh Bikeyah, Chinle Chapter, Aneth Chapter, Apache County, Kayenta Diabetes Prevention Program, Hopi Foundation (Hopi Emergency Relief Fund), Hopi Relief, Ganado Unified School District, Pinon Unified School District, Bashas' Diné Market and Navajo Nation Shopping Centers to distribute Kinship Care Packages and PPE kits to additional Navajo and Hopi families.
Longstanding conditions, systemic injustices
The coronavirus didn't cause the racial, economic and health inequities in Indian Country, but the pandemic's impact is disproportionately high in these communities, which are already severely under-resourced. In the process, centuries of infrastructure disinvestment and systemic racism are on full display in Tribal communities within the Navajo Nation and Hopi Nation.
On the Navajo Nation and Hopi Nation, 30 percent of households do not have running water, and a large percentage of the water available has been contaminated by coal slurry, fracking and uranium mines. One-third of people in these communities do not have electricity.
With only 16 grocery stores and small food convenience stores across 30,000 square miles, the approximately 200,000 people living on fixed incomes have very limited access to affordable and nutritious food.
In the region, there is only spotty access to broadband, and the 16 hospitals, with 170 beds total, have limited supplies and services. Yet for centuries the Navajo and Hopi people have endured. Given the COVID-19 pandemic and crisis, these long-standing insecurities and racial inequities are making the health risks and consequences even more dire.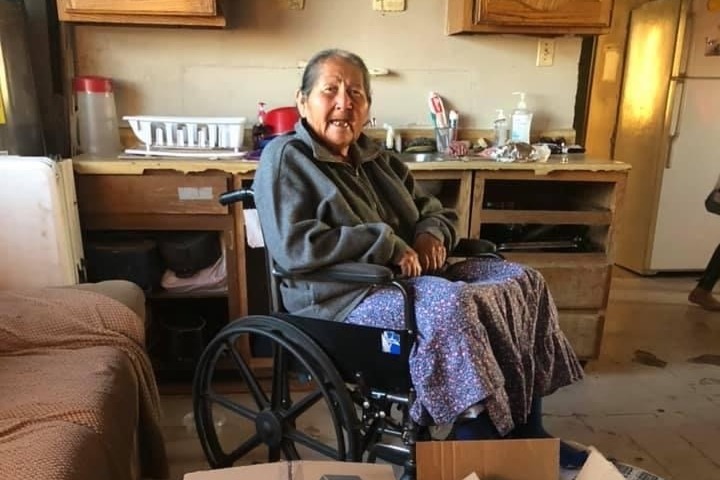 Despite unprecedented challenges, the women leaders of Yee Ha'ólníi Doo are protecting the Navajo and Hopi people while safeguarding their cultures, traditions, languages and ways of life.