This post is also available in: Español (Spanish) Kreyòl (Haitian Creole)
In a single year, HOPE (Hope Enterprise Corporation and Hope Credit Union) placed hundreds of Mississippi residents – mostly Black individuals and families – on a path to financial stability and generational wealth-building by expanding access to mortgage, consumer and small business loans. 
HOPE, a community development financial institution with a mission to strengthen historically disinvested communities, imports capital for community development projects and offers affordable financial products through its credit unions, which are located in low-mobility places. In its recent Impact Report, HOPE highlighted some of its successful strategies to address food insecurity, Black homeownership, housing access and small business development in 2021.  
Much of HOPE's transformative work occurred in Mississippi – a state with a poverty rate of nearly 19%, which is routinely listed near the bottom of key health, economic and social indexes. HOPE operates 12 branches across the state.
Bill Bynum, HOPE's CEO, says the organization's work is fueled, in part, "by the steadfast commitment of longtime supporters who continue to invest time, treasure and commitment in collaboration with HOPE to forge a more inclusive economy."
Supporting Small Business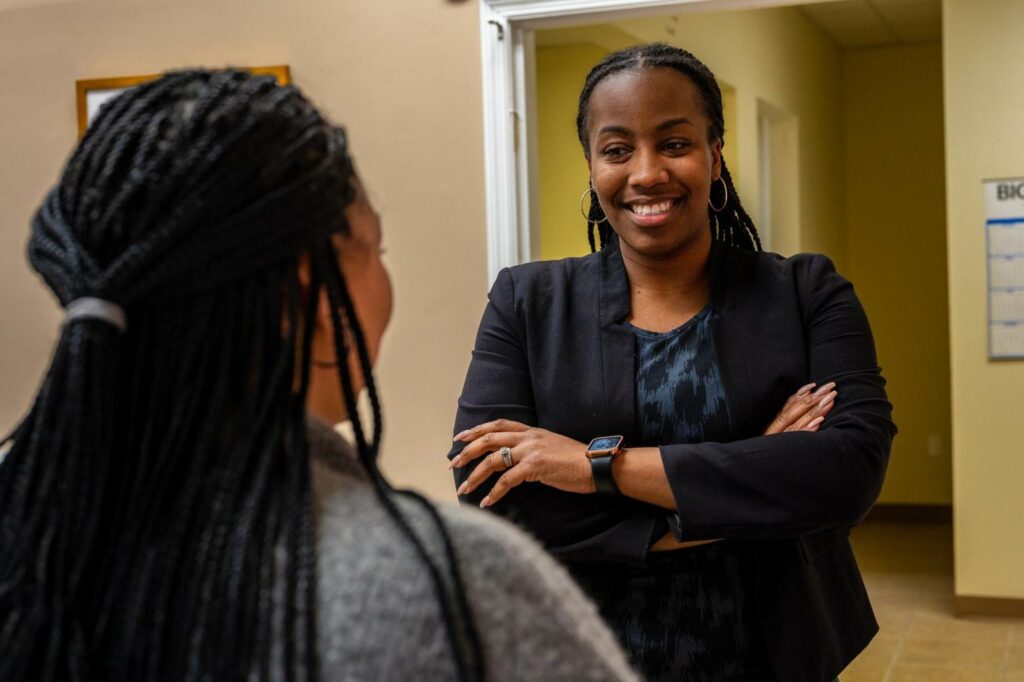 A financial lifeline from HOPE kept Courtney Jacobs' agency, Insurance Done Right (IDR), operating even as some of its policyholders stopped paying their premiums during the pandemic. She was approved for a $10,000 Power of HOPE loan, a product designed for small businesses weathering the economic challenges of COVID-19. Like many working mothers, she had transitioned to a virtual home office and the loan enabled her to upgrade her equipment and hire a second employee. 
When it came to accessing capital to keep her business afloat, Jacobs said she had few options because the larger banks "didn't want to give me the time of day," due to her lack of business history and limited revenue. 
"As a minority business owner, it means a lot to have a banking partner or some type of support system," said Jacobs, who is Black. "It feels like I'm not on an island, and I have support and security, if I want to grow."
Jacobs says HOPE's loan goes beyond a financial transaction; it's an investment in the future of her children and her community as a whole. 
"My daughter is 8 and her dream is to work for IDR or 'be like Mommy' one of these days," Jacobs said. "This is something I can pass down to my children and afford them the opportunity to be business owners."
HOPE approved 213 Power of HOPE loans to individuals and businesses in Mississippi in 2021. HOPE also provided 881 Paycheck Protection Program loans over the course of the program for businesses hard hit by the pandemic. According to HOPE's advocacy arm, Hope Policy Institute, more than 20% of businesses in the state are Black-owned. Yet, those businesses do not receive equal access to capital. 
Limited access to capital or banking services for businesses and individuals is one of the consequences of the entrenched poverty in the region served by HOPE. Mississippi's unbanked rate of 12.8% is the nation's highest, according to the FDIC, and points to the reason HOPE's services are so vital.
In 2021 alone, HOPE closed $8.2 million in consumer loans in Mississippi, and 72% of those were in communities with poverty rates exceeding 20%. HOPE targets its affordable products to women, people of color and low-income individuals, those facing the greatest barriers to financial tools necessary to thrive.
A Solution to Food Insecurity
Limited access to healthy food is another consequence often experienced while living in high-poverty areas. To address food insecurity in one Mississippi Delta town, HOPE partnered with community leaders, philanthropy and government agencies on an innovative concept: the Mississippi Delta Online Grocery Program. 
With no industry and a declining population, the odds were against attracting a new grocery store to Drew, a community of 1,927 in Sunflower County, where the food insecurity rate is 22%. 
The town's last grocery store closed in 2014, forcing residents like Amanda Griffin to travel 20 miles to the Walmart in Cleveland to purchase fruit, vegetables and other food items. 
"That was hard, especially since I was dealing with health conditions and had to depend on others to take me," said Griffin, who has lupus, diabetes and a heart condition. 
Now, Griffin and her three school-age daughters are among 45 families who can rely on the online service to get their fresh food. The program operates from a renovated armory, where items from Walmart are stored. Residents place an order online using a Walmart account, then collect their groceries at the armory or have the items delivered.
HOPE and the Drew Collaborative developed the concept. Funders of the project included WKKF, the Delta Regional Authority, the USDA and HOPE.
The number of families participating has steadily grown, said Gloria Dickerson, founder of We2gether Creating Change, a leading nonprofit organization in the collaborative and a WKKF partner.
"It alleviates the problem of those who do not have transportation to the store because we get it for them," said Dickerson. "I also like it because residents are learning the technology of ordering online."
Griffin cited the convenience and credited the service with helping her family make healthier eating choices.
"I was one of the first ones to try it out and I've been using it ever since," Griffin said. "Not only do I shop for myself, I shop for my mom, my grandmother and my sister, who is paralyzed."
Building Assets through Homeownership
Homeownership is a pillar in HOPE's strategy for wealth-building in low-mobility places. More than half of HOPE's 125 mortgages approved in 2021 were in Mississippi, said Ed Sivak, HOPE's executive vice president, chief policy and communications officer.
Families dotting the landscape from the Gulf Coast to Jackson became homeowners, many of them first-time homebuyers who qualified for a mortgage after receiving homebuyer education and assistance from HOPE to improve their credit scores.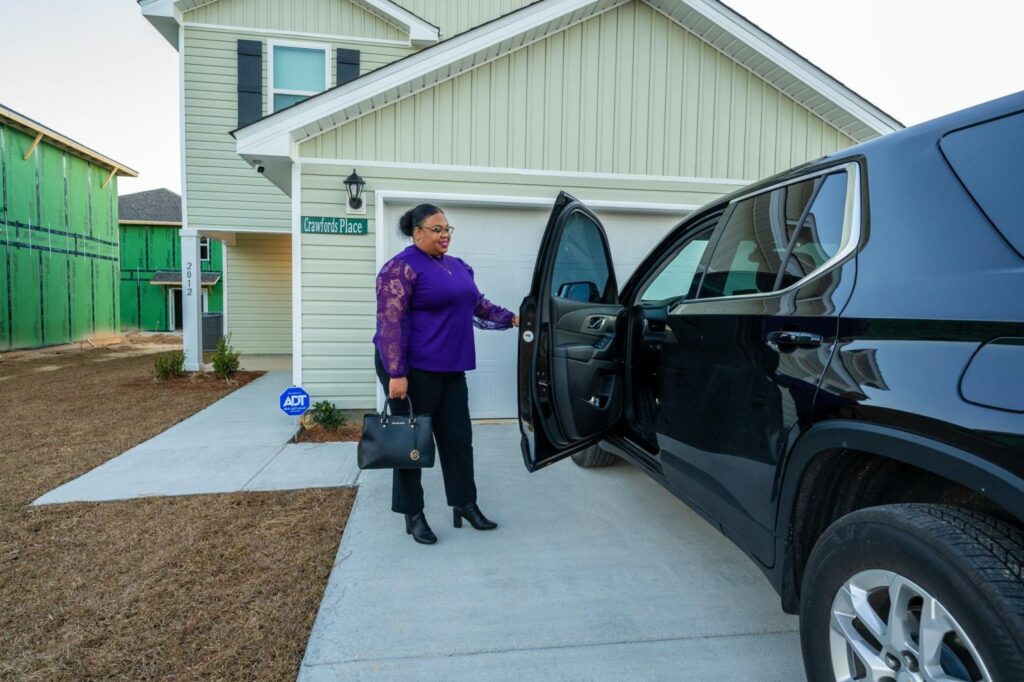 HOPE's financial team shared how they worked with Gulf Coast member, Tellisha Crawford, to boost her credit score by refinancing her auto loan.
And as the number of pandemic-related foreclosures increased across the country, HOPE's financing policies functioned to keep more of its members in their homes.
And as the number of pandemic-related foreclosures increased across the country, HOPE's financing policies functioned to keep more of its members in their homes.
"One out of four mortgage borrowers in HOPE's portfolio was in forbearance" during the pandemic, said Sivak, explaining that borrower monthly payments were deferred due to economic hardship. 
"This is exactly why we exist, to help people weather those storms," he said.
Providing the Security of Shelter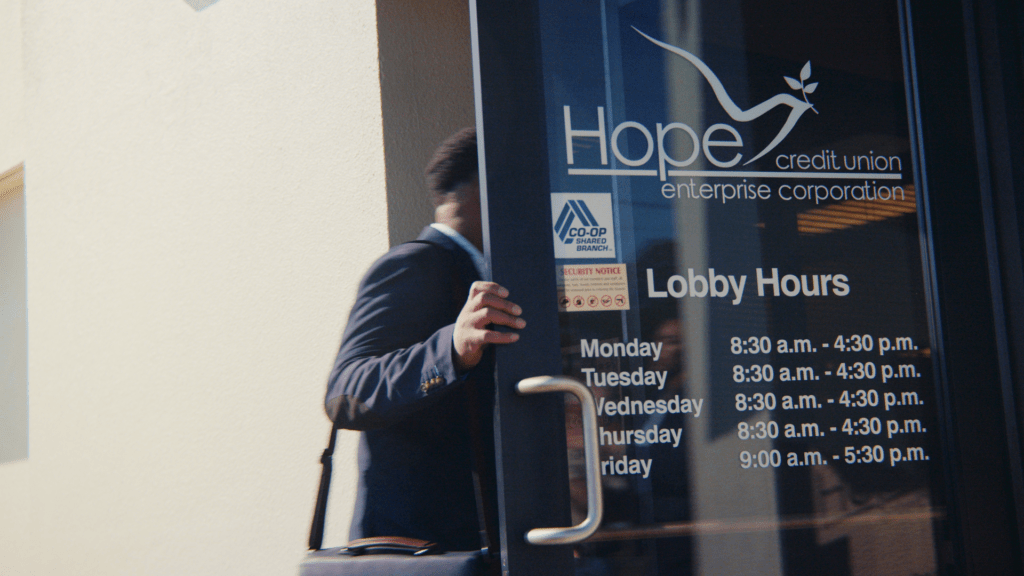 The shortage of available, affordable housing for people with low incomes in Mississippi is around 48,000 units, according to the National Low-Income Housing Coalition. After nearly three decades of financing affordable housing, HOPE has become adept at developing innovative investment strategies toward addressing that need. 
In the case of Millcreek Housing Development in Brookhaven, HOPE leveraged two federal tax incentive programs – Opportunity Zones and Low-Income Housing Tax Credit. Opportunity Zones were created in 2017 to spur investment in distressed places, and LIHTC provides incentives to promote the construction or rehabilitation of housing for low-income households. Millcreek is the result of a $1.5 million equity investment from the HOPE Opportunity Zone Fund, paired with LIHTC incentives.
The gap funding from HOPE "made this project possible," Mike Molinari of Southport Financial Services, a multifamily housing developer, said when the project was initially announced.
The 48-unit development is positioned in a highly distressed Opportunity Zone census tract, where 25% of people live in poverty. HOPE financed the project at below market rates on condition that developers only rent to tenants with incomes below $35,000. Families began moving into the residences last June.
The neighborhood of three-bedroom, two-bath brick homes includes a playground, landscaping and sidewalks — amenities that rival any market-share development.
"America's collective prosperity hinges on dismantling barriers that have held communities back far too long, on pulling people away from the economic precipice, and providing them with the tools they need to succeed," Bynum says in HOPE's Impact Report. "Everyone benefits when more people are equipped to succeed."