As the school year ends, a new report card has been released – a nationwide assessment on maternal mental health support. The results are serious, with the U.S. only scoring a D grade overall, and 42 states receiving Ds and Fs. This comes as no surprise to maternal mental and physical health care providers across the nation, especially those who work with marginalized populations who experience diminished access to and lower standards of care. But the Policy Center for Maternal Mental Health, formerly 2020 Mom, has a roadmap for state, federal and partner opportunities to improve the lives of mothers – and thus every child – in every state.
The Policy Center's Maternal Mental Health State Report Cards offer a first-ever comprehensive overview of maternal mental health in America. State-by-state, the Policy Center assessed available providers and programs, screening and screening reimbursement, and insurance coverage and payment for maternal mental health. 
The assessment found that a majority of states lack
adequate therapists and psychiatrists with maternal mental health specialties

maternal mental health treatment programs and community-based resources

requirements for providers to screen for maternal mental health disorders

quality standards for maternal mental health services in health plans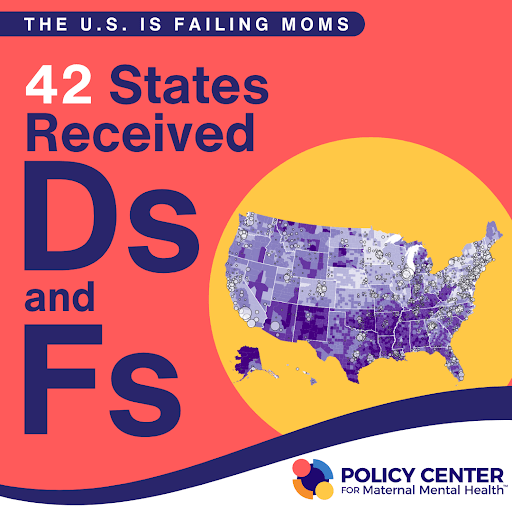 The Policy Center for Maternal Mental Health began in 2011 as 2020 Mom. After 10 years of organizing and advocacy, the organization's 2021 strategic plan took aim at the U.S. healthcare system and its failure to provide for maternal mental health. The Policy Center's core goal is for all pregnant and postpartum mothers to have easy and adequate access to "standardized, evidence-based maternal mental health care from providers they respect and trust." 
The Policy Center's State Report Cards evaluate and assess maternal mental health care state by state, collecting information from national databases, state-level reports and other surveys, and considering multiple factors related to policy, access to care, provider training, screening practices and public awareness campaigns. To determine the scores for each state, the Policy Center assigned weights to the different indicators, calculated scores for each indicator and combined them to obtain an overall score for each state. 
The Policy Center estimates that up to one in five expecting and postpartum mothers in the U.S. suffer from a maternal mental health disorder, with mothers of color suffering at higher rates. These go beyond "the baby blues," a common experience impacting up to 80% of postpartum women with sadness, abrupt mood changes and sudden bouts of crying in the early days after birth. Maternal mental health disorders include – during pregnancy and/or postpartum – new or worsened occurrences of depression, anxiety, OCD, birth-related PTSD and maternal dysthymia (a low mood that persists for two or more years). More serious instances of maternal mental health disorders include postpartum mania, postpartum psychosis and intrusive thoughts. According to the latest CDC report on maternal mortality, leading causes of maternal mortality among white and Hispanic women are mental health conditions that lead to suicide or fatal overdoses. Expecting mothers who experience miscarriage or stillbirth are also at risk for maternal mental health challenges. 
Tragically, maternal mental health disorders are compounded by generational trauma and systemic racism. Black mothers are disproportionately affected by maternal health disparities, facing significantly higher rates of complications and mortality compared to their white counterparts. Studies have consistently shown that Black women are three to four times more likely to die from pregnancy-related causes. In addition, they experience higher rates of preterm births, babies with low birth weights and other adverse birth outcomes. Even higher levels of income and education don't protect Black birthing people from higher rates of cesarean sections, preterm births and infant mortality. 
These harrowing statistics point not only to centuries of generational trauma but to the ongoing and deep-rooted systemic issue of racism within the medical field. WKKF grantee Birthing Cultural Rigor recently published a survey, pilot tested by over 800 mothers, to measure racism experienced during childbirth. The resulting assessment tool, called the patient-reported experience measure of obstetric racism or PREM-OB Scale™, categorizes patient experience into three factors:
Humanity: experiences of safety, accountability, autonomy, communication and empathy;

Racism: experiences of neglect and mistreatment; and

Kinship: hospital denial and disruption of relationships between Black mothers, their child, and/or their support system.
The PREM-OB Scale™ provides a framework to evaluate and mitigate inequitable care by centering the lived experiences of Black mothers. The recently released documentary Birthing Justice has a similar goal: to amplify the stories of pregnant women, new mothers, their partners and health professionals committed to supporting positive outcomes for mothers and children. The documentary additionally highlights how some residencies and hospital systems are already changing the inequitable systems that lead to poor birth outcomes. 
The Policy Center's vision aligns with Birthing Cultural Rigor and Birthing Justice in calling for transformation among healthcare providers and hospitals, but also casts its eye to the larger scene of insurers and federal and state policymakers. The Policy Center's roadmap to maternal mental health breaks down recommendations each state can pursue in its own legislature and regulatory actions, including providing Medicaid reimbursements, requiring health plans to develop better management programs and to cover doulas and home health care, and supporting peer support specialists and community-based organizations around maternal mental health. On the federal level, the Policy Center calls for a national maternal mental health task force and strategic plan for the nation to improve coordination of maternal mental health among existing federal programs. The roadmap to maternal mental health also requires federal paid parental leave, long associated with improved mental and physical health for new parents and babies.