Birthing Justice showcases how some residencies and hospital systems are changing the inequitable systems that lead to poor birth outcomes for Black mothers and birthing people. The documentary follows pregnant women, new mothers, their partners and health professionals who are committed to supporting positive outcomes for mothers, birthing people and infants.
Jacoba Atlas, co-executive producer and writer of Birthing Justice, says she hopes the documentary will change the way we view Black maternal health, change false perceptions and celebrate Black births.
"One of our themes is justice for all moms and their babies, but we also want to acknowledge that having children, being pregnant and giving birth are joyous things," Atlas says. "This is emotional storytelling—without that emotion people don't engage. We don't lecture. We show the real life stories of real people. We meet some incredible women and men who are working in this field."
Our nation's health care system is rife with stories of breakdowns in care during pregnancy, childbirth and the postpartum period for Black mothers, highlighting the need for multiple approaches to change.
"Ninety-eight percent of women and birthing people in this country give birth in hospitals. They should feel heard and be able to take ownership of their own bodies and what they want from the birthing experience. Younger doctors seem more open; they're ready to embrace the fact that their patients should have ownership of the care they want to have done," Atlas says.
Throughout each segment of the film, co-executive producer Denise Pines hopes to introduce audiences into the private lives and intimate moments in maternal health experiences. Pines hopes these stories of grief, but also hope, will inspire administrators to find better ways to help new mothers and improve outcomes in the maternal ward.
Birthing Justice also makes the case for diversifying the medical workforce."We need more Black doctors, more Black nurses. We need more doulas and midwives. This requires policies and programs that will increase the diversity of the medical workforce." Pines says.
Birthing Justice is a call to action for a more equitable and diverse space for new and expecting parents – a celebration of the resilience and success of Black birthing people and a testament to the impact of the many professionals that make up both their team and ultimately their community, in times of crises and beyond, according to the film's producers. Birthing Justice invites viewers to not only stand alongside survivors as they recount their experiences, but to celebrate with them as they bring new and wonderful lives into a changing world.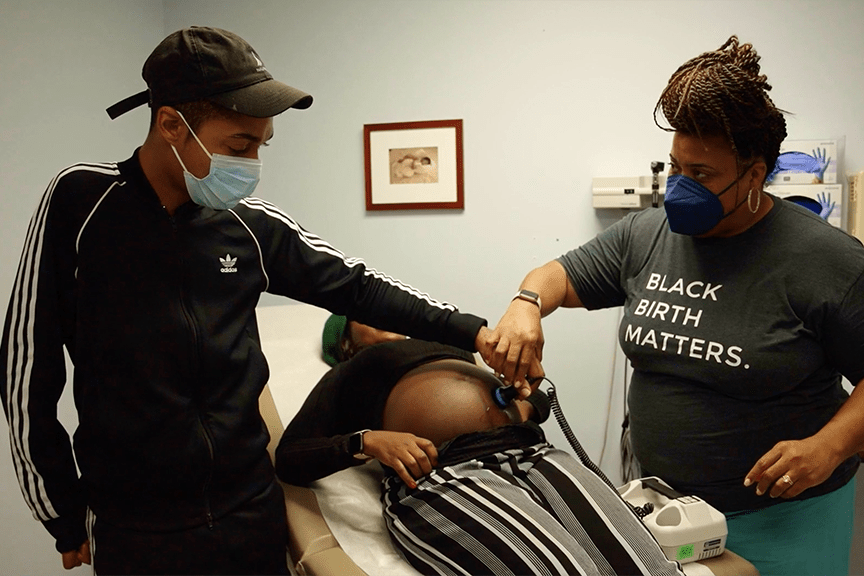 Birthing Justice producers took their cameras to Washington D.C., Georgia, California and Missouri to capture the lived experiences of more than two dozen pregnant women and new moms. Along the way, stories of joy and justice were powerful catalysts for the film. While there were tears, there was also joy and gratitude for the commitment from the birthing community to assure a better outcome for all mothers and their babies.
"Joy and justice are not mutually exclusive," explained Pines. "People equate justice and accountability as hard and negative terms. But truly, what we are saying in this film, is that you can't be passive to achieve joy for infants, mothers and their families. Bold change requires bold action."
To learn more, visit www.birthingjustice.com. The film can be streamed from PBS.org.