In March of 2020, the COVID-19 pandemic outbreak disrupted everyday life in Michigan and throughout the world.
This unprecedented time also magnified health disparities and inequities among people of color and other underserved groups.
In response, the Black Impact Collaborative (B.I.C.) was formed among leaders in the Grand Rapids community to meet the immediate and long-term needs of Black people in the area. In partnership with Grand Rapids-based Cherry Health – Michigan's largest Federally Qualified Health Center – and with support from the W.K. Kellogg Foundation, the two organizations collaborated on innovative approaches to help flatten racial disparities in health care in the region.
"Disparities were around long before COVID-19, and will be here long after COVID-19," said Tasha Blackmon, CEO of Cherry Health and a B.I.C. board member. "Access to care, immunizations and vaccinations in this case, testing have always been a challenge for marginalized communities. But I think that during COVID-19, we were able to really break down some of those barriers to access by partnering with grassroots organizations to ensure that people have the trust. Trust is huge."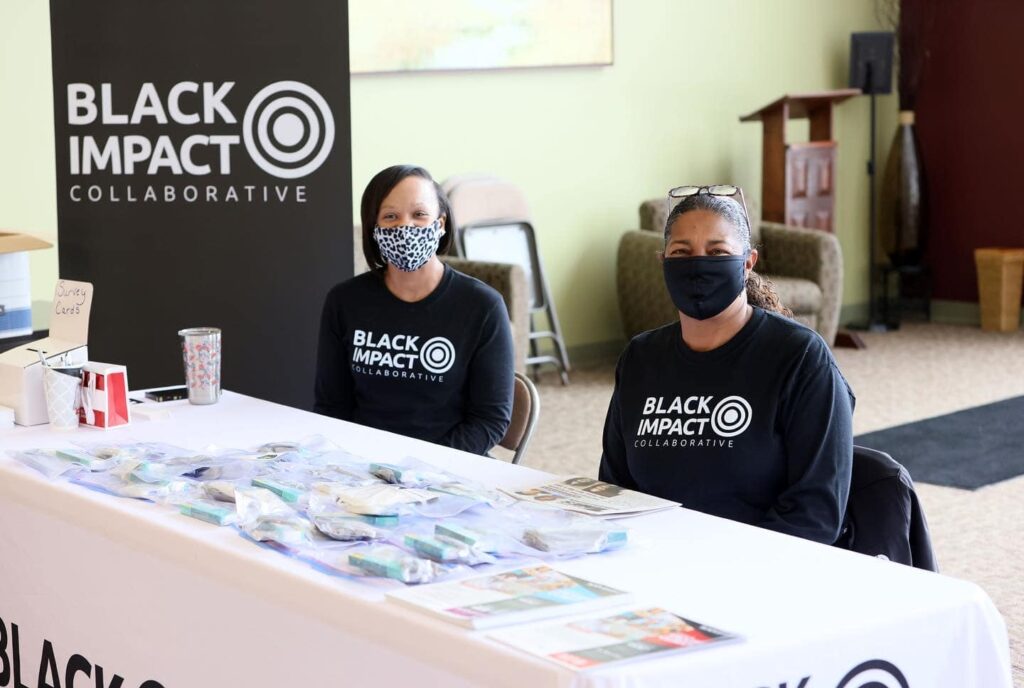 Following the pandemic outbreak, Michigan became one of the first states in the nation to begin analyzing COVID-19 cases and deaths by race. In April of 2020, Michigan found that 40% of those killed by the virus were Black, even though Black individuals make up only 13% of the state's population.
The disproportionate impact of the virus stimulated conversations about inequitable access and the social determinants of health (the conditions in which people are born, grow, work, live and age), leading Michigan Governor Gretchen Whitmer to establish the Michigan Coronavirus Task Force on Racial Disparities.
In its November 2020 report, the task force found the cumulative COVID-19 case rate in Black and African American populations in the state was 40% higher than the rate in white populations between March and October of that year. The task force additionally reported the cumulative COVID-19 case rate per million population among Hispanic and Latino persons in Michigan was over 70% higher than the rate in white populations during that span.
The stark disparities among people of color can be traced to numerous factors, including systemic racism and its subsequent effects on social and economic factors, as well as historical trauma (such as the Tuskegee Syphilis Experiment) that has led to general skepticism and mistrust in the medical establishment among many Black individuals. After the COVID-19 outbreak, there was also a need to combat rampant misinformation about the virus, testing and the newly developed vaccines.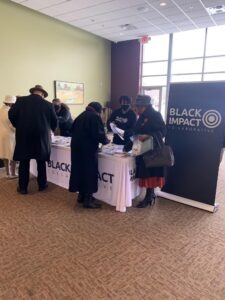 "Meet people where they were"
Senita Lenear, CEO for the B.I.C., said that the organization acted quickly to help address health care inequities amid the pandemic outbreak by partnering with Cherry Health to "lower barriers and meet people where they were."
"We knew there was a lot of hesitancy that existed in the Black community, and rightfully so, because of the history of Black people and medicine in this country," Lenear said. "So, we started setting up vaccination opportunities in places like concert halls, neighborhood association meetings, at dumpster day and shred days. Those were the things we were doing to think outside of the box."
With Cherry Health administering testing and vaccinations, B.I.C. worked on educating and engaging with Grand Rapids' Black community by leveraging its social capital in sharing information through trusted sources.
"B.I.C. was great; they did a lot of neighborhood canvassing, going door-to-door asking people what questions they had," said Dr. Jenny Bush, interim chief medical officer for Cherry Health. "I think they were welcomed to have those conversations a little more. A lot of community events where we would go to, and people could ask questions. Sometimes we had vaccines. People out to have a great fun day don't want to get poked. But a lot of them are at least going to get information and at least reconsider. Building better trust in the community, B.I.C. promotes better awareness."
Blackmon said the relationship between Cherry Health and B.I.C. is "symbiotic" in that both organizations seek to flatten racial disparities in health care. Outreach efforts since the COVID-19 pandemic began have helped strengthen existing relationships with other community partners, as well as establish new ones.
"We try to coordinate across organizations to give the greatest impact to our community. And I think that that was something beautiful that came," Blackmon said. "And that is one of the things that I really hope that we continue with, because I think that's where you start to see true impact."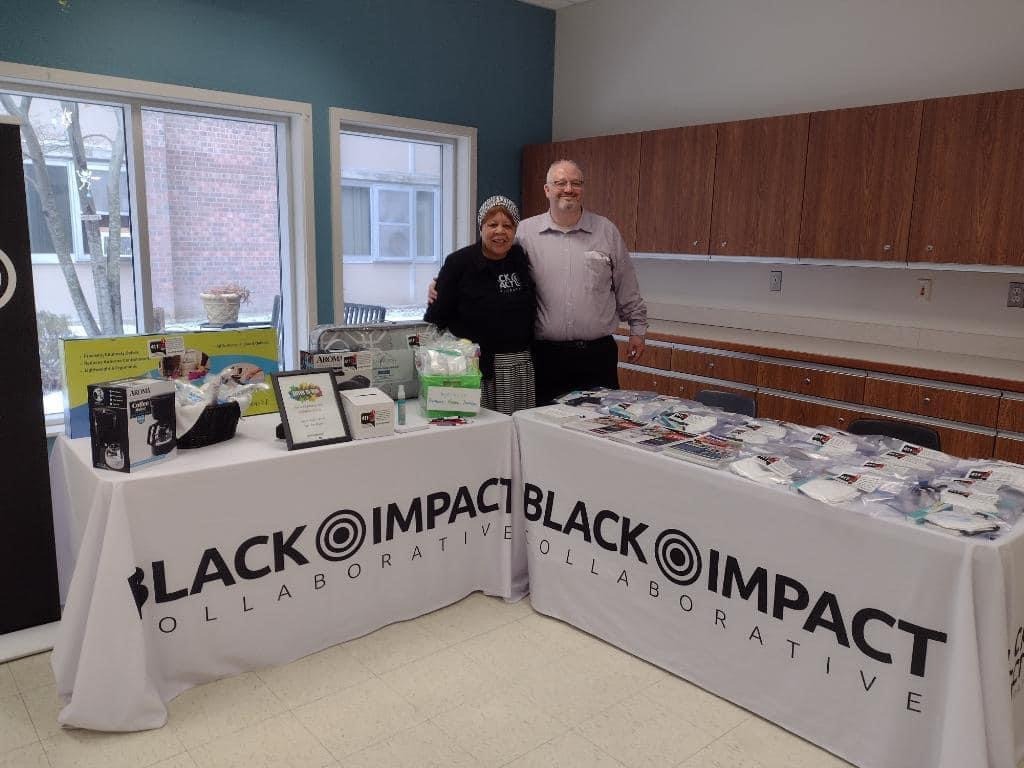 Work continues
Since the initial COVID-19 wave, Michigan experienced a marked decrease in negative outcomes for minority communities. In its final report released in February of 2023, the Michigan Coronavirus Racial Disparities Task Force found that disparities had been reduced among Black/African American, Indigenous and other people of color. In 2020, the COVID-19 death rate per 10,000 people for Black Michiganders was 22.8, significantly higher than the national average (15). In 2022, the death rate for Black Michiganders had dropped to 8.6 per 10,000 people.
During a press conference to announce the final report of the Michigan Coronavirus Task Force for Racial Equity, Lt. Gov. Garlin Gilchrist II, chair of the task force, credited intervention strategies such as neighborhood-based testing and vaccination sites, mobile units, various communication strategies and local grants for helping flatten healthcare inequities.
"This report is all about how we can move forward both specifically with COVID-19 but broadly how we can address health disparities to have better outcomes," Gilchrist said.
For the B.I.C., making healthcare more accessible for Black individuals remains one of its core missions. The organization additionally works to provide housing assistance, combat food insecurity, promote job opportunities and level the playing field for the Black population in greater Grand Rapids.
Lenear noted that the organization was in its infancy at the start of the pandemic, but three years later it continues to grow in creating long-term impact.
"We were able to realize quickly we needed to be together as an entity because there was so much synergy that came from being at the table together and talking about issues that went beyond COVID," Lenear said. "We knew early on this would be something beyond COVID."
Blackmon echoed that sentiment in referencing how organizations like Cherry Health and the B.I.C. can foster change in Grand Rapids in a way that can be emulated by other communities.
"Us coming together during COVID-19, it showed us what's possible when we all work together for a common cause, with patient care at the heart of it," Blackmon said. "How might we take all these things we've learned during COVID-19 and provide better care and better connectivity to resources in our community? Sometimes, it's not that the resources aren't available, it's just that people aren't sure of how to access them. The support allowed us to strengthen a lot of our community connections and even form new relationships with grassroots organizations. I think ultimately, the end result is that the community has a pathway to get the things that they need."
Kellogg Foundation partners to advance health equity in Grand Rapids
Health disparities affecting people of color existed long before the COVID-19 pandemic, but the coronavirus outbreak magnified the need to more broadly expand access to health care for vulnerable populations.
Marijata Daniel-Echols, Ph.D., Equity Grantmaking Program Officer for the W.K. Kellogg Foundation and a member of the Michigan Coronavirus Task Force on Racial Disparities, said the pandemic exposed and exacerbated preexisting inequalities in health care.
"During the pandemic many people became familiar with the term social determinants of health – and some also referred to the political determinants of health," Daniel-Echols said. "Fundamentally, a root cause analysis of both concepts points to systemic racism that leads to disparate access to the political and social resources needed to be healthy. This context of inequality existed before the pandemic and the full, awful implications of the intersection of things like poverty and race/ethnicity were laid bare during the pandemic."
In response to the immediate and long-term health needs of Grand Rapids' communities of color, two W.K. Kellogg Foundation grantees came together in collaboration with other regional stakeholders to combat misinformation about COVID-19 while increasing access to testing and vaccines through a community-based, mobile service.
Cherry Health, Michigan's largest Federally Qualified Health Center, partnered with Black Impact Collaborative (BIC) to serve as trusted sources about COVID-19 testing and vaccines, working to remove barriers to access for vaccination, and helping Black Greater Grand Rapids residents navigate the healthcare system to receive other needed services. 
The organizations received a combined $1.4 million in support from the W.K. Kellogg Foundation to benefit children and families in Greater Grand Rapids.
"At the foundation we identify race equity, authentic community engagement, and community leadership as our DNA. Every investment we make is built on that foundation," Daniel-Echols said. "BIC and Cherry Health represent all three of these concepts in action.
"During the pandemic we leaned into funding programs and services because we were dealing with actual life and death in real time – but we never lost sight of the importance of pushing for changes in the way institutions work together and how larger policies influence the well-being of children, families and communities."
As the pandemic wanes, Daniel-Echols noted that work continues in the effort to remove barriers to health care for vulnerable populations.
"The pandemic was a terrible, scary time for everyone," Daniel-Echols said. "For those who served and serve vulnerable communities before, during and now after that time the work is still the same. That is, coming together to address the policies and practices that impede the ability of children, their families and communities to thrive and to advance those that do."