When COVID-19 hit Detroit in March of 2020, the challenges facing the city were instantly overwhelming and deadly.
The city, with a poverty rate over 30% and a population that is nearly 80% Black and nearly 94% people of color, quickly became a hotspot for positive test results, hospitalizations and deaths.
As the state of Michigan tracked cases and deaths in early April of 2020, it found that while Black people made up 14% of the state's population, they made up 33% of new COVID-19 cases and 40% of deaths. The disparity in infections and deaths stimulated a conversation about inequitable access to the social determinants of health (the conditions in which people are born, grow, work, live and age) in the state, and led Michigan Governor Gretchen Whitmer to establish the Michigan Coronavirus Task Force on Racial Disparities on April 20, 2020.
W.K. Kellogg Foundation grantees in Detroit stepped up to support the health and well-being of members of their community in unprecedented ways, creating new approaches to their work and forming new collaborations to better assist the most vulnerable among them. 
WKKF spoke with representatives of three grantees about the innovative and collaborative practices they developed. These representatives include Mary Carmen Muñoz, executive director of Latin Americans for Social and Economic Development (LA SED); Jametta Lilly, CEO of Detroit Parent Network (DPN); and Dr. Phillip Levy, professor of emergency medicine, assistant vice president of Translational Science and Clinical Research for Wayne State University (WSU) and Chief Innovation Officer for Wayne Health. Their comments have been edited for space and clarity.
WKKF: How did the COVID-19 pandemic impact your work?
Muñoz: Services went across the board virtual. We made phone calls, provided food, rent assistance, utility assistance and many people who were eligible for unemployment didn't know how to use a computer and didn't have anything but a cell phone to go online. I would meet them here in our building and we would wear masks and get them signed up for benefits. Unfortunately, there were people who were undocumented – they suffered horrendously. They're not eligible for unemployment. We were able to provide them with cash assistance sometimes.
Language was a barrier too. There were times when we had to act as a translator for families that were not able to be there with their loved ones when they crossed over. I did that for a woman who's been married to the same man for 68, 70 years, who wasn't able to be there and hold his hand as he died. That was a privilege to be there and do that, but it's something that I'll never get over.
Lilly: In March of 2020, like everybody else we wondered, 'What do we do?' It became clear that we had an awesome group at the state leading us through the early days of the pandemic. But the reality was that people in the neighborhoods weren't paying attention to what they were doing. All of these organizations came together on a conference call on a Sunday to figure out how to reach them.  
With Detroit Public Television (DPTV) serving as a backbone communication partner, other partners brought their community organizing skills and clout as long-time trusted resources in the community to the table. We took a collaborative approach to getting resources to people in COVID313 Virtual Town Halls. We had a core group of 10-15 organizations that we called the production team. We've brought together trusted resources around health, education, basic needs and social justice, and broadcast them. Our goal was to empower parents to help them make better decisions.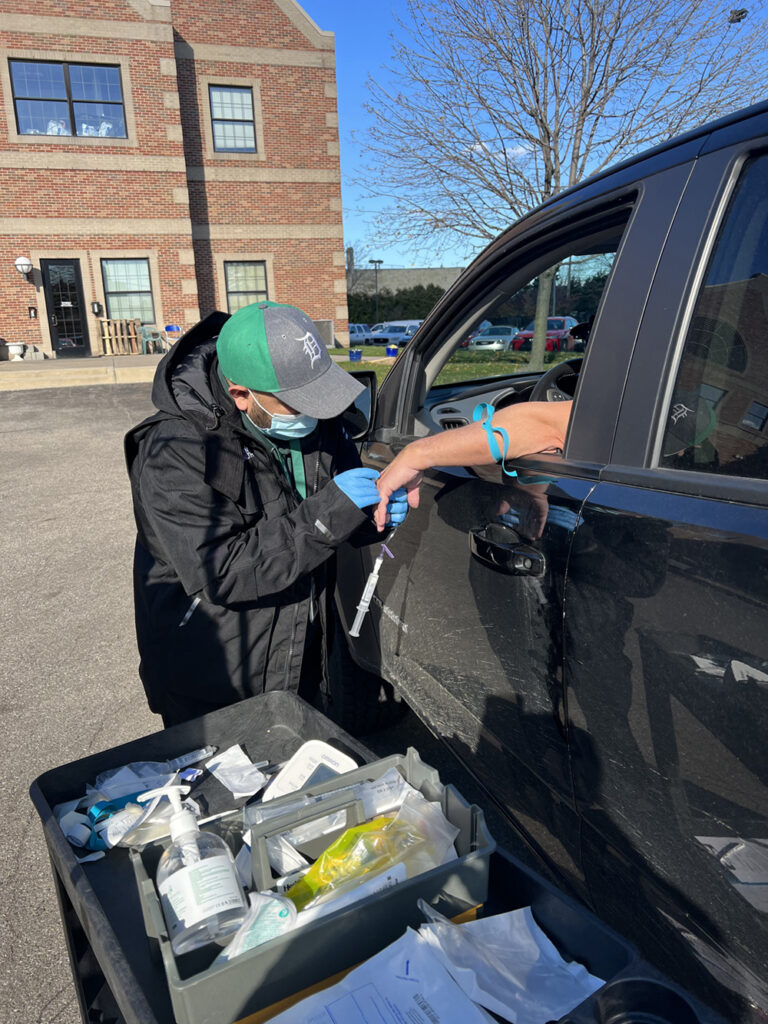 None of us but DPTV were communications people, but what you have in our group are seasoned organizing folks. What was novel was using Zoom and Facebook streaming to connect to people. The way we get information out now, every partner puts out the promotion, we run the town hall in real time and then post recordings to our websites. We've got 95 broadcasts in the archive and have reached over 400,000 people.
Dr. Levy: COVID was a stimulus to accelerate a project that started before the onset of the pandemic. I'm a professor of emergency medicine at WSU, where I saw a lot of very young people with uncontrolled risk factors for cardiovascular disease. We wanted to pinpoint risk factor hotspots and so we set up PHOENIX (a research project called Population Health Outcomes and Information Exchange) as a way to take information about people from the community, aggregate the data and understand risk throughout the community.
The heart disease death rate in Detroit is almost twice as high as the rest of the country overall – that all traces back to high blood pressure that is uncontrolled, which we can identify from people seen in the emergency room. By getting data over time from different people in the same community who use the ER, you have a way to understand what the risk is in a community over time and what areas you might want to target for intervention. Our goal has always been to take the data and use it to build equity in terms of heart disease outcomes but, as shown by COVID, it is really a platform that can be applied to just about any disease state or risk factor.
We started to layer COVID data on top of the rest of the data in PHOENIX, and it turns out we were perfectly set up to identify where COVID risks are in the community. We started working with Ford Motor Company to develop vehicles to be deployed to the highest risk areas of the community. In March 2020, we led the way by deploying vehicles to areas with high social vulnerability to bring testing into communities.
Over time, we evolved our testing program to do other things like screening for high blood pressure, diabetes, high cholesterol, kidney disease and HIV. We also began providing navigator and other services using health advocates from Detroit Parent Network and community health workers from Wayne Health to make sure people have resources to stay safe and isolate if needed, while also addressing health conditions beyond COVID. Basically, we evolved into a model of portable population health. We imagine a lot of care becoming community health worker driven. Over time our COVID testing evolved into COVID vaccination.
We've had over 71,000 encounters with patients, worked with over 250 community partners and hosted over 1,000 events. Through WKKF funding, we were able to expand our model to include other mobile programs in the region and use community-level vaccine coverage data from PHOENIX to identify under vaccinated areas to target for outreach. Due to these efforts, we have helped boost vaccination by up to 25% in neighborhoods throughout the city of Detroit.
WKKF: What problems did you address? What solutions did you try?
Muñoz: Our community was not getting vaccinated. Language was a barrier. The forms are in English, and that confused people. Traffic at the big vaccination clinics was being directed by the police department, and there was a large presence of border patrol trucks down at the TCF Center on the riverfront. Then there were urgent care establishments in the community ripping people off, charging $250 for a vaccine. Our community didn't know where to go. I started knocking on the City of Detroit's door and eventually convinced them to do a pop-up clinic in our senior and youth center's full-sized gym. They said they'd give us 100 doses and told us we wouldn't be able to use all of those. In our first clinic, we got 280 people vaccinated.
We held vaccination clinics every other week through June and continue to do pop-ups. We have never had to throw away a single dose of the vaccine. We have a success rate of 97% for people to come back for second doses. We took information from people getting vaccinated and used our resources to do follow-ups. We call people up and say it's been three weeks, and your second dose is now due. And then we make sure they have transportation to come in and get their second dose. If they don't have transportation, we provide it to them.
Lilly: In Detroit, in particular, we were seeing very vulnerable people who either themselves or their family members were really sick and going to the ER and being told to just go back home. There was an absence of infrastructure of community people talking to other community people to get them the information and resources they needed, like access to food or what to do if you're in a housing crisis. What do you do if you're in a household of eight or nine people with two bedrooms and grandma is now in the hospital on a ventilator? We partnered with four other organizations to train parents for four to six weeks to call families to say, 'How are you? What do you need? What can I connect you to?' What we created was a group of people trained to follow-up with patients and families to, at a triage level, connect them to resources.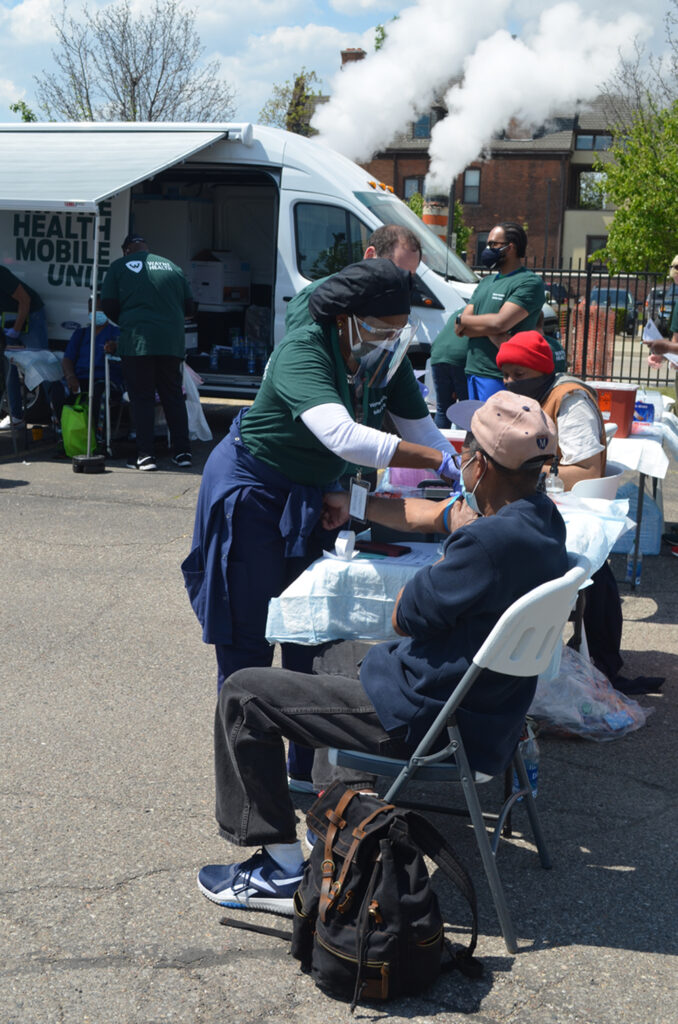 Wayne Health contracted with Detroit Parent Network to provide our family health advocates with work right alongside their clinical teams going out and doing COVID testing in their mobile health units. And that expanded to the vaccines. While those vans were going out and putting shots in arms at community-based programs, churches and schools, there were DPN-trained community family health advocates there getting information, seeing if people needed primary care and connecting them to community mental health, food resources and early childhood resources. Together, we're zeroing in on the health disparities. In November, we had our first two advocates get certified as community health workers.
Dr. Levy: There were restrictions early on with who you could test. We thought everybody should be tested, but testing supplies and resources were very limited. One of the biggest problems was the supply chain. We got creative. We started making our own supplies, manufacturing them in our labs. A constant challenge has been the delay for test results. Finding lab partners early on that could turn around results in less than three days was a problem. We reached out to Garcia Laboratory in Jackson, who did prison labs. There was a bit of a lull in the beginning until prisons started doing routine testing, so they were willing to work with us. We have since worked with RapidBio and now with Ion, both of whom have been great. As of late, our biggest problem is workforce. For us to send people out into the community in our vehicles in all kinds of weather – it's tough to get people to do that.
Other barriers we had to overcome center on information flow. It's very easy to get results to people who are proficient on smart phones but it's not great if you're older and don't really understand the technology or if the digital divide means you don't have the technology. We had to come up with solutions for that. We started working with Patient Education Genius, a company that does a lot of work pushing education to patients using text message delivery systems. Then, for people who don't open the text messages, we can see that and call them. For some people, we have to do home visits.
From a healthcare provider's perspective, probably the biggest problem I see is the misinformation and the lack of trust that people have put into more traditional sources of information, like the CDC. We've worked hard to establish trust in the communities we serve. Because we've stuck with this and have been there in the same locations over and over again, people are familiar with who we are and know we are good to deliver for them. We've seen a lot of organizations wanting to go back to the way things were. But we're not doing that. We're now synonymous with mobile health.
WKKF: What lessons did you learn?
Muñoz: We always need to seek the input of our community – we take them seriously. Doing that means we can evolve quickly. That's the key to the longevity of this organization. Our strength is that we can pivot so well. The commitment to our community is what has pulled us through this whole two years.
Lilly: We're trying to stay in our niche, authentically engaging parents and connecting them to the resources they need, parent-to-parent and in small groups. We provide training and coaching to Detroit parents, giving them an opportunity to improve their own health and economic mobility and become certified to work for organizations like health care plans. When we started out doing this, I would have expected that by this time we would have ramped up to have six to 10 family health advocates by now. We've just found that we've not even been getting candidates applying for the positions. So, right now we've only got four.
Next month, we're doing a pause and a redesign to make DPN become the pipeline to get more people from community-based programs, including more young Black men, engaged in healthcare in this first tier community navigator role. Ultimately, we want to hand them off to full-time employment with an entity like Wayne Health, where they can get additional credits through a school of education or social work. So, our parents, as we train them, can go through a pipeline to get their training, be hired by a Wayne Health and then access ongoing education and begin to specialize. They could go into something like geriatrics, for example. That's exciting. 
Dr. Levy: There is a better way to deliver medical services than what we've been doing. It's unfortunate that it took a pandemic to help us realize this. So much is trying to pull us back to the standard medical model. The pandemic has revealed that the whole healthcare system is so tenuous. What we need is a new model of care delivery that is far more proactive and gives people a chance to get exactly what they need to prevent things like heart disease. So much of what we see in the ER is a consequence of what did, or more often, did not happen to people previously with respect to risk factors. People who come in with heart attacks have had something before that led to such an outcome.
Now, because of the pandemic, we know we can do care differently. We also know that people want to get their care differently. Our mobile clinics have a first come, first serve model. To get care, you just show up. We've got your information on file – we don't need to ask patients questions; we just have them update their information on a tablet. We connect them to a community health worker in 10 minutes. It's very convenient. That's the way we need to think about delivering health services.
WKKF: What else would you like us to know?
Muñoz: We were established in 1965 by a local priest in this predominantly immigrant community in Southwest Detroit. We have a history of service in this community. It has always been part of what we do. Your faith, your family and your humanity – you help where you can.
Although it has been a difficult time, I'm telling you that the goodness of people in general was amazing. People – and this was more than a handful of people – would come knocking on the side door here and hand me an envelope filled with $25 or 10 times that amount. That happened many times. They didn't want any type of thanks or acknowledgement. They just wanted to do that for their neighbors. One person cashed their stimulus twice and gave it to us. They said, 'I've got enough to eat and pay rent. What else do I need?' People are amazing.
Lilly: The collaboration that led to the COVID313 Virtual Town Halls was quite special. I've been around a while. I've seen collaborations that, quite frankly, were pushed by foundations or pushed by a grant, and they dissolve because the people involved didn't have the spirit of cooperation. This is a profoundly different group. This group of people came together on a voluntary basis for our community. We've created a steering group and we talk about how we address issues of social impact. Addressing COVID is not just about the dynamics of COVID, it's about the underlying health disparities, the other issues – environmental, health – those kinds of things.
Dr. Levy: One of the most important things we do is community health outreach. It is literally saving lives. One woman hadn't seen a doctor in two years. A community health worker convinced her to get her blood pressure checked. She had high blood pressure. He got her access to health care. She could have had a stroke if she hadn't received that healthcare. That wouldn't have happened if we didn't think about getting healthcare to people in a different way. COVID is an inflection point in history. We should use it as a chance to wake up to what people need and recognize that we can do better.