In 2020, the Monitor Institute by Deloitte, a social impact consultancy and think tank, launched the What's Next for Philanthropy in the 2020s initiative – supported by W.K. Kellogg Foundation (WKKF), Robert Wood Johnson Foundation, MacArthur Foundation, McConnell Foundation and Deloitte Tax LLP – to explore emerging social, economic and political shifts that may impact the future of philanthropy, charitable giving and social innovation. The research engaged more than 200 philanthropy executives, professionals, donors, board members, experts, and grantees to understand the "Big Shifts" that are now changing the world and the field, and how those shifts are influencing the leading "Edges" of philanthropic practice. 
In Fall 2021, WKKF's Vice President for Transformation and Organizational Effectiveness, Alandra Washington, Ph.D., and Monitor Institute by Deloitte's Jennifer Holk, Gabriel Kasper and Justin Marcoux participated in a SSIR Live! webinar, "What's Next for Philanthropy – A Look Ahead at Emerging Trends," to discuss the findings of the What's Next for Philanthropy in the 2020s report.
Dr. Washington shared how WKKF transformed into a more agile and networked organization to accelerate change both internally and externally which resulted in faster grantmaking decisions and a shift in staff demographics.
The last several years, compounding social and environmental crises – COVID-19, the reckoning of racial justice, political polarization and climate change – have laid bare the inequities that many communities, especially communities of color, have experienced for decades.
The context of today is radically different from the environment in which many of philanthropy's current models, systems and structures were developed. Now is a critical moment for the philanthropic sector to forge a new path forward to meet the needs of communities.
During the SSIR! Live webinar, Dr. Washington expanded on the ways WKKF leaned into two Edges – Balancing Power and Redesigning the Enterprise – to accelerate change both internally and externally. Since 2007 when the foundation's Board of Trustees intentionally and explicitly committed the organization to being an anti-racist organization, WKKF has been centering racial equity and healing as core strategies to achieve its mission.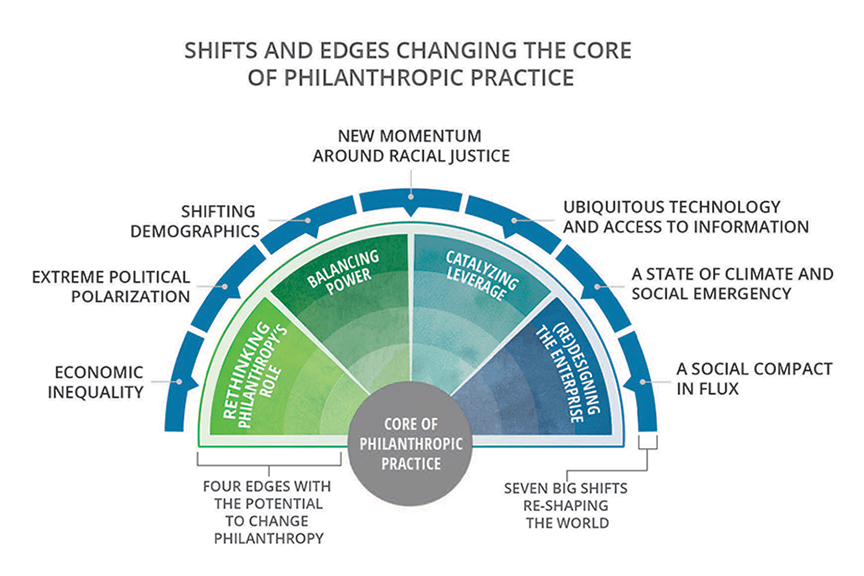 In the pursuit of advancing racial equity, WKKF scrutinized its internal policies and practices and grantmaking. The foundation recognized that it needed to be more responsive and agile to the needs of grantees and the communities.
In 2017, WKKF began its transformation to become a networked organization where instead of the traditional hierarchical structure, the organization operates as a collective group of smaller teams organized in highly collaborative multidisciplinary teams, not working in silos, but bridging programmatic and operational staff. As a result, grantmaking decisions are faster – over 80% of WKKF's grants are made in 60 business days or less – and the foundation's able to provide resources to communities in urgent and emergent situations.
In addition, over the past decade, WKKF's staff composition has shifted from 26% to 49% people of color; executive leadership representation increased from 27% to 50%; and the WKKF board is 66% people of color. Between 2016-2021, 46% of WKKF grantees are organizations led by people of color while almost half of the vendors are people of color or led by people of color. This transformation means that WKKF, as an organization, better reflects the communities it serves.
The seismic shifts that are happening demands that the philanthropic sector evolve because grantees and communities are holding them accountable.
Over the decades, WKKF's journey toward racial equity, diversity and inclusion has been complex, but with remarkable progress. Pursuing racial equity fosters stronger relationships and partnerships that leads to children, families and communities thriving. The alignment with WKKF's mission and vision has made the commitment to racial equity, diversity and inclusion – in both grantmaking and internal decision-making – broad and deep. It touches every aspect of the foundation's work and every relationship.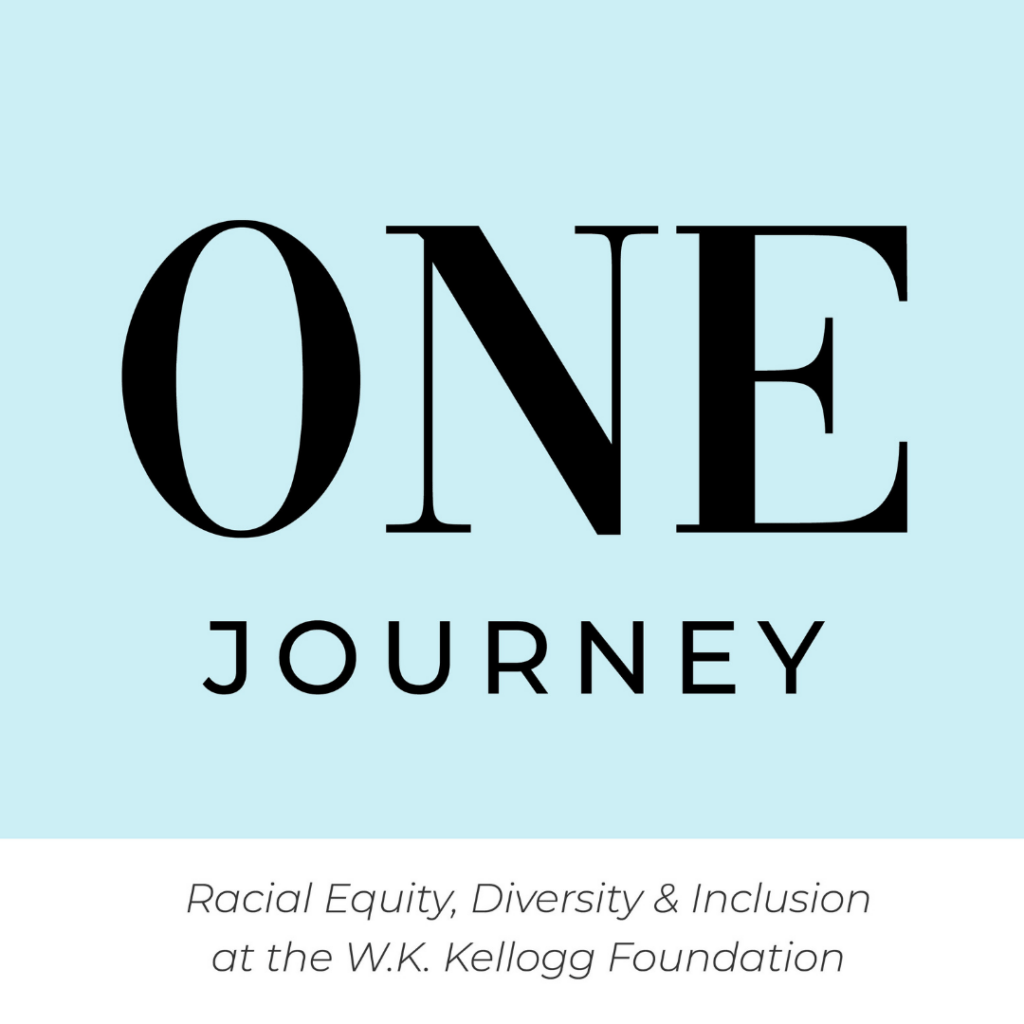 WKKF's guide, One Journey, is intended for foundations, nonprofit organizations, human resource professionals and any individual or organization looking to advance racial equity. It provides insights into the role of board leadership; how WKKF approached reviews of internal policies and practices; and how the foundation leverages its networks, research and voice.