Every child in every community has the right to high-quality education. But no two children are alike, and students need different levels and combinations of support. Drawing on both research and the lived experiences of educators, parents and students from across the country, The Education Combination toolkit shows how education resource equity – the right combination of resources that create high-quality learning experiences for all – can make a difference in students' learning experiences.
The Education Combination toolkit is part of the Alliance for Resource Equity's efforts to ensure that all children receive the high-quality education they deserve. The toolkit includes resources that lay out a vision for a different approach to schooling, research-backed reasons for why these approaches matter, key questions to consider, and examples of challenges and trends from other states, districts, and schools.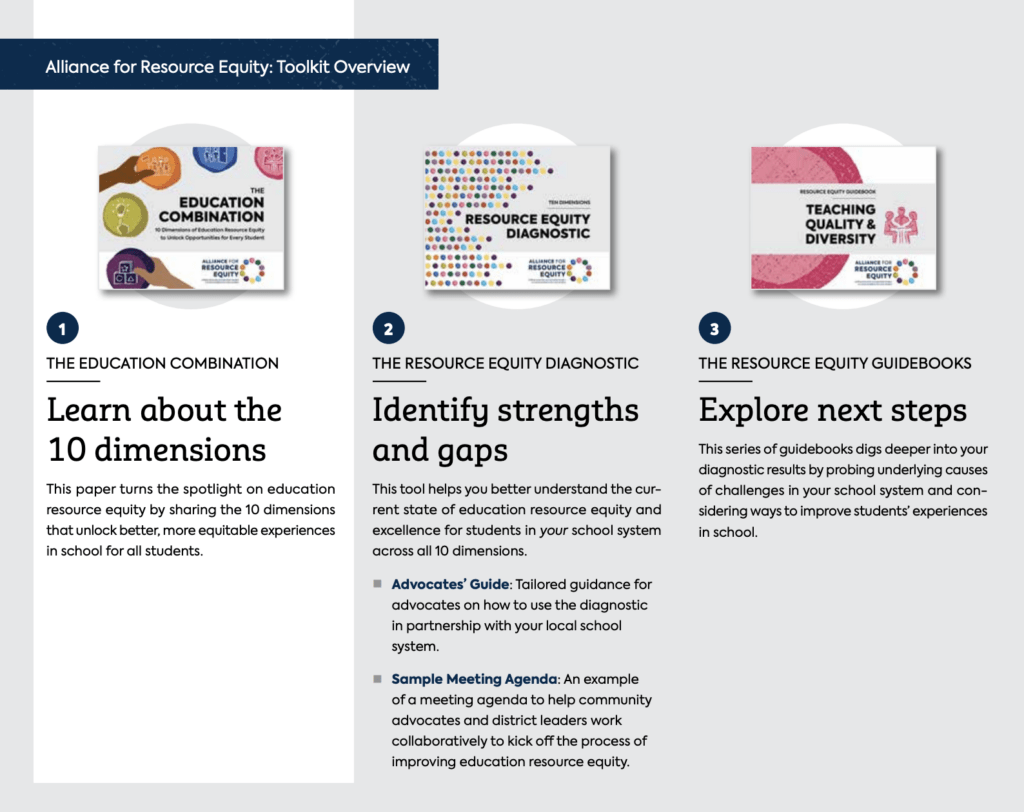 Across the country, people of color — particularly Black, Latino and Native Americans — have faced a history of racism and discriminatory policies leading to unequal treatment by law in employment, voting, housing and financial services.
Communities still carry the accumulated weight of discriminatory policies and practices. Across generations, these policies and practices compound and continue to harm students and families. Students of color, regardless of need, must balance academic demands with the burden of navigating ongoing racism and institutional bias.
Focusing on student needs and race is necessary to find the combination of supports that gives each student in every community a fair shot at success while creating high standards for all students. State and district leaders, educators, families and community advocates can all use the toolkit to help think strategically about the supports needed in their schools and the actions that will put those supports in place now and in the future.
The Education Combination toolkit outlines 10 dimensions that help unlock better, more equitable school experiences for all students. It also includes a diagnostic resource that helps district leaders — in collaboration with school leaders, teachers, community members, advocates, students and families — get clear on the state of educational resource equity in their district. In addition, it probes the underlying causes of challenges and opportunities to take promising actions based on the distinct needs of students in your community. 
10 Dimensions of Education Resource Equity
School funding

Teaching quality and diversity

School leadership quality and diversity

Empowering, rigorous content

Instructional time and attention

Positive and inviting school climate

Student supports and intervention

High-quality early learning

Learning-ready facilities

Diverse schools and classrooms
The Alliance for Resource Equity is a partnership between Education Resource Strategies, a national nonprofit that partners with district, school and state leaders to transform how they use resources so that every school prepares every child for tomorrow no matter their race or income, and The Education Trust, a national nonprofit that works to close opportunity gaps that disproportionately affect students of color and students from low-income backgrounds.
The Education Combination:

This paper highlights education resource equity by sharing the 10 dimensions that unlock better, more equitable experiences in schools for all students. 

The Resource Equity Diagnostic: 

This tool helps you identify the strengths and gaps in your school system across all 10 dimensions, providing a snapshot of the current state of education resource equity. 

Resource Equity Guidebooks:

 These guidebooks dig deeper into diagnostic results, probing at the underlying causes of challenges in school systems and considering ways to improve students' experiences.