This content is also available in: Español (Spanish) Kreyòl (Haitian Creole)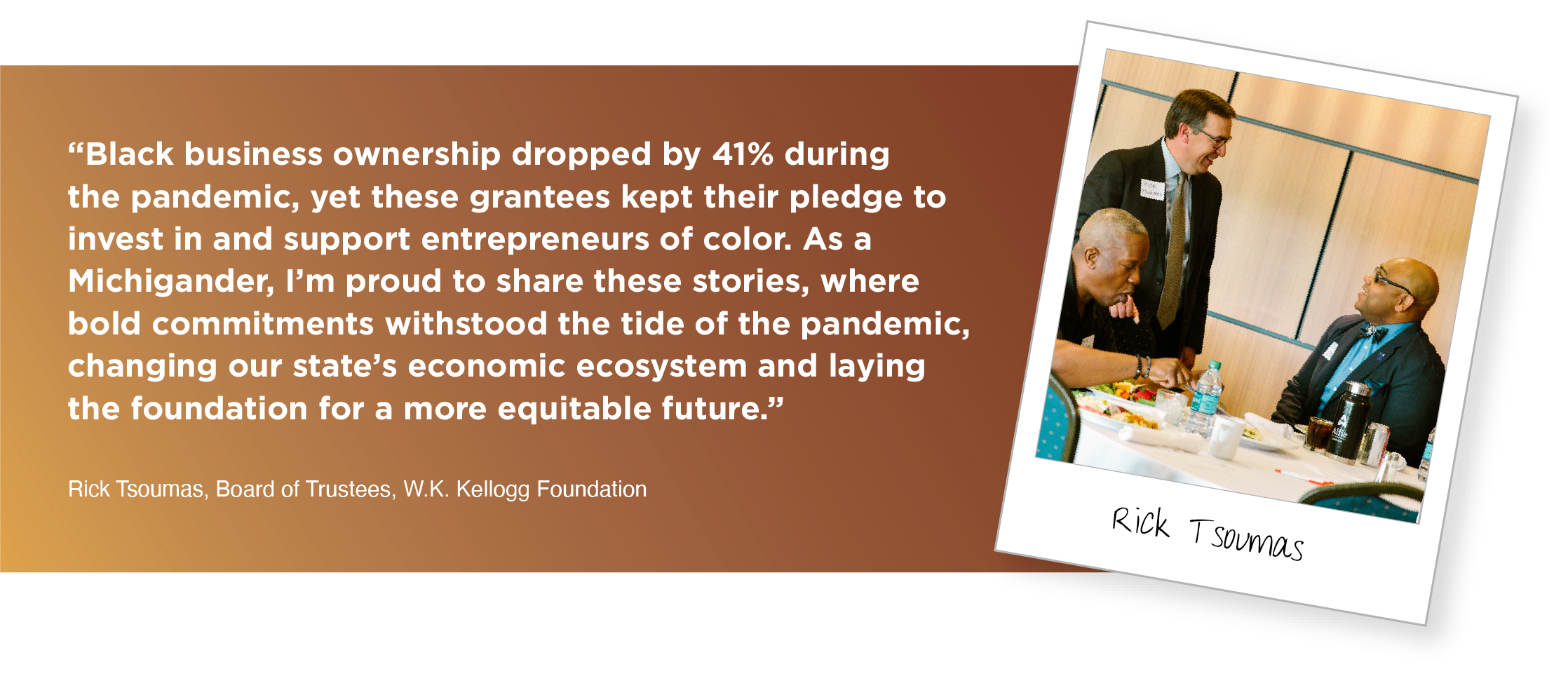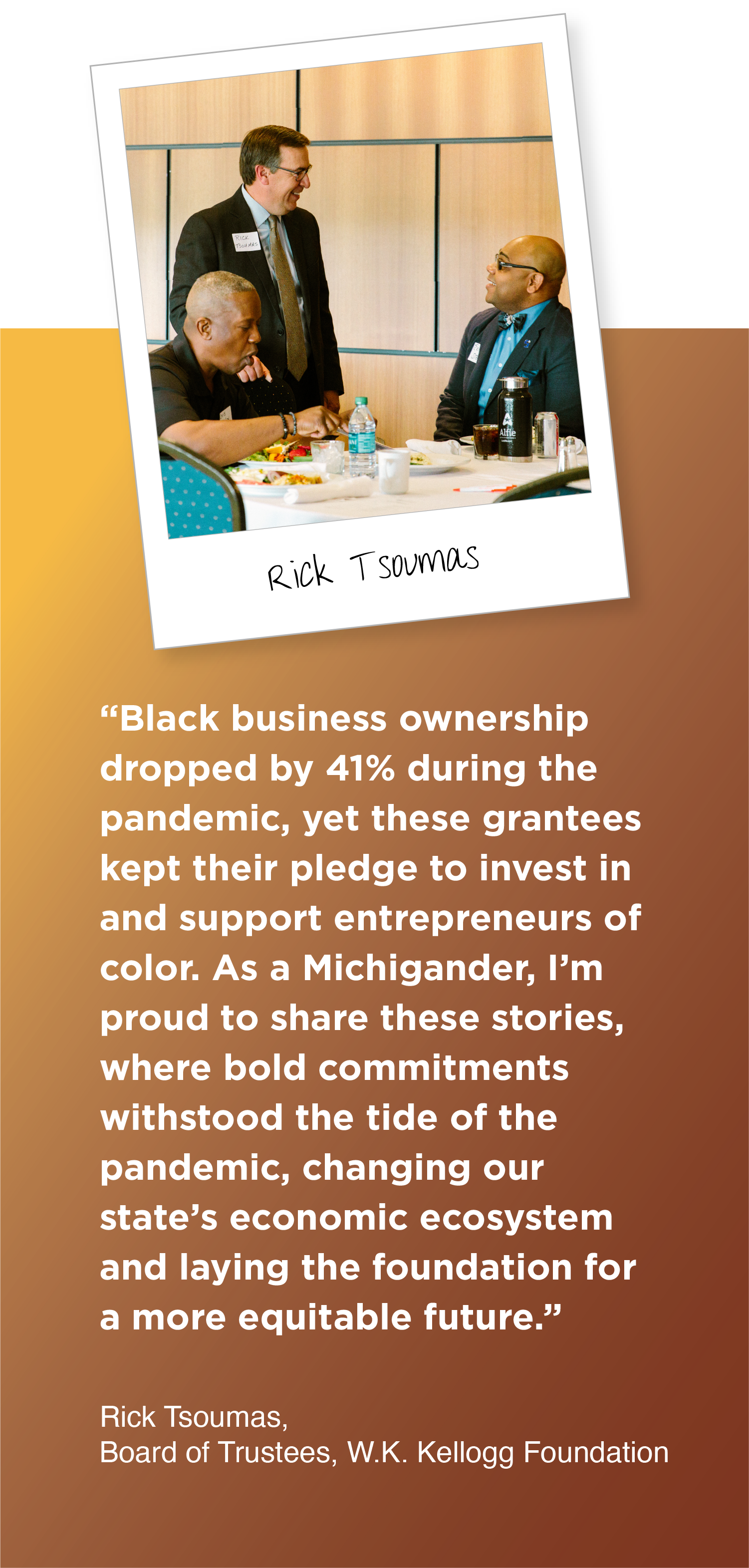 The pandemic has hit Michigan's small businesses hard.
Nearly a quarter of small and medium businesses have closed since February of 2020, and businesses owned by people of color and women have been disproportionately impacted.
Small business ownership across the U.S. dropped by 22% from February of 2020 to April of 2020. But this doesn't tell the whole story. By disaggregating that data by race, wide disparities among entrepreneurs of different races become immediately evident. White business ownership dropped by 17%, Asian ownership dropped by 26%, Latinx ownership dropped by 32% and Black ownership dropped by a staggering 41%.
Business owners of color significantly lacked access to emergency funding, like the Paycheck Protection Program (PPP). For example, based on a survey by Public Private Strategies, in partnership with Asian/Pacific Islander American Chamber of Commerce and Entrepreneurship, U.S. Black Chambers and U.S. Hispanic Chamber of Commerce, PPP loans reached 60% of White applicants, but only 29% of Black applicants. 
Unfortunately, these statistics mirror data gathered prior to the pandemic, showing only 31% of Black-owned businesses receive all of the funding they apply for, versus 49% of White-owned businesses, 39% of Asian-owned businesses and 35% of Latinx-owned businesses.
The economic systems that inhibit the success of entrepreneurs of color need to change.
Michigan has an opportunity to work with our communities to create innovative ways to utilize federal dollars coming into the state to transform financial systems and bring about better outcomes for entrepreneurs of color.
We need to re-set the practices of our economic lending system for entrepreneurs and homeowners of color to provide more equitable access to capital. Black, Latinx and Asian business owners need technical assistance to help them navigate financial systems and gain greater access to broader capitalized networks.  
The W.K. Kellogg Foundation has grantees who are gaining ground in transforming financial systems like these in Michigan.
"The economic systems that inhibit the success of entrepreneurs of color need to change."
In Grand Rapids, Rende Progress Capital, a Community Development Financial Institution, is the only lender in the region dedicated solely to supporting businesses owned by entrepreneurs of color, by helping them build wealth through business ownership and also by increasing employment opportunities for people of color. In addition to providing capital to entrepreneurs, Rende also provides technical assistance to help prepare business owners to become borrowers.
In Detroit, a nonprofit called Building Community Value helps facilitate real estate development projects in underserved areas of the city by supporting residents who are most directly impacted by development in their neighborhoods. They teach small-scale real estate development to city residents in a three-month course in a very contextualized, practical way. The work members of the cohort do is real – they learn the basics of identification, acquisition, financing, leasing, and project management on a real piece of property. Participating in the course also exposes members of the cohort to an intentionally cultivated network of organizations providing resources necessary to complete development projects in and around Detroit.
In Battle Creek, Northern Initiatives, a Community Development Financial Institution, fosters economic opportunity through small business growth by providing capital and technical assistance guidance to small businesses owners who are deemed too risky for funding by traditional lenders. Northern Initiatives provides loans, access to business services and coaching. Their suite of practical trainings, tools and resources teach entrepreneurs about cashflow and profitability, growing sales and awareness and enhancing business operations.
In Detroit, Hope for Flowers, a high-fashion clothing company, is working to create a production ecosystem for the fashion industry that includes a focus on sustainability, clothing production, community engagement, apprenticeships and youth training and workshops. They run an art enrichment program that engages youth and teaches them about creating art while keeping sustainability at the forefront of the curriculum. The goal is to elevate the strength and talent of Detroit's community of artists.
We all stand to gain when we support entrepreneurs of color
With equitable opportunities for all, Michigan's economy can recover from the pandemic and also gain $92 billion in economic output each year by 2050.
Currently in the U.S., there are vast disparities in accumulated wealth that exist between White and Black families due to discrimination and disparate levels of access to opportunities. In 2020, the average White family had accumulated $171,000 in wealth, while the average Black family had accumulated only $17,150.
One of the best ways to change this and advance racial justice and racial equity in Michigan is to support entrepreneurs of color.
Forty-four percent of our gross domestic product depends on the economic success of small businesses. Small businesses stabilize communities and create two thirds of new jobs.