This post is also available in: Español (Spanish) Kreyòl (Haitian Creole)
On January 17, 2023, the Kellogg Foundation will celebrate the seventh annual National Day of Racial Healing. This will be my sixth time participating in this event, and I'd love to share a few practical ways individuals can join in.
We would love to have you tune in for the National Day of Racial Healing primetime townhalls, airing across MSNBC and Noticias Telemundo platforms, broadcast in partnership with NBCUniversal – but more than that, we also encourage you to participate in the day in your own way, with your own community, however big or small.
I'm a gatherer of people. Having lived in five states, I'm incredibly familiar with the process of moving to a new city, making new friends and figuring out my place. The way I'm able to do this is by gathering people. I find people with similar interests and make connections. Do you enjoy running? I've started running groups. Do you run on coffee? I schedule regular coffee meetups. Is faith a big part of your life? I've hosted small groups through my church community. Does eating good food make you happy? I love hosting people around my dinner table. Hanging in my dining room is a sign from author Shauna Niequist:
"This is how the world changes – little by little, table by table, meal by meal, hour by hour. This is how we chip away at isolation, loneliness, fear. This is how we connect, in big and small ways – we do it around the table."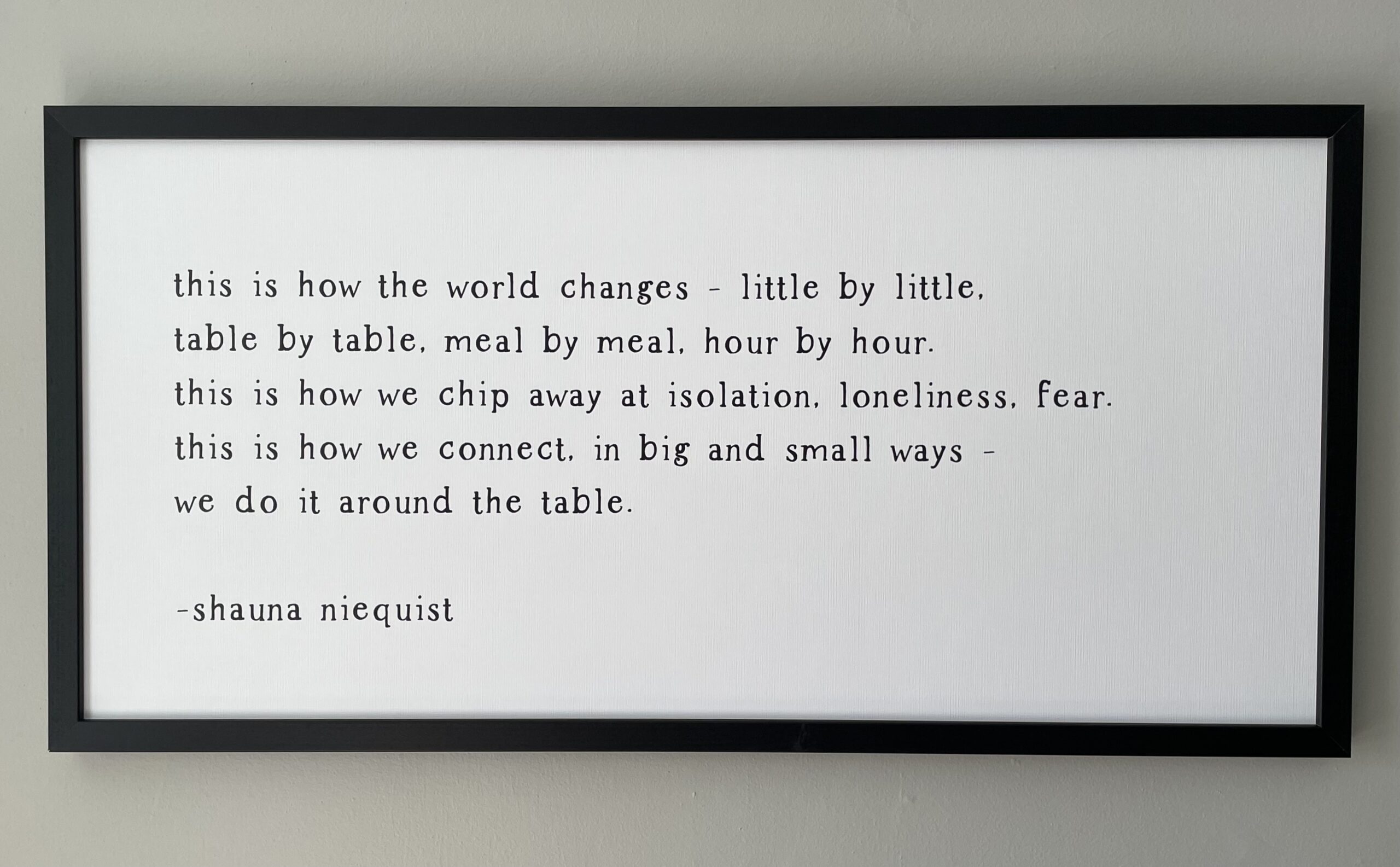 Changing the world isn't going to happen by any one leader making a declaration that change should happen. It won't happen with any broad sweeping piece of legislation. It's going to happen when you and I choose to build authentic relationships with our neighbors and community members. It's going to happen when we bridge divides. It's going to happen when we speak the truth. It's going to happen when we cultivate a culture of belonging and remove feelings of superiority or inferiority based on our racial or cultural backgrounds. It's going to happen when we resist the "other" language that tends to creep up. It's going to happen person by person. Hour by hour. In big and small ways, as Shauna writes. 
Would you commit to making a plan? You've got a few months to decide how to honor the National Day of Racial Healing.  It's as simple as:
Hosting a meal in your home.

Create a space for honest conversation (and listening!) to happen.

If cooking isn't your thing, ordering in or hosting a potluck is always an option!

Planning a neighborhood walk.

Set the intentions and come prepared with a few questions to initiate and encourage dialogue. 

Hosting a gathering at your place of worship. 
Asking if you can reserve a space at your favorite coffee shop

for a few friends to gather on Jan 17.
People want and need to be invited. And regardless of your level of introversion or extraversion, an invitation can be an act of solidarity. It's telling people they belong. An invitation opens a door for healing to take place. 
Racial healing takes place in the small everyday normal things you are already doing. Start with your neighbors. Start with your friends. Open the conversations. Little by little, hour by hour, we can see the world change.