In recent months, communities across New Mexico have been hit hard by unprecedented wildfires. 
Since early April, the state has experienced more than 13 wildfires – at one point, all mostly burning at the same time. Of the six fires currently scorching the state, the Calf Canyon/Hermits Peak Fire in northern New Mexico has burned 320,333 acres and is currently the largest active wildfire burning in the United States and the largest wildfire in the state's history. The fires have caused distress to many in New Mexico – more than 608,000 acres have already burned, and the threat of looming floods only compounds the situation.
The federal government has declared this a major disaster. To date, it is estimated that more than 45,000 families have been displaced, with no immediate plans of returning. The fire has destroyed about 1,200 homes and structures and continues to threaten thousands more. The state has received approval for the Disaster Supplemental Nutrition Assistance Program (D-SNAP) for five New Mexico counties eligible for disaster food benefits. The fire, a result of the climate crisis, is having drastic implications for communities of color, specifically those living on Indigenous and rural lands.
The Calf Canyon/Hermits Peak Fire continues to devastate centuries-old farming communities – the only inter-generational lifeline for many northern New Mexico families – and threatens sacred Indigenous land. The families are resilient, in large part due to their connections with each other and with their heritage, but they are also among the most socio-economically vulnerable families in the country. Much of the damaged land will be left unfarmable for many growing seasons, impacting families' livelihoods, cultural traditions dating back hundreds of years and food systems in these communities and throughout the state.
Already reeling from the COVID-19 pandemic, families are now facing new instability in their path forward as they wait for news about their land and homes, and potentially begin to explore new ways of life in urban areas. The devastation occurring today will have ripple effects on these communities and families for generations.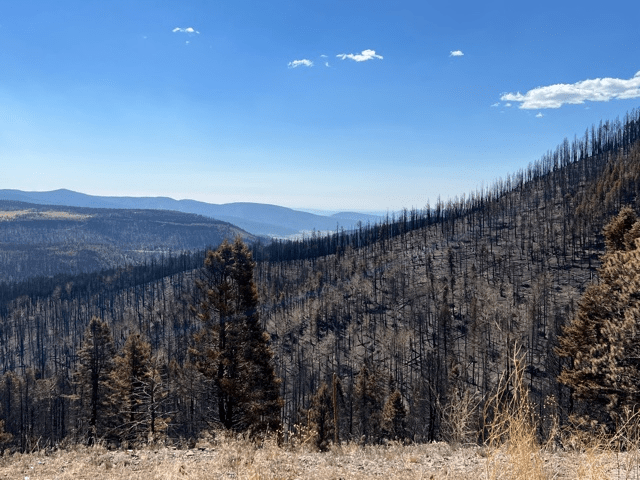 WKKF supports New Mexico nonprofits for relief and rebuild efforts
The Kellogg Foundation is supporting local nonprofit organizations that are responding to immediate evacuee needs, while working together to seek new ways to help families to recover and rebuild in the long road ahead. 
HELP New Mexico

is providing emergency wrap-around services including food security for children and families, economic support and access to health benefits for social/emotional supports.  

LANL Foundation

is working with school districts to serve emergency educational needs for children and schools impacted by the wildfires. Many schools have shut their doors early, causing a second disruption in children's learning. There will be an immediate need to provide educational supports to include summer programming, wrap-around services, social emotional supports and academics programs.

United Way of Central New Mexico

, through its NM Fire Relief Fund, is providing support and recovery needs in food, economic and health support to vulnerable Tribal communities and families. Their main partner is the

Laguna Community Foundation.

Led by Joannie Romero, the organization quickly established the Cochiti Fire Relief Fund to support ecosystem restoration to sacred Indigenous lands, which has impacted many Native plants and animal life that sustains the community.