This piece was originally published on the Kellogg Fellows Leadership Alliance (KFLA) blog.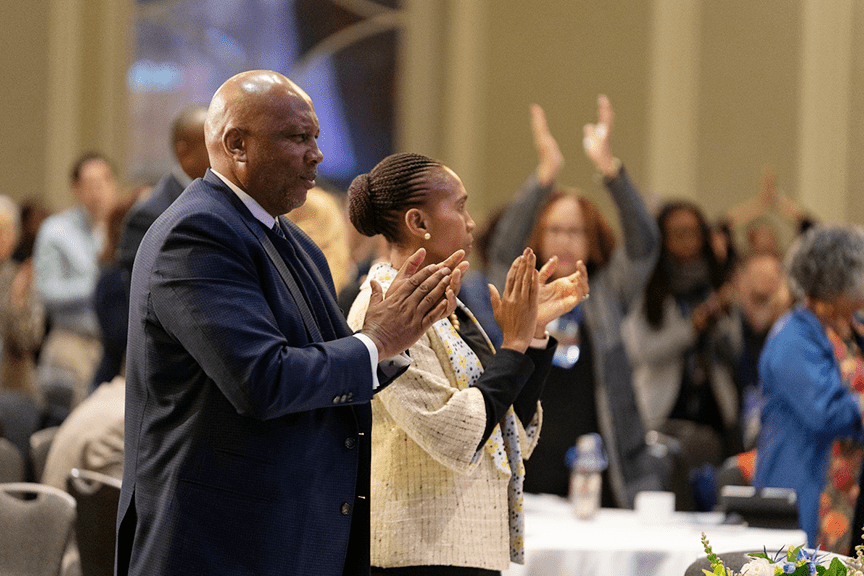 How can we address food security in a world of plenty? More than 200 changemakers from Southern Africa, Latin America and U.S. cities tackled this issue at the Global Summit on Food Security in Atlanta Nov. 30 to Dec. 2, 2018. The event was sponsored by the Kellogg Fellows Leadership Alliance (KFLA), with support from the W.K. Kellogg Foundation.
Food Tank was the media sponsor of the multiday event, and President Danielle Nierenberg was among the speakers and moderators on topics related to the food system. She joined medical doctors, professors, an award-winning journalist, community activists, farmers, a political campaign strategist, food policy experts, a Member of Congress and government officials in looking at ways to better understand equity issues through the lens of food.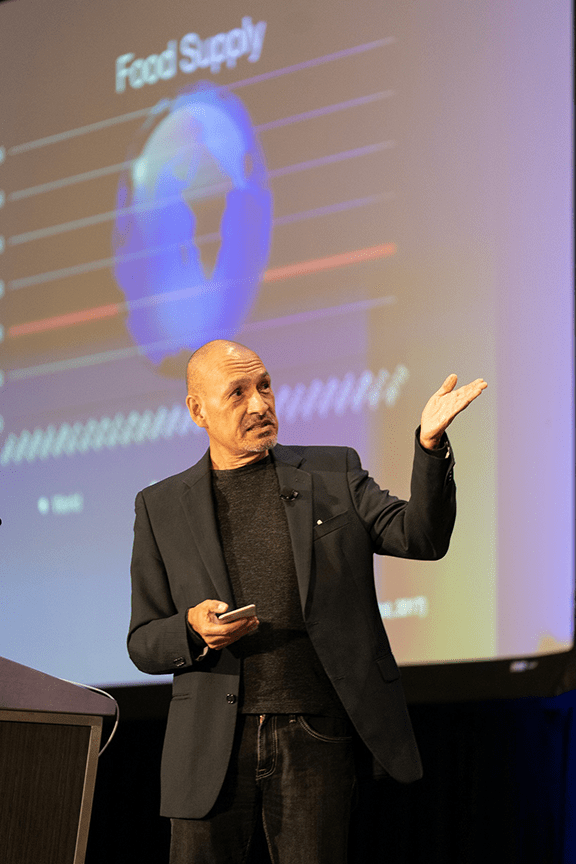 His Majesty King Letsie III of the Kingdom of Lesotho, who serves as Special Ambassador on Nutrition for the Food and Agriculture Organization (FAO) of the United Nations, opened the event at The Carter Center by urging Global Summit attendees to take an active role in finding solutions to food security and malnutrition challenges.
Ricardo Salvador of the Union of Concerned Scientists explained that hunger is caused by the inequitable distribution of power, financial capital and resources at the global, national and local levels.
Referencing author Frances Moore Lappé, the Kellogg Fellow added, "It's not about charity. It's about assuring that circumstances that lead to hunger don't exist. Give a person a fish or teach them to fish? It's not about the fish: it's about who owns the pond."
Mindful eating for the beloved community
Rebuilding health in communities of color was the subject of a Mindful Eating for the Beloved Community panel featuring:
Chef Alex Askew, Kellogg Fellow and founder of Black Chefs Alliance, who curated a book of food equity essays under the same name
Chef Adam Joseph, Culinary Instructor, Sims Academy of Innovation and Technology, who contributed an essay about socioeconomic eating
Bishop O.C. Pringle, Founder and Chief Overseer at New Covenant House of God Fellowship of Churches, who discussed the church's role in supporting health equity in low income areas
Kellogg Fellow Rashid Njai (Ph.D., MPH) is an Officer in US Public Health Service Commissioned Corps and Epidemiologist at the Centers for Disease Control and Prevention.
Moderator: Kellogg Fellow David Castro, founder of I-LEAD, Inc., who published the book under his Arch St. Press.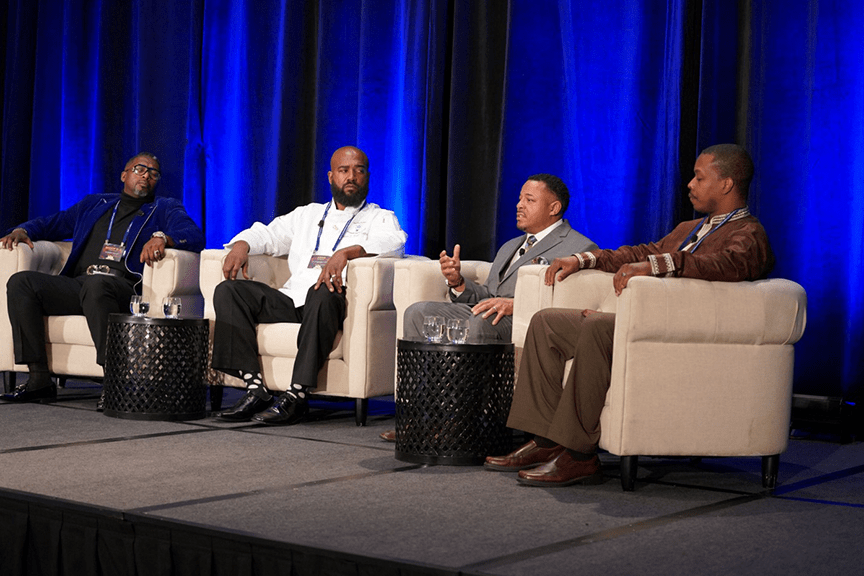 The group spoke about the health crisis in low-income communities of color partly caused by poor nutrition. The intersecting roles of faith, food, race and social justice were examined, and the concept of mindfulness was offered as a critical component for community resilience.
Summit meals were catered by Grand Hyatt Chef Jess McDannell and The Carter Center catering team Proof of the Pudding. The meals focused on mindful eating, local ingredients, global flavors and traditional dishes.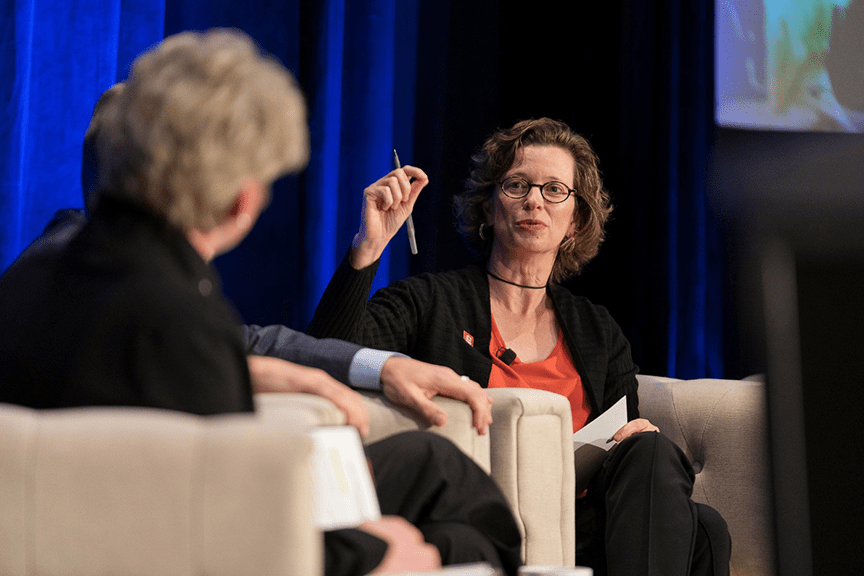 Just and sustainable food system
This panel discussed some of the best ways to replace the current oppressive food system with a new sustainable food system. The participants explained it's important to realize the current system isn't working and have a clearer view of how things could be better:
Dr. Michael W. Hamm, C.S. Mott Professor of Sustainable Agriculture, Michigan State University Department of Community Sustainability
Michelle Nunn, Kellogg Fellow and President and CEO, CARE USA
Aimee Witteman, Kellogg Fellow and Program Director, Midwest Climate & Energy Care, McKnight Foundation (via video)
Moderator: Kellogg Fellow Angela Tagtow of Äkta Strategies, who was appointed by President Barack Obama to serve as Executive Director for USDA Center for Nutrition Policy and Promotion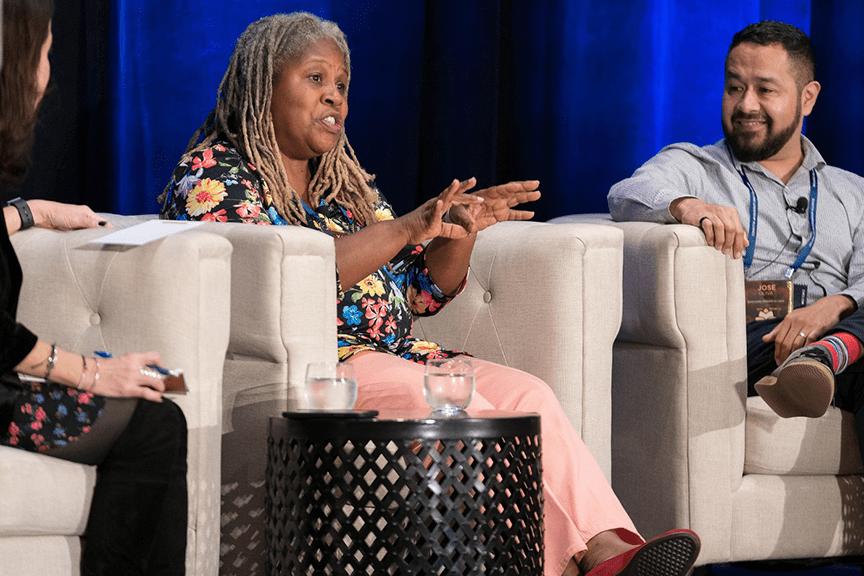 Inspiration for food justice
It's easy be overwhelmed by all the bad news in the world. This panel highlighted stories of hope and success to reinvigorate attendees in their commitment to food security and social justice:
Karen Washington, Rise and Root Farm, Farmer/Activist
Jose Oliva, Co-Director, Food Chain Workers Alliance
J.D. McCrary, Executive Director, International Rescue Committee
Moderator: Danielle Nierenberg, President, Food Tank
As Nierenberg explained, "I'm interested in the need for collaboration across sectors and breaking down the silos that seem so inherent in the food, agriculture, nutrition and private sector. There's a need for all of us to join hands and work together."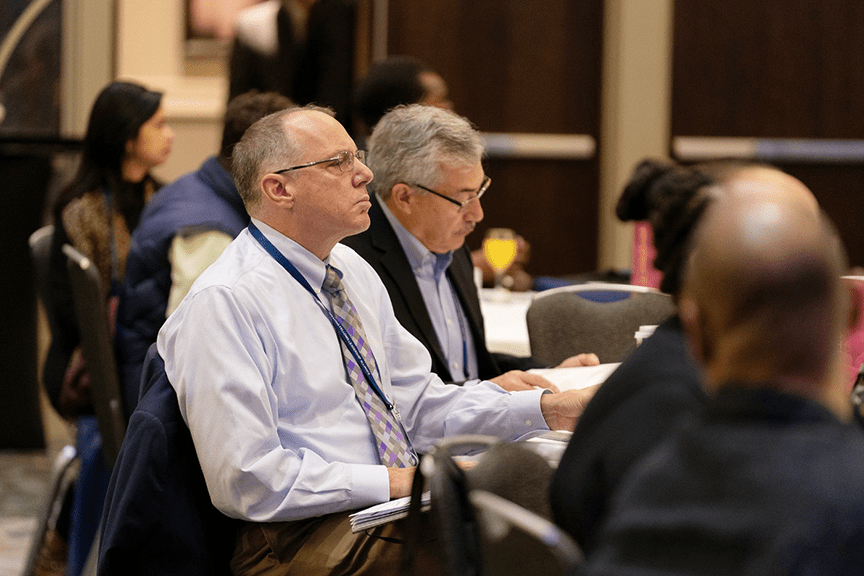 A small group of people can change the world, but how exactly does that change happen? This panel talked about the wins and losses along the way:
Dr. Walter Belik, University of Campinas in Sao Paulo, Brazil, Professor of Economics
Hon. Henry F. De Sio, Jr., Ashoka, Innovators for the Public, Global Chair for Framework Change
Moderator: Angela Tagtow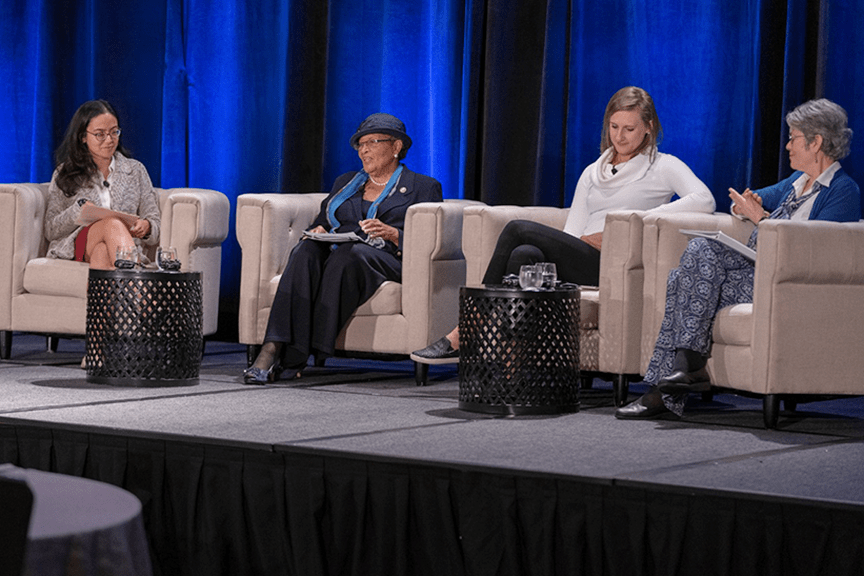 Policy and politics around food
Policy drives all aspects of our society and the food system, whether it is an organizational, community or public policy. In this roundtable, these speakers shared food policy experiences:
Honorable Alma Adams, United States House of Representatives and Kellogg Fellow
Dr. Molly Anderson, Middlebury College, William R. Kenan Jr. Professor of Food Studies, Kellogg Fellow
Helena Bottemiller Evich, Politico, Senior Food and Agriculture Reporter
Moderator: Nina F. Ichikawa, Policy Director, Berkeley Food Institute, Kellogg Fellow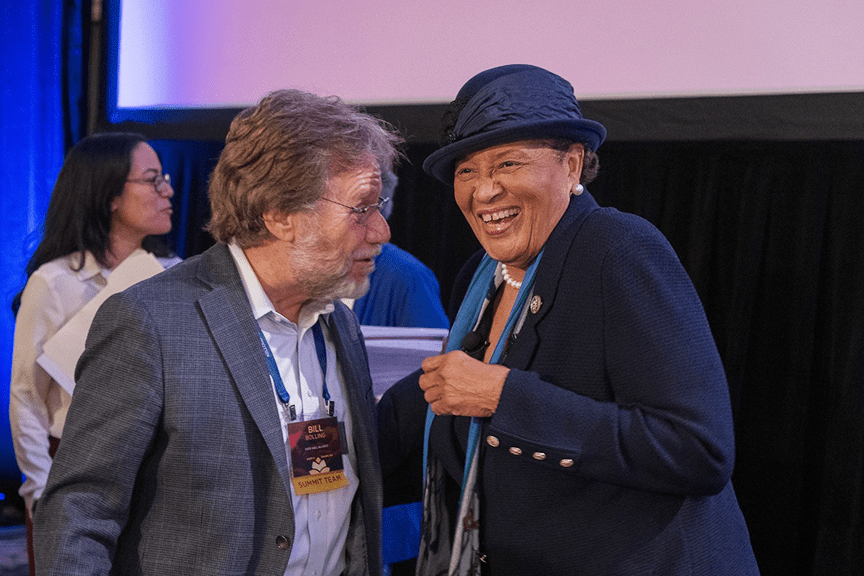 Leadership for community change
Meaningful social change is hard, but not impossible. These Kellogg Fellows provided cases of African, Latin American and United States communities that challenged current food paradigms and created change:
Bill Bolling, Atlanta Community Food Bank, Founder and Former Executive Director
Holly Freishtat, Baltimore Office of Sustainability, Food Policy Director
Pablo Mazzini, National Director, Ministry of Social Development (Uruguay)
Dr. Rosemary Nyoka, Zimbabwe Agricultural Income and Employment Development Program, Livestock Specialist
Moderator: Dr. Betty Overton, Professor, University of Michigan, also a Kellogg Fellow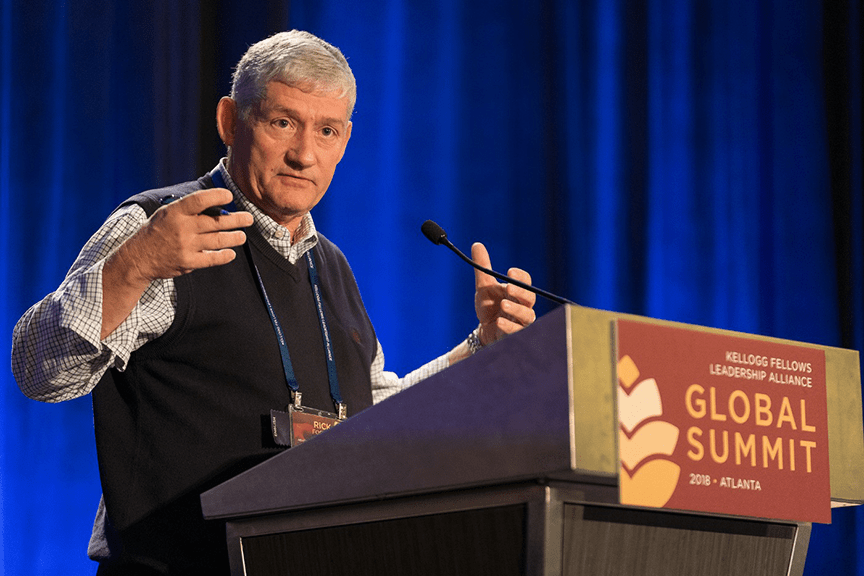 Each plenary session was supported with breakout strategy sessions for forming alliances and taking action after the Summit.
KFLA Board President Dr. Rick Foster told the group, "As you challenge the food system, you will face powerful resistance."
Calling to mind the words of the late Dr. Russell G. Mawby, an American academic and philanthropist who served as chairman emeritus of the W.K. Kellogg Foundation, Foster reminded the participants, "In the end, only people make a difference."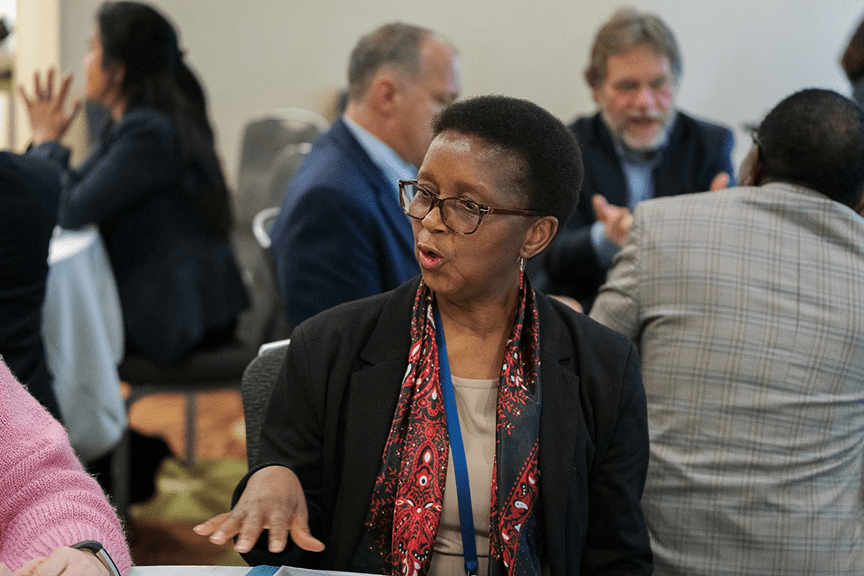 Watch 2018 KFLA Global Summit sessions here.
Look for more Global Summit stories coming soon about sustainable farming, research-based food policies and communities of color approaching mindful eating.