On October 22, W.K. Kellogg Foundation grantee PL+US (Paid Leave for the United States) partnered with Reddit co-founder and advocate Alexis Ohanian and Dove Men + Care and brought dads to Capitol Hill to raise awareness about the need for high-quality family leave.
Several fathers from across the country brought their babies along for this "Dad's Day of Action," where they pressed for paid family leave for all families in 16 meetings with members of Congress. Ohanian also presented Congress with a 36,000-signature petition supporting a federal law, adding to a growing chorus of voices recognizing the need for a comprehensive policy.
During a closing reception, several House members shared their own stories about needing—and in some cases, not having—paid leave.
Rep. Joe Cunningham (D-SC) said that he and his wife learned they were pregnant the day after he announced his 2018 bid for Congress. He had already taken time off work to campaign and felt unable to ask for more time off to be with his new baby. Rep. Colin Allred (D-TX) shared a similar story, noting that he was in office for just a month before the birth of his child. And like many of the "dadvocates" in attendance, Rep. Seth Moulton (D-MA) brought his one-year-old daughter Emmy to the reception, noting that she was with him for the week in D.C. while his wife was on a business trip.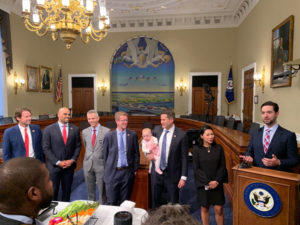 At some point, nearly all Americans will need to take time off work due to their own or a family member's illness, or to care for a new baby. Yet only 17 percent of workers have access to paid leave through their employers. The nation's only existing federal law, the Family and Medical Leave Act, provides job protection but no pay when leaves are required. Consequently, it is nearly impossible for low-income families to access this benefit. Without a paid leave option, many families are in untenable situations. They are forced to choose between keeping their job and caring for an ailing parent, having enough food and recovering from illness, or paying rent and bonding with a newborn.
What's more, research has overwhelmingly shown significant health benefits for infants and young children when their parents can take time away from work. Parental leave is associated with higher rates of vaccinations, well child check-ups, and timely health care provider visits when infants become sick, as well as lower rates of infant mortality. Maternity leave is associated with higher rates of breastfeeding and breastfeeding for longer periods of time.
Eight states and the District of Columbia now have paid leave laws, and several members of Congress have introduced federal bills.
Ohanian, who is married to tennis champion (and legend) Serena Williams, has become one of most vocal and best-known advocates for paid family leave. He often reflects on their experience, when their daughter, Alexis Olympia, was born in 2017.  "After all of the difficulties that my wife had after childbirth and seeing the very real trauma that our family experienced, it really crystallized to me how important this was for every American to have," said Ohanian last month. "I could not imagine any of my employees or any of my fellow Americans having to deal with the complications of a new child and not being able to be there to support your partner or even take care of yourself and your family."