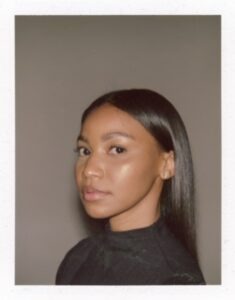 THEARTISTJADE is a New Orleans native, visual and performing artist and entrepreneur. I Am New Orleans began working with THEARTISTJADE and the Norman Mayer Library in 2022 to create a mural that reflects the initiative's mission and the unique people and culture of the Gentilly neighborhood. The artwork at the library is the first of two I Am New Orleans murals that THEARTISTJADE will paint. The second mural at the Andrew P. Sanchez & Copelin-Byrd Multi-Service Center in the 9th Ward is set to be unveiled later this year.
Q: Tell us about your artistic background and what inspired you to be an artist. 
A: I knew I wanted to be an artist at age seven. My parents noticed how much I loved drawing when I was a toddler, and my skills kept growing as I got older. They saw my natural ability and talent, so they ensured I had all the tools to keep advancing my skills. 
I stuck with it throughout my school and college years and eventually taught at Southern University in Baton Rouge. In 2015 I decided to make art my full-time focus, and now, I'm 31 and running my own visual and fine arts company, J A D E 1 9 9 1. 
Q: How would you describe the overall concept and vision for this mural?
A: The concept is a bundle of inspiration I drew from the people who will see this mural daily. I Am New Orleans organized community listening sessions at the library where we asked residents what equity means to them and their aspirations for the future of New Orleans.
I envisioned a bright, colorful piece that would inspire people, and it's incredible to see how my vision paired with the community's feedback came together. 
Q: What excited you about the project? 
A: I was excited by the theme and the opportunity to create something that represents making New Orleans a more child-centered city. Kids are surrounded by negativity and are easily influenced by the environment around them. A child in the neighborhood could see this mural and be inspired to make a different choice that day and bring positivity to others. The impact my work will have on our community's youth brings me so much joy. 
Q: As a Black female artist, what does this moment mean to you and the little girls who will be inspired by you and your work? 
A: This project is life-changing, and it enabled me to be a part of something beautiful, innovative and deeply-rooted in the betterment of our city. I want the mural to open opportunities for other Black female artists.
This is the largest body of work I've ever done, and I'm really proud of my capabilities. People always say you can do anything you put your mind to, but now that saying rings true for me. I am blessed to accomplish a project of this magnitude, and I hope younger artists realize that anything is possible.
Q: What did you learn from the community during the listening sessions, and why was hearing their hope for the mural so important?
A: I learned to listen more. When I saw a room full of people at that first session, I wanted to make sure I knew their stories and the ideas they had to offer. This mural is for the Gentilly community, so their hope and vision had to be centered. Their feedback also inspired me and built upon my creative vision.
Presenting the initial sketch was a little nerve-wracking, but the community's positive feedback reminded me why I do what I do. Even when the mural was in its earliest stages and painting had just begun, people would stop me and tell me how beautiful it was. Those little moments were even more motivation for me to keep going and do my best work. 
Q: What are some of the artistic elements in the mural that bring New Orleans and the Gentilly neighborhood to life?
A: Gentilly has such a unique culture and history, and you see that in the people. I used the four panels to incorporate diversity in race and age, and the figures all come together to represent unity and growth. The word "nature" also came up often during the listening sessions. Monarch butterflies are one of the signature elements I use in my work, and I even see them fly by me while I paint. I used butterflies and flowers to represent the neighborhood's natural beauty.
In addition, with this mural living outside the Norman Mayer Library, I wanted to pay tribute to its important role in the community. I used the far-right panel to show children reading books on different topics. Gentilly is a vibrant, colorful place; the mural captures that spirit.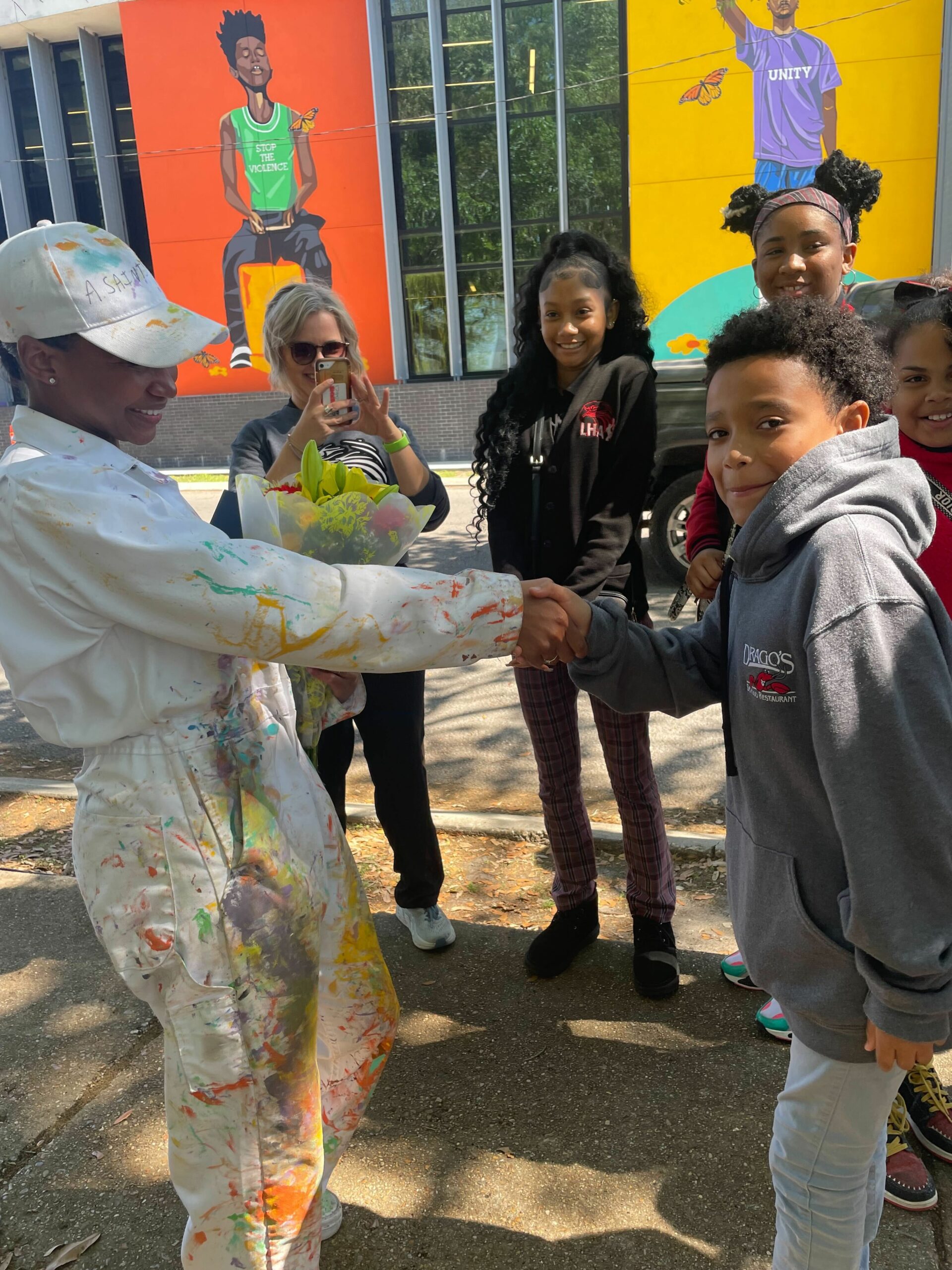 Q: When people walk by this mural, what do you hope they'll take away from the message and art?
A: I hope the people who pass this mural are motivated to be positive in their communities. I want them to feel empowered to be a spark and encourage those they encounter. I also want them to recognize that everyone plays a role in shaping our city's youth. The children of New Orleans are the future, and we need to make sure their voices are heard.
In addition, I hope people gain more respect for artists. We put so much effort into our work, both mentally and physically. When people simply passed by and lent words of encouragement, it gave me a burst of energy. If you ever see an artist working, a positive acknowledgment can go a long way. 
Q: What does I Am New Orleans mean to you? 
A: I Am New Orleans means I'm a part of something beautiful, innovative and deeply-rooted. When we come together, we are a force to be reckoned with. New Orleans is one of a kind, and I'm blessed to be part of that number. 
Read More