This August, Color the Creek, a popular community art festival, returns to Battle Creek, Michigan, for its seventh summer. This year it will feature live art installations, Youth Day, a block party and up to 10 mini and 10 large murals painted by local, regional and national artists.
In advance of the week-long celebration running from Monday, Aug. 15 to Saturday, Aug. 20, the W.K. Kellogg Foundation (WKKF) spoke with Justin Andert, founder of Color the Creek.
WKKF: You founded Color the Creek in 2016 and it's still going strong to this day. Can you tell us more about the festival and how it came to be?
Justin: I grew up in Battle Creek, but I moved to Minnesota after college. While I was there, I experienced their art culture, and I knew I wanted to create something similar in Battle Creek. Originally, the idea started as a mural festival ending with a block party to close out the week. I had been to a few similar festivals and saw how well received they were by their communities. I worked with some local partners to put together a grant proposal asking for funding to host a mural festival. We were awarded the funding and held the first festival in 2016. The next year we expanded to creating seven murals and the event grew from there. In 2019, we featured 15 murals and hosted community events every day of the week.
WKKF: What can the community expect to experience at this year's Color the Creek?
Justin: This year, we are featuring up to 10 large murals painted by local, regional and national artists. We'll also have live art installations and music, a Youth Day hosted in partnership with WKKF, and local vendors selling arts and crafts. A full schedule of events can be found on our website at www.colorthecreek.com.
WKKF: As you mentioned, this year W.K. Kellogg Foundation is partnering with Color the Creek to host the annual Youth Day. Can you tell us more about that event?
Justin: Color the Creek is hosting its annual Youth Day with support from the Kellogg Foundation from 10 a.m. to 1 p.m. on Wednesday, Aug. 17 in Mill Race Park—just across the street from the Foundation's headquarters. With the help of local artists, youth will have the opportunity to learn about spray paint art and create their own masterpieces. Youth Day will also feature an unveiling of the Kellogg Foundation's mural, a sticker drawing table, the opportunity to meet local artists and other fun, art-based activities.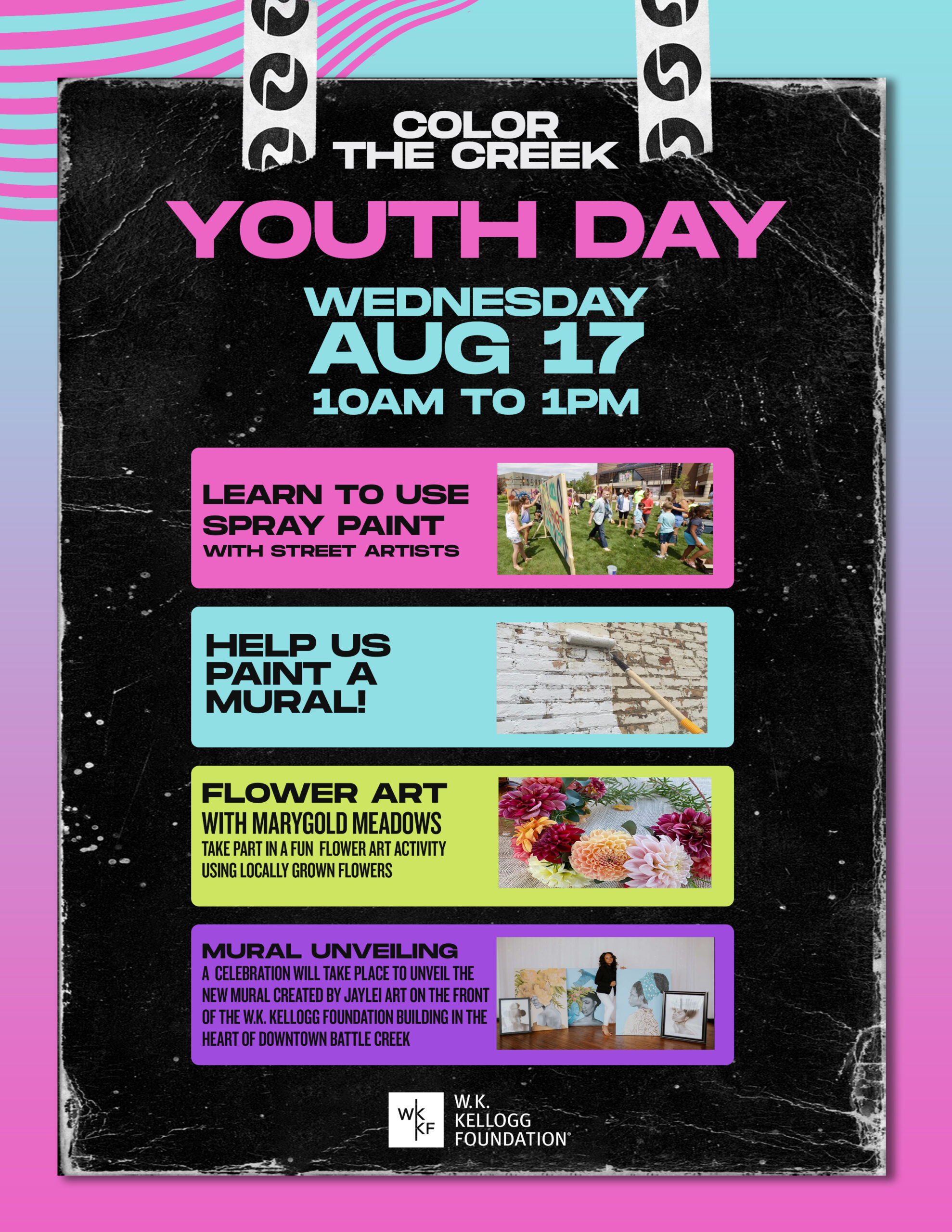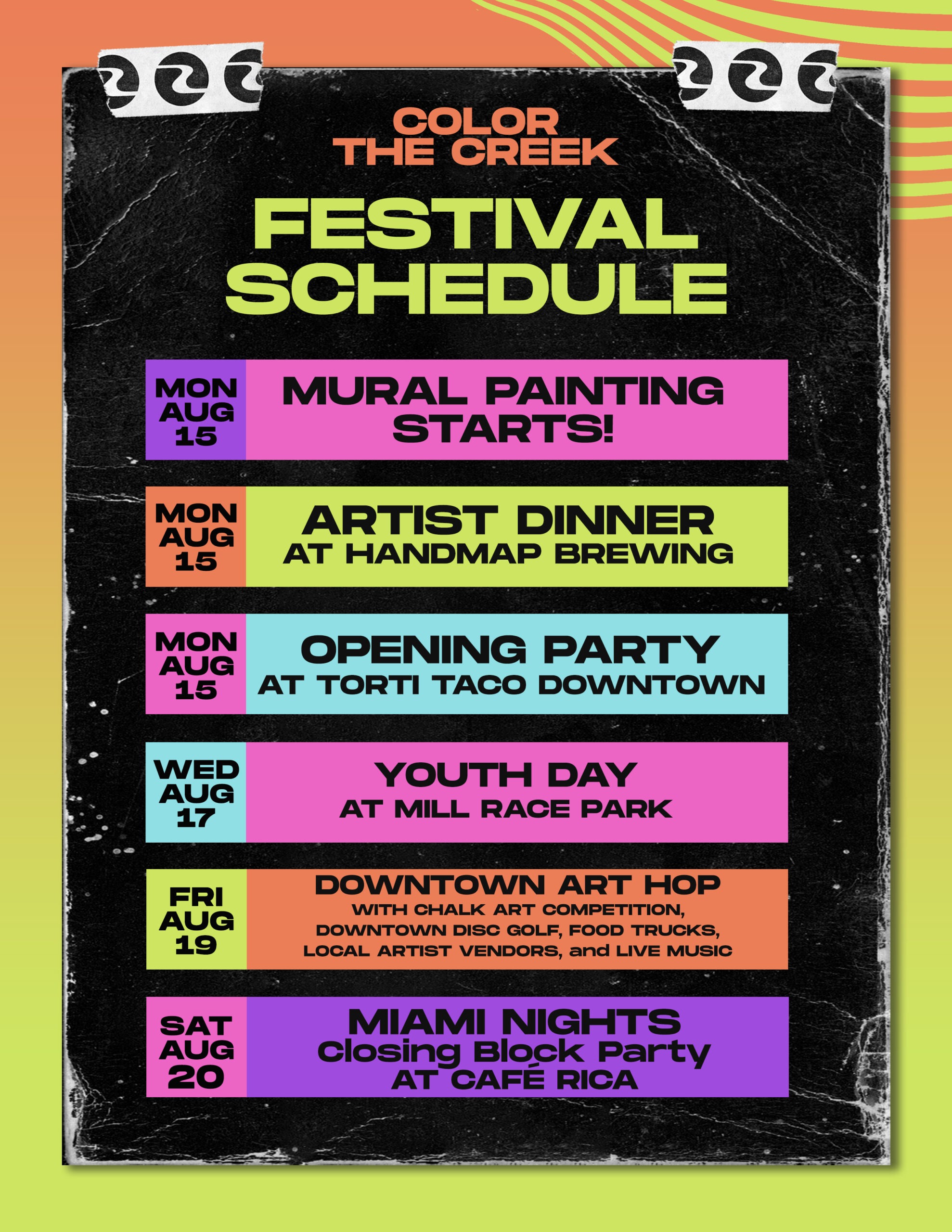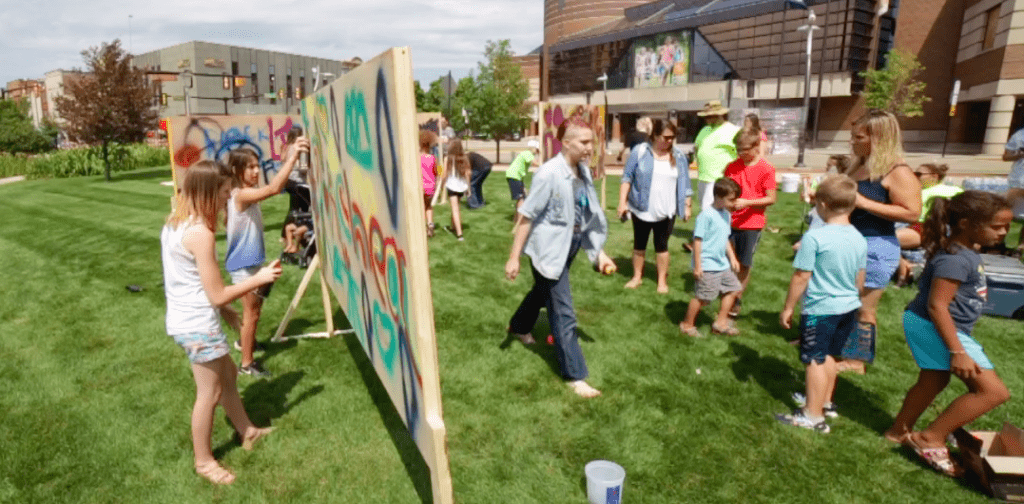 WKKF: We're so excited to unveil our new banner, which will hang above the doors of our headquarters in Battle Creek. This piece has a special connection to the Kellogg Foundation and the community. Can you elaborate more on that?
Justin: The Kellogg Foundation commissioned Battle Creek native and artist Jamari Taylor to create its new banner. The design of the banner represents a child thriving, which is at the core of the Foundation's mission and Color the Creek's Youth Day. Unveiling such a banner during this particular event drives home the importance of investing in our community's youth. 
WKKF: Color the Creek is more than a mural festival—it's a way to bring together residents of all backgrounds through art and create a sense of community. Why do you believe this is so important?
Justin: Art is an important part of every thriving city. It creates a sense of unity among the community, beautifies our neighborhoods and opens the door to important conversations about representation and inclusivity. Art can be a conduit for so many different experiences and when someone, especially a child, can look at a piece of art and see themselves in it, that is something really special. Our hope by hosting Color the Creek every year is to show the community that art should be celebrated in an inclusive way and that it is an important part of a community's cultural identity. 
WKKF: You mentioned that you were inspired to start Color the Creek after experiencing the art culture in Minnesota. Where does this love of art stem from? 
Justin: I was exposed to the arts at a young age by joining the Battle Creek Boys Choir. As part of that group, we had the opportunity to travel to other states and experience their visual and musical arts. When I grew into adulthood, I began looking for ways to bring more art and culture to Battle Creek to inspire kids in the community—just as I had been inspired when I was young. I hope Color the Creek inspires our youngest residents to become passionate about art in their lives – perhaps inspiring some to participate as artists in the festival in years to come. 
To learn more about Color the Creek, please visit www.colorthecreek.com.