The W.K. Kellogg Foundation partnered with the New Mexico Research Evaluation and Learning (REAL) Team Members to create a new report – Advancing Racial Equity in Maternal-Child Health and Addressing Disparities through a Reproductive and Birth Justice Lens – that explores how community-based organizations influence the health and well-being of birthing people and their babies in New Mexico.
Local, community-based organizations in New Mexico ensure that birthing parents have access to healthcare, such as home visits, breastfeeding, doulas and baby-friendly hospitals. This has meaningfully improved health outcomes for babies and birthing mothers, but a health gap remains for people of color in the state. Infants of color have lower birth weights, and both infants and parents of color die more often in pregnancy, delivery and postnatal care.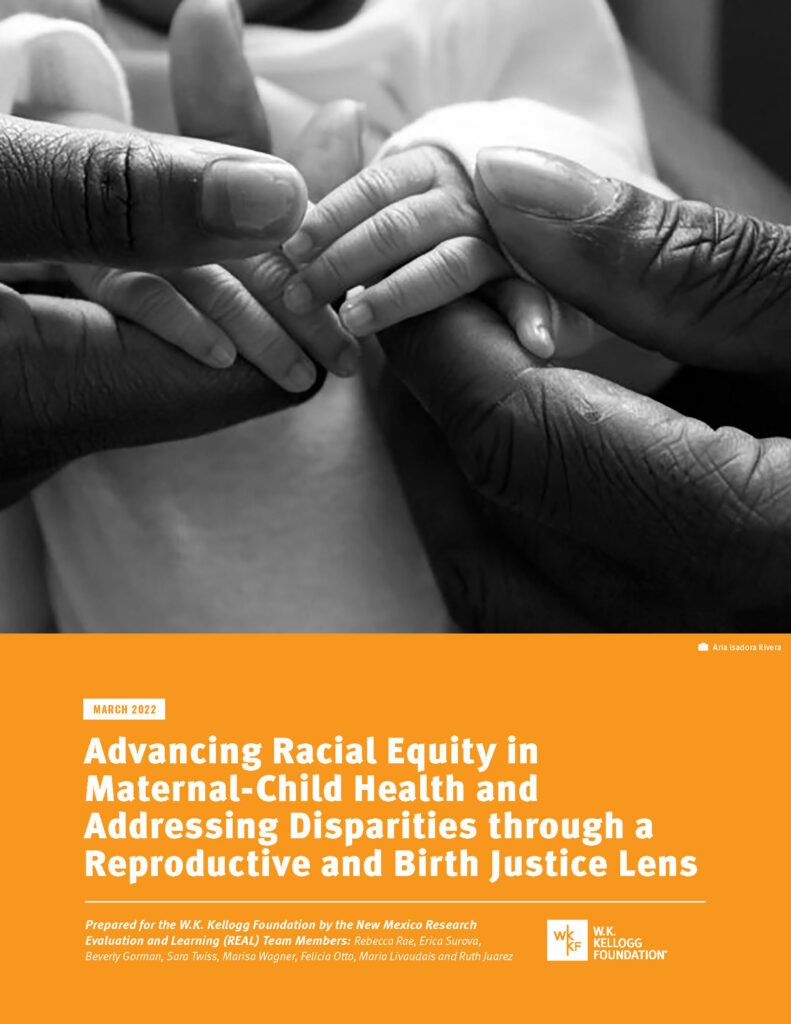 The strategies outlined in the report – including home visits, breastfeeding, doulas, and baby-friendly hospitals – improve access to care. But, this improved access doesn't necessarily translate to improved quality of care. Several participating organizations reported that families don't trust hospitals and clinics, based on personal experiences, but lack alternatives due to the limited options. This is particularly true for Native, Black, and immigrant/undocumented birthing parents, who for centuries have been subjected to experimentation by the medical field and robbed of their agency in making decisions about their own health care.
Even when desired services exist – midwives, doulas, home births, lactation consultants, and home visiting, etc. – they're frequently disqualified from insurance reimbursement, which effectively puts them out of financial reach for many people in New Mexico. Adding to the challenge, these services were some of the first to receive cuts at the beginning of the COVID-19 pandemic, and they have not been fully reinstated.
Access to care is not the same as quality of care; health outcomes won't improve unless racial equity is foundational to the work. If we listen and learn from families and communities addressing, advocating for and implementing actions to advance equity in care for birthing people and their babies, we can better understand how to improve healthcare outcomes and save lives.
The New Mexico Research Evaluation and Learning (REAL) Team Members developed a holistic reproductive, birth, family and infant systems of care model, which visually illustrates the racial equity work essential for birthing families and infants in New Mexico. At the center of the model is a loving, healthy birthing family. Surrounding the healthy birthing family are holistic factors and social determinants of health, which illustrate the types of care that birthing families need and – when absent – can indicate racial and health inequities.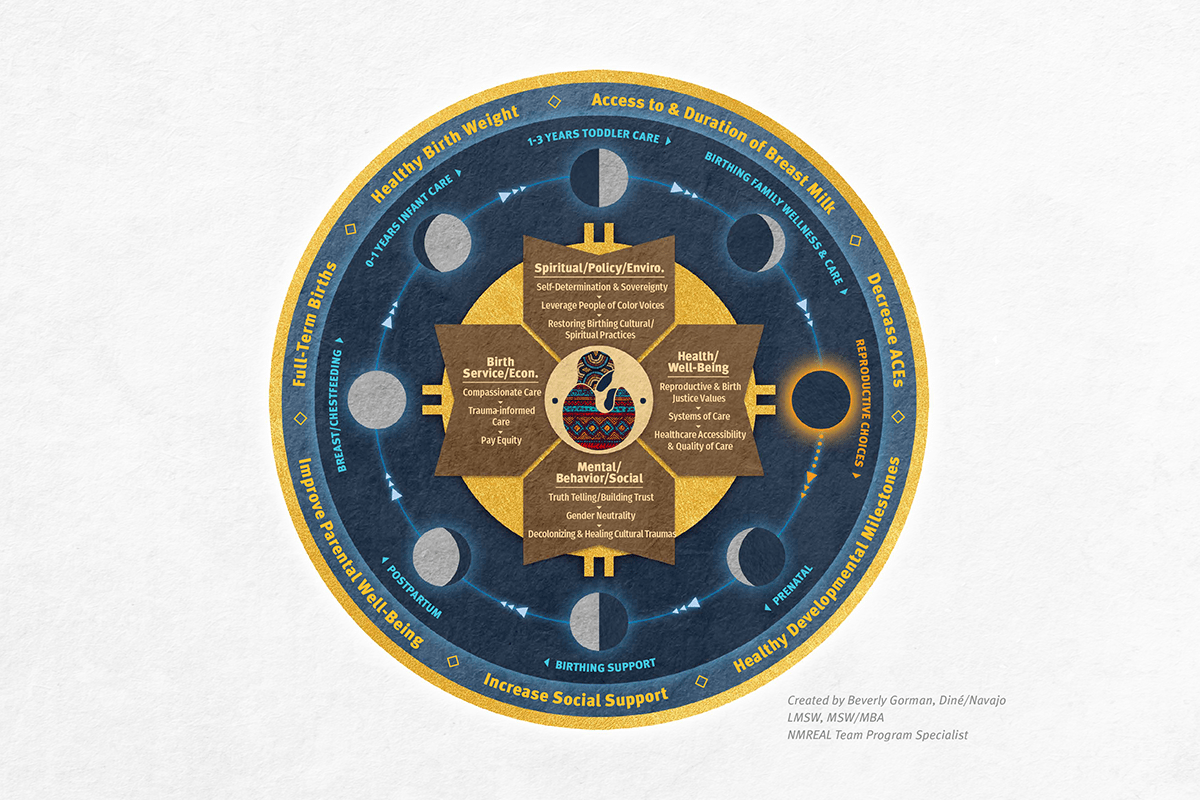 The racial equity work in the star sections of the model is metaphorically represented as the sun's heat source. Racial equity work strengthens this heat source, ultimately advancing racial and health equity that radiates toward outcomes across the spectrum of care for birthing families and infants. The outer moon cycle represents the spectrum of care that birthing families need to support birthing healthy babies and healthy parents.
What does this work look like in practice? Check out these two examples:
A collaborative of grantees, including Black Health New Mexico, Tewa Women United, the Navajo Nation Breastfeeding Coalition and Changing Woman Initiative, along with other Black and Indigenous birth workers and birth advocates, combined advocacy and education to reform the statewide Maternal Mortality Review Committee (MMRC). As a result, all MMRC members are trained in trauma-informed care and thinking, including the trauma of racism. It also ensures that lived experience and professional diversity are taken into consideration, giving Black and Indigenous community members opportunities to serve on the MMRC and receive designation as essential members. As a direct result, more than four Black and Indigenous community members have been newly appointed to its membership. Previously, Black people had not served on the New Mexico MMRC.
Another grantee, Bold Futures, also worked to help certify the Birth Center Licensure program, which helped provide reimbursement for individuals to give birth at the centers. This especially aids those living in rural areas, where health facilities are scarce and fewer birthing options are available. Passing the rural tax credit was also part of this work – this ensures that healthcare workers in rural areas receive credit for providing their services, and – importantly – includes doulas and licensed midwives.