On this Indigenous Peoples' Day, October 10, 2022, members of the Indigenous People's Coalition affinity group at the W.K. Kellogg Foundation write letters to their ancestors to honor the gifts and legacies of those who came before them.
This day, recognized as a federal holiday in 2021, invites all of us to honor the sovereignty promised to our tribal nations, celebrate the contributions of Native people, recognize the perseverance of Indigenous peoples and commit to a future grounded in respect for the human rights of Indigenous peoples.
Albuquerque was blessed with an autumn rain last night. The ground is damp and the air is crisp. I lift the heavy stones and carefully place them down on my carpeted floor, almost smelling the cool earth of great-grandmother's hogan, our traditional Diné home. I sit behind them with a bag of white corn, ready to grind and scrape this sacred seed into an early dawn offering. Asdzáá Nádleehé, Mother of our people, I hold you in my mind, in my memory, in my heart.
With steady strength and good thoughts, I feel the corn crush between the stones. Shímásaní, grandmother, I have a daughter and I have my own grinding stones now. I push and drag them like you taught me to do so that our people will not go hungry, so that we may always be physically and spiritually fed. I recount the stories of how our Diné people relied on prayer, kinship, and generosity to survive imprisonment and cultural genocide. Asdzáá Nádleehé, Mother of our people, my prayer is that my daughter will use these stones in the same way and whisper her own prayers.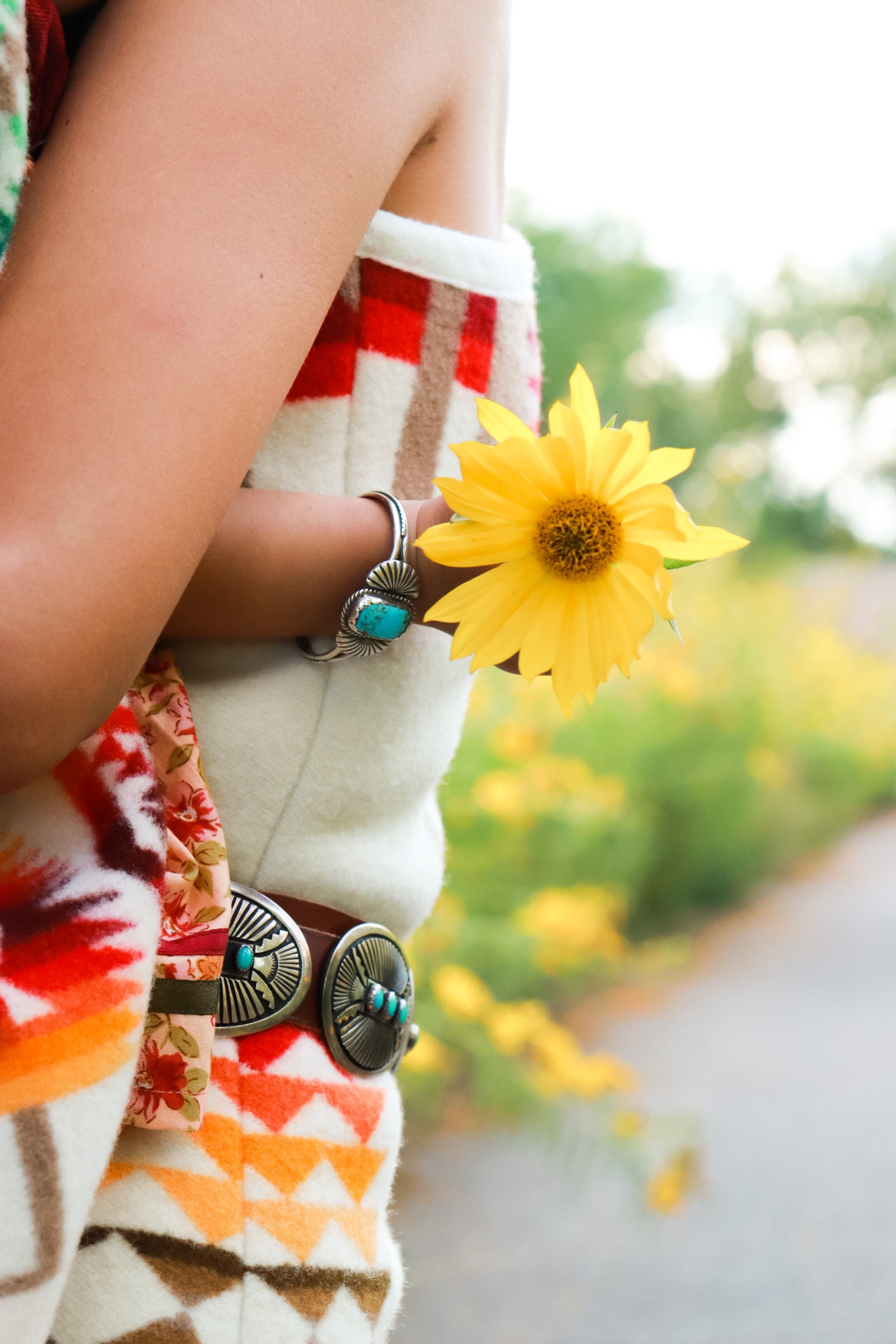 I carefully sweep the cornmeal into a small pile that I will share with shiyázhí, she'awéé—my little one, my baby. Shímásaní, shímá and I are guided by your teachings and love. Mom is helping me create my own medicine bundle now that I am a wife and mother. She instructed me to place corn pollen on baby's tongue soon after her first cry—it was our sacred moment in the middle of chaos. My husband and I welcomed our baby girl via cesarean during the height of a pandemic. Just as our people, the Diné, have done over and over, we reclaimed and redefined our ways of being during this hard time. Asdzáá Nádleehé, we thank you for bringing forth our Warrior Twins who protect us and bring us hope. 
I hold the cornmeal in my palm and think of shiyázhí, she'awéé, my little one, my baby—she is my hope. I teach her that she is Kiiyaa'áanii. I teach her that she comes from sacred lands. I know she will be confronted with the customary questions, often tinged in colonization and racism: "Where are you from and how long have you been here?" She will be able to say that she too is of this high desert and the female rain welcomed her. She is from a place of convergence, conflict, and courage. She is Kiiyaa'áanii. Her mother is Kiiyaa'áanii. Her grandmother is Kiiyaa'áanii. Her great-grandmother is Kiiyaa'áanii. Asdzáá Nádleehé, my baby will tell how you, our Diné diety, shaped the Kiiyaa'áanii people from the skin of your breast and made us leaders, the first clan. May my daughter shape our clan and lead our people with her tender heart and strong spirit. 
I sprinkle the cornmeal over the traditional, unceded homelands of the Tiwa and Tewa peoples. My prayers are planted wherever I go. Indigenous peoples are still here; we are living, thriving, innovating, healing, praying. May beauty and harmony be restored. Hózhó náhásdlíí. Hózhó náhásdlíí. Hózhó náhásdlíí. Hózhó náhásdlíí.