Communities of color that have struggled with food insecurity during the COVID-19 pandemic now face another crisis – a lack of formula for their babies, due to the countrywide infant formula shortage.
As parents navigate this terrifying – and preventable – situation, W.K. Kellogg Foundation grantees are mobilizing support to families by providing trustworthy, reliable information, and they're speaking with government officials to expand formula brands for WIC participants, SNAP and Medicaid resources, benefit programs, and stipends for eligible participants. This builds on decades-long advocacy to implement workplace protections for nursing parents, paid leave for expecting and current parents, childcare and other protections that support a family.
In Mississippi and New Orleans
Dr. Mobolaji Famuyide from the University of Mississippi Medical Center appeared recently on NBC Nightly News to speak about how the crisis is disproportionately impacting people of color.
Dr. Famuyide said, "Deficits in nutrition will significantly impact the baby" long term. The medical center is among many partners in the state helping to ensure every baby has a healthy start to life. Just the same, our partners in New Orleans, including Birthmark Doulas, are helping to service families during this crisis.
During National Prematurity Awareness Month last year, WKKF talked with our community partners about how human milk is a lifeline for premature babies and how it can close the equity gap for babies of color.
Monica Esparza, a certified lactation counselor and executive director of the New Mexico Breastfeeding Task Force (NMBTF), has been leading response efforts, and she shares that the first and most important response was to communicate reliable information.
"Families are already stressed, and they shouldn't feel alone in another crisis they are facing," says Esparza. Support from the NMBTF has also included providing state resources to all moms and birthing people for formula access and lactation support.
In a matter of hours, the New Mexico Breastfeeding Task Force launched a bilingual hotline (505.395.MILK) and a statewide social media campaign, which is being translated into multiple languages to help families navigate the formula shortage. At the same time, the New Mexico Department of Health and the Early Childhood Education and Care Department issued a press release that included a monitored email address to field immediate concerns and needs. Additionally, New Mexico already had flexibility to support multiple formulas in their WIC and SNAP programs.
The hotline is available to English and Spanish speakers. Esparza explains the grief she feels through each phone call and connects it to deep-rooted systemic inequities in three ways.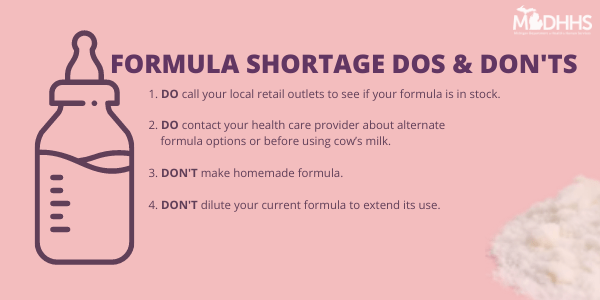 National efforts across the U.S.
MomsRising created the Feed Your Baby: #FormulaShortage newsletter to keep people up-to-date; you can sign up here. They have also created a social media Feed Your Baby: Baby Formula Shortage Toolkit in English and Spanish. The toolkit includes basic dos and don'ts for feeding babies during a formula shortage, ways for parents to stay informed, stories from moms and ways that parents can share their stories.
The Academy of Breastfeeding Medicine (ABM) recognizes that the shortage has reached critical levels and has issued a statement with recommendations to help support the safety and health of mothers, infants, and children until such a time as the crisis averts. ABM published a positional statement in 2017 on Informal Breast Milk Sharing for the Term Healthy Infant.
1,000 Days has been committed to giving all families a healthy first 1,000 days and are relentless during this crisis for immediate response. They are partnering with the U.S. Breastfeeding Committee, which released this statement on the shortage along with helpful resources and tips. Much of their work drives greater action and investment to focus on the issues that impact the nutrition and well-being of mothers, babies and toddlers in the U.S., particularly the most vulnerable.
HealthConnect One realizes that what parents need right now is information on how to get their baby fed safely, without shame. They are providing access to peer-to-lactation support that can help parents who may be interested in relactation or accessing milk banks. Their work extends to recognizing the deep racial disparities in advancing breastfeeding intention, initiation, and duration.
The Academy of Breastfeeding Medicine
HealthyChildren.org (from American Academy of Pediatrics)
International Lactation Consultant Association
USBC-Affiliated Infant & Young Child Feeding Constellation
ILCA: The International Lactation Consultant Association released a statement on the commercial infant milk formula shortage. In addition, ILCA has developed a series of shareable social media graphics on the shortage.
Breastfeeding USA has developed a shareable graphic featuring information from the American Academy of Pediatrics on the infant formula shortage.