Asianique McDonald, a senior at Battle Creek Central High School (BCCHS) in Battle Creek, MI, trained as an Emergency Medical Technician (EMT) through her participation in the school's Career Academies, a program that combines academics with career skill training. She knew the training would open career opportunities by giving her valuable skills, but she discovered just how valuable that training was when a co-worker had a seizure and she knew how to respond. 
"BCCHS is unique in that we have exposure to this experience all through our high school career. It's preparing us to go out into the real world," Asianique said, explaining that the career-focused curriculum will prepare her for medical-related college courses and help her build her own network. "When you have mock interviews and career panels your freshman and sophomore year, you're making beneficial connections and building relationships with members of the community."
As part of the Career Academies' second graduating class, Asianique pointed out not just the valuable skills and experiences the school offers but also its contribution to local employment equity. "It is very important to recruit Battle Creek students, because the majority of us are minority groups and we don't always get the privileges that others get because of that," she said. "It is beneficial for us to get out there in the community and have more people of color in healthcare field jobs, public safety jobs, education, business, engineering and finance. "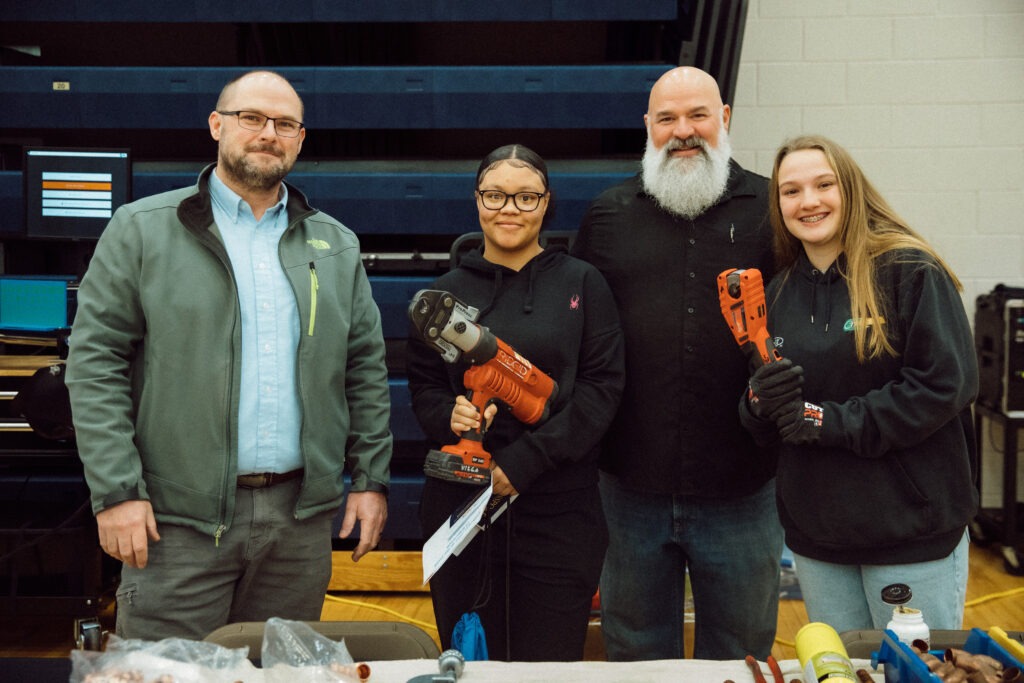 At the BCCHS annual Career Exploration Fair last month, 217 ninth-graders explored the EMT training that's been so beneficial to Asianique along with other career pathways in the government, nonprofit and businesses sectors. More than 150 representatives from local Battle Creek entities engaged students in hands-on activities such as welding with blowtorches, examining bus engineering, looking at medical samples under a microscope, conducting push-up competitions and so much more.
In 2017, WKKF made a five-year, $51 million investment in Battle Creek Public Schools (BCPS) to fund a comprehensive, equity-informed transformation to achieve success for every student in the district. But this has been so much more than an investment in one school district — it's been about creating transformative changes for the entire Battle Creek community. 
Early in the BCPS transformation, district leaders made consistent efforts to collaborate with many partners and organizations in the city of Battle Creek and encourage the community to become involved in the changes taking place. This close collaboration catalyzed a realization among local leaders that the city's vitality and future is tied to the success of BCPS and its students, with a stronger school system leading to a local workforce talent pipeline, and an economy employing more BCPS alumni further strengthening the local school system. 
The energy and excitement from the changes happening at BCPS have spread into the city by sparking other investments in revitalizing Battle Creek. 
"We have a linked fate, the city and the school system," said BCPS Superintendent Kimberly Carter. "And so, if the city is thriving, then our schools are thriving. If our schools are thriving, the city is thriving."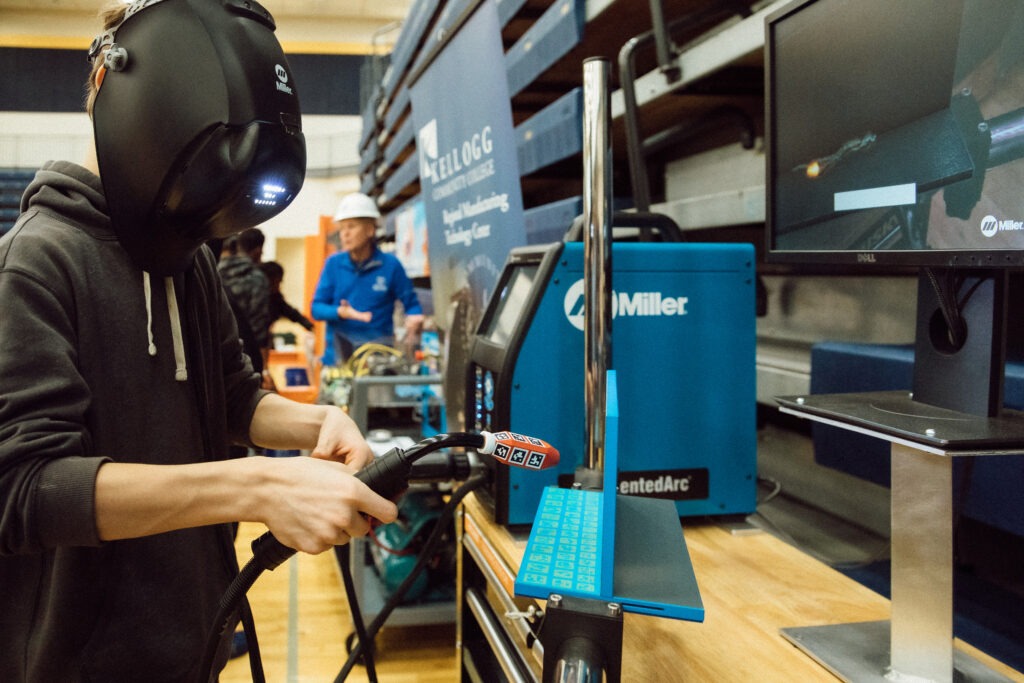 In year two of the transformation, district leadership focused on reimagining the high school experience by aligning it with community workforce needs and bringing in local partners to support the effort. Through a collaborative process with over 120 community members, the district created the Career Academies at BCCHS, a revolutionary curriculum overhaul providing practical, career-oriented skills and education. 
Many of the program's 70 community partners have been there from the start, participating not only in the career fair but in a range of programs to connect and engage students with local employment opportunities, including mock interviews, internship programs and job shadowing experiences. 
These partners are so involved in the district's activities because they understand that they're not just helping the next generation — they're helping the entire local economy. For instance, by fostering a future local, skilled workforce while creating an exciting high school experience that continuously engages local employers, the Career Academies heightens the desirability of Battle Creek as a home to current and new residents. 
"For the city of Battle Creek to be successful, we need to keep recognizing the interconnectivity between education, economic development and talent, and keep making improvements in all of those areas," said Battle Creek City Manager Rebecca Fleury. 
The Career Exploration Fair in 2023, held on Jan. 11, was the first in-person fair held since the COVID-19 pandemic and only the second in-person one ever, with more partner participation than ever before. The fair is meant to help ninth-grade students decide their pathway, choosing either fields in health and human services, business, engineering or industrial technology and shaping their coursework from sophomore through senior year.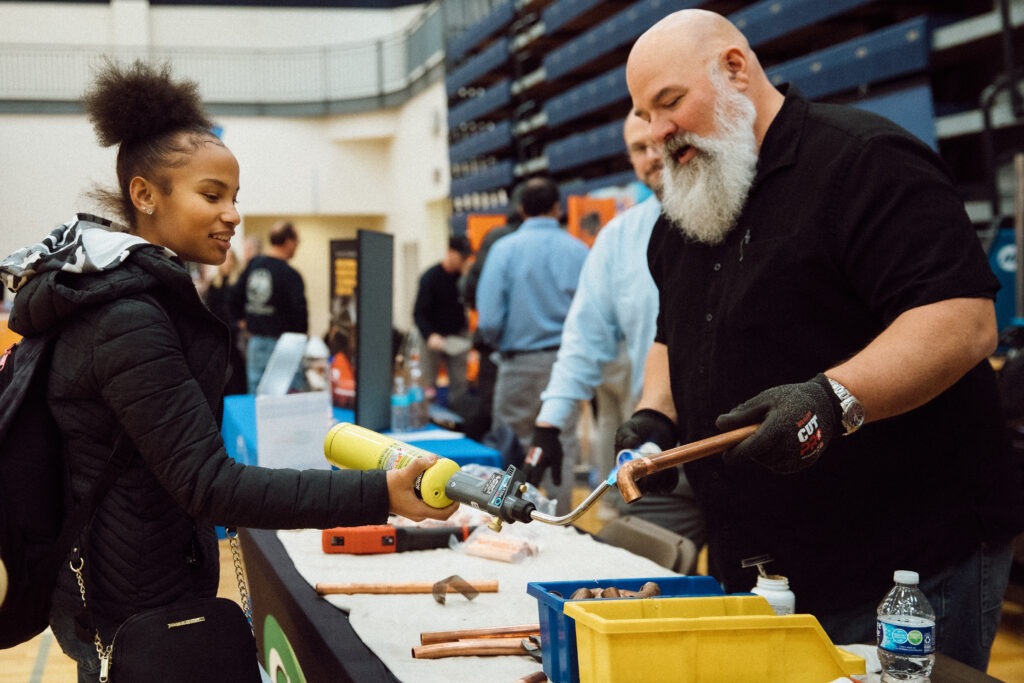 "BCPS' leadership consistently talks about the importance of students being college, career and community ready. Our investment in the Career Academies is just that," said Alana White, a WKKF program officer who works closely with the school district. "It's a commitment to the future of our Battle Creek youth, wherever their purpose and passion may take them."
"Our next generation of employees are going to be coming from this school," said Emily Powell, the education and outreach manager at the Kingman Museum, Battle Creek's natural history museum, at this year's fair. "And so if we can prepare them early, prepare them now for what employers need, what our community, our businesses want, then our students will stay here and participate in the community. They'll be prepared by the time they graduate, and then they will find jobs right here in Battle Creek, and that just makes our community richer."
Jonathan Bartik, the BCCHS career coach, said that roughly 20% of community participants in the fair were BCPS alumni and that having the hands-on experiences motivates the students to engage with prospective employers.
"We're creating students who are well-rounded, have practical knowledge, who are employable and have those soft skills to engage in the community successfully," Bartik said. "And that's hard to directly teach just through classroom instruction, but when you add this layer of community partners and organizations and real employers, one adds an additional layer of instruction and another layer of motivation for the students."
Find out more about the ongoing transformation at BCPS at ChangeStartsHereBCPS.org.