Over two hundred public events took place for the National Day of Racial Healing 2023. From art displays to keynote speakers, from dance parties to free food pantries, you showed up – here's a few ways how.
Live & Virtual Events
The

Cincinnati National Day of Racial Healing

, hosted by All-In Cincinnati and the Center for Truth, Racial Healing & Transformation (TRHT) at the University of Cincinnati, hosted Dr. Angela Davis as their keynote speaker. Capturing her speech was local live illustrator

Brandon Black

, who produces real-time visual processing of concepts and conversation. Here's how he depicted Dr. Davis' talk: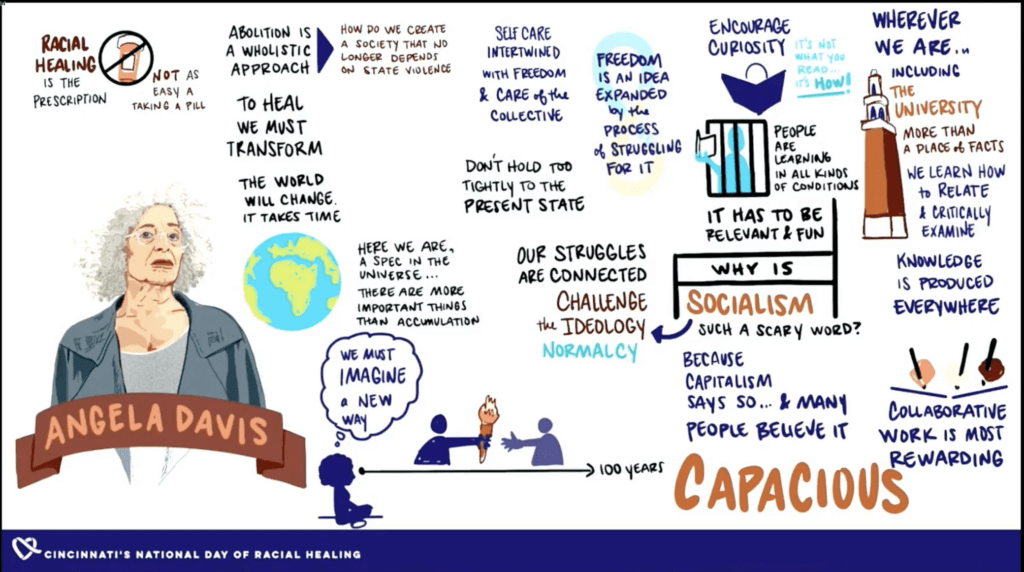 Lecturer and SCoRE alumna Heather McGhee, author of "

The Sum of Us: What Racism Costs Everyone and How We Can Prosper Together

," appeared at virtual events at the Chicago Public Library and at a collaboration between the Central New York Community Foundation, Community Foundation for Greater Buffalo, Community Foundation for the Greater Capital Region and Rochester Area Community Foundation.

Hackley Public Library and Molina Healthcare partnered with Kaydence's Little Free Pantry to assemble and distributed books and culturally diverse recipe kits. The Little Free Pantry – started by Kaydence when she was only eleven years old – was also

stocked with culturally diverse food offerings

all day.
Catch Up with Recorded Events
Missed the National Day of Racial Healing events in your area? Many participating organizations livestreamed their events and have made them available through a number of video streaming series. Here's just a few:
The Harlem Wellness Center offered a series of virtual contemplative and mindfulness practices for racial healing, uploaded over the day

to their YouTube channel

.
Dallas Truth, Racial Healing and Transformation hosted a series of events live and on their Instagram, including a virtual healing practice and a conversation with local historian and author Dr. Michael Phillips.
STOMP Out Bullying, a national anti-bullying and cyberbullying prevention organization for kids and teens, created an engaging video and a list of suggested activities for youth to participate in the day.
Coming Together Virginia hosted a National Day of Racial Healing Concert at the Virginia Museum of History and Culture, with local artists Desirée Roots and the Weldon Hill Ensemble.
Future Events
The National Day of Racial Healing may be over, but the work of racial healing and racial equity continues. Here are a few organizational launches and upcoming events to continue your own work towards racial healing in your community.
Middlesex College in New Jersey marked the opening of its Center for Truth, Racial Healing & Transformation with a racial healing circle. Noted Fortaleza, a nonprofit devoted to advocacy for Latino student success: "It was truly transformative and left participants feeling a strong sense of hope for progressing toward a more just and equitable community."
Racial Healing & Wellness Coaching for Women announced its upcoming free four-week series on race and transformational healing.
MSNBC Town Hall