This week, we unveiled a new mural on the front of our headquarters in Battle Creek, Mich. Created by local artist, Jamari Taylor, it highlights the heart of our mission: Every Child Thrives.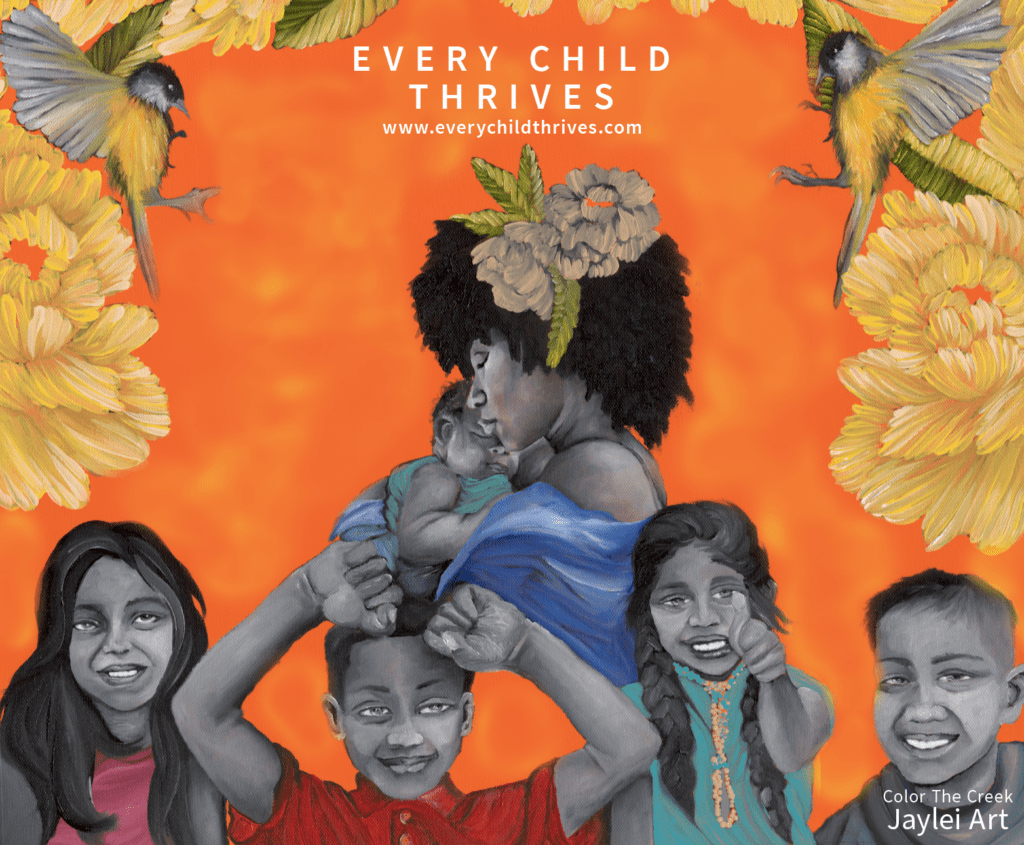 Commissioned in partnership with Color the Creek, "Every Child Thrives" illustrates WKKF's priorities of thriving children, working families and equitable communities.

"When we thought about updating our banner over our front door, we couldn't think of a more exciting partner than Color the Creek to help us showcase our commitment to Battle Creek and the children and families that call this great city home," said Faye Nelson, director of Michigan programs.
Battle Creek is our hometown, and we remain committed to ensuring that everyone, especially the community's youngest residents, can prosper. This piece exemplifies the beautiful diversity and potential of our community's children and families. Our investment in them is an investment in our shared future."
The mural was created by professional portrait artist Jamari Taylor of Jaylei Art. Jamari grew up in Battle Creek, Mich. and currently lives in Grand Rapids, Mich. Using charcoal, acrylics and oils, she creates images that portray character, power and strength. Taylor is also committed to giving back and nurturing the next generation of artists; she has created an artsy foundation to uplift and get others inspired through an artist's vision. Check out more of her work at jayleiart.com.
"I love to use portrait work as a way to uplift others and get others inspired," said Taylor. "So with this project, what you are going to see is different body languages of children in portraiture and nature, and all kinds of symbolism that will uplift them and get them inspired. I hope when they come by or when you come by with your family, you get inspired and see yourself up on the wall."