This story was originally published on Medium by Sostento. WKKF is a lead funder of Sostento's work with free and charitable clinics in Mississippi.
Getting to meet former Secretary of State Hillary Rodham Clinton was not on my roadmap at the start of 2023, and yet there I was, shaking hands with the former first lady and Senator of New York. The meeting was part of Sostento's participation at the Clinton Global Initiative (CGI), an extraordinary two-day event dedicated to taking action against the major challenges our world faces today.
Over the course of 48 hours, I was in the same room as a former U.S. President, billionaires, Fortune 500 CEOs, big city mayors, movie stars, and many extraordinary change-makers from around the globe. It was Sostento's success in serving frontline health workers and our commitment to expanding access to care for low-income Americans nationwide that gave me this opportunity.
It's hard to describe the whirlwind experience fully, but the uplifting energy was infectious at the event, and I wanted to try and share that with my network. While I won't be able to cover everything I saw and learned, I want to highlight the people, causes, and ideas that resonated with me most.
Former President Bill Clinton and Pope Francis
The event started with an unexpected special guest. Pope Francis was added to the event at the last minute and joined virtually for a conversation with former President Clinton. After a few technical issues – which gave me a sense of humanity that Zoom issues do not discriminate – the two made a call for peace and prosperity for all. Pope Francis spoke about a free clinic for children that is run within the Vatican and discussed the importance of access to quality healthcare for all, especially for the most vulnerable citizens of the world. The opening session set the tone of the seriousness of the problems we're facing and of the joy of being able to hold an in-person event like this after three years of pandemic restrictions.
Michael J. Fox — Actor, Author, and Parkinson's Cure Advocate
The most inspiring session was a conversation between Secretary Clinton and Michael J. Fox regarding his work toward finding a cure for Parkinson's Disease. The first few minutes of the interview were difficult to watch; seeing Fox battling late-stage Parkinson's was heartbreaking. But as the conversation progressed, I was incredibly moved by Fox's resilience, grit, and humor in the face of such a terrible disease. Thus far, he's raised $2 billion to fight Parkinson's, and in his resolve against the stigmatization of the disease, it's clear he isn't hiding from it. The session left me feeling that adversity can't stop anyone who remains optimistic and steadfast in their beliefs.
Chelsea Clinton — Author, Health Advocate, and Vice Chair, The Clinton Foundation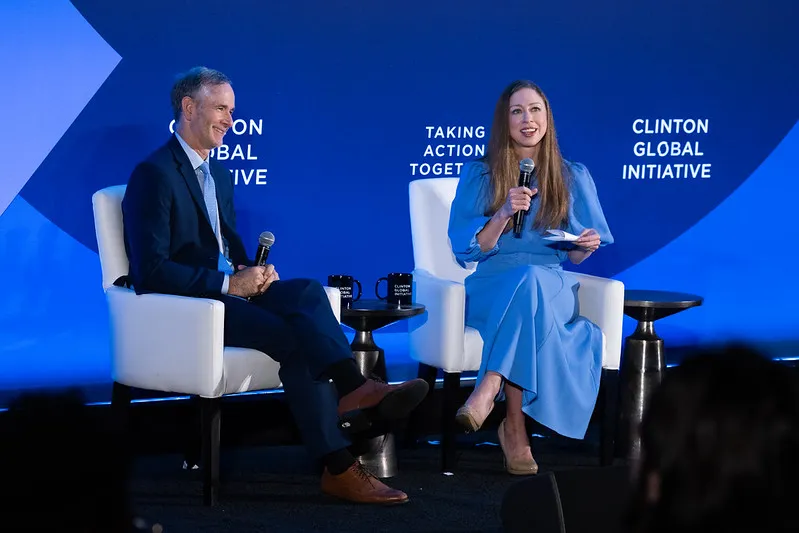 While Bill and Hillary helped open and close the event, Chelsea Clinton led throughout. She was incredibly impressive on the main stage, speaking about a diversity of issues and participating in many side events as well. In particular, I found her interview with Tom Inglesby, the Director of the Johns Hopkins Center for Health Security, to be fascinating. The two focused on the potential for artificial intelligence (AI) to revolutionize public health and the medical field in the years ahead. AI was the leading topic of innovation across the conference, and its potential in health was almost always at the forefront. It was clear to me by the end of the conference that in 2024, AI will be at the forefront of innovation, and its integration into the workplace is inevitable.
Albert Bourla — Chairman and CEO, Pfizer
Being at the same event with the heads of both Pfizer and Moderna–the companies that paved the way for the COVID-19 vaccine rollout–stood out because of all the hard work my team has done over the past two and half years in creating access to these vaccines. It was also bittersweet because I can see the public health sector losing momentum and reducing funding for healthcare access interventions that saved lives during the pandemic. Governments, health providers, and corporations did incredible things for people's health during the COVID-19 pandemic that were never thought possible, but it is clear without advocacy and resilience, we will backslide. Being in the same room with the two executives further made me realize that for us to be prepared for future emergencies, we have to keep up the relationships and innovations that drove access to vaccinations for the hardest-to-reach Americans during the height of COVID-19.
La June Montgomery Tabron — President and CEO, W.K. Kellogg Foundation
I've had the pleasure of working with the W.K. Kellogg Foundation through Sostento efforts in Mississippi and got to sit down with the Foundation's President La June Montgomery Tabron for a private one-on-one discussion at CGI. She is approaching her ten-year anniversary as CEO, a significant milestone, and during our conversation, she was incredibly kind, thoughtful, and inspirational. La June is the first woman and first black CEO of the W.K. Kellogg Foundation. She grew up in a family of ten children in inner-city Detroit, started her career at the foundation, and worked her way to the top position at one of the largest supporters of nonprofits in the United States. Today, she is an influential force in forward-thinking philanthropy and living proof that there are philanthropic voices beyond billionaires that we can elevate to shape the future of giving in America.
Alicia Vermaele — Executive Director, The Starbucks Foundation
In 2009, I received my first-ever grant as a nonprofit professional. The funding was for $7,500 from the International Youth Foundation and their Starbucks Shared Planet grant program. I was in my 20s at the time and with that funding, I traveled across Africa to pursue my interests in the intersection of technology, community development, and public health. It was a once-in-a-lifetime trip that taught me countless lessons.
Nearly 15 years after receiving that first grant, I got to sit down for coffee with Alicia Vermaele, who leads the Starbucks Foundation. It was quite special to share my journey since 2009, and it goes to show that you never know when you'll get that subtle reminder of how far you've come in your career.
Steven Reed — Mayor of Montgomery, Alabama
It was quite an honor to meet Steven Reed, the Mayor of Montgomery, Alabama. In November 2019, Reed made history by receiving more than 67 percent of the popular vote to become the first Black Mayor of Montgomery in the city's 200-year history. This past April, Reed was re-elected for a second term. Our meet-up was to discuss Sostento's work with a free and charitable clinic in Montgomery called Medical Outreach Ministries. At CGI, I met multiple mayors, including those from Montgomery, Cleveland, and Baltimore. What they shared in common was a leadership perspective that mixed design, innovation, implementation, and a drive to improve their communities.
Matt Damon — Actor, Philanthropist and Co-Founder of Water.org
The crowd gathered early to get into a side session on new approaches to philanthropy that had a compelling lineup of donors and doers. Within minutes, the room was filled to capacity. The session was a reminder that the new landscape for seeking funding, especially in the public health realm, is more competitive than ever. Perhaps the other reason the session overflowed was the featured speaker, Matt Damon, the movie star who shares my hometown of Boston. Damon did not disappoint, giving his best Bill Clinton impression and explaining how he's using his fame to mobilize funding for innovative financing that provides clean water to millions worldwide.
Jose Andres — Chef, Restaurateur, and Founder of World Central Kitchen
As I walked the hallways of the event space in between sessions and trying to catch my breath, I spotted Chef Jose Andres. If you want to be inspired today, look up World Central Kitchen and its leader, Jose Andres. He is a fearless champion of humanity, and his team runs to the frontline of crises worldwide to deliver high-quality, culturally curated, nutritious meals. I didn't want to bother him, but his group was busy talking amongst themselves, and Jose was looking around, so I went up to tell him how inspirational his work was and that he needed to keep going. He was warm and kind and spent a few moments chatting with me before he had to run off for his main stage session. The interaction left me humbled and perhaps a bit hungry.
Franciscka Lucien & Ashley Ambrose — Health Equity Team, Clinton Global Initiative
The CGI event space was expansive. The star power was overwhelming. The diversity of sessions and speakers was unending. I've run a number of events in my career and even a few that accommodated a hundred participants. CGI had over 2,000 participants, and the event's execution was nothing short of perfection. In particular, my points of contact, Director of Health Equity Franciscka Lucien and Senior Manager of Health Equity Ashley Ambrose were incredibly helpful in making sure I made the most of the event.
In Closing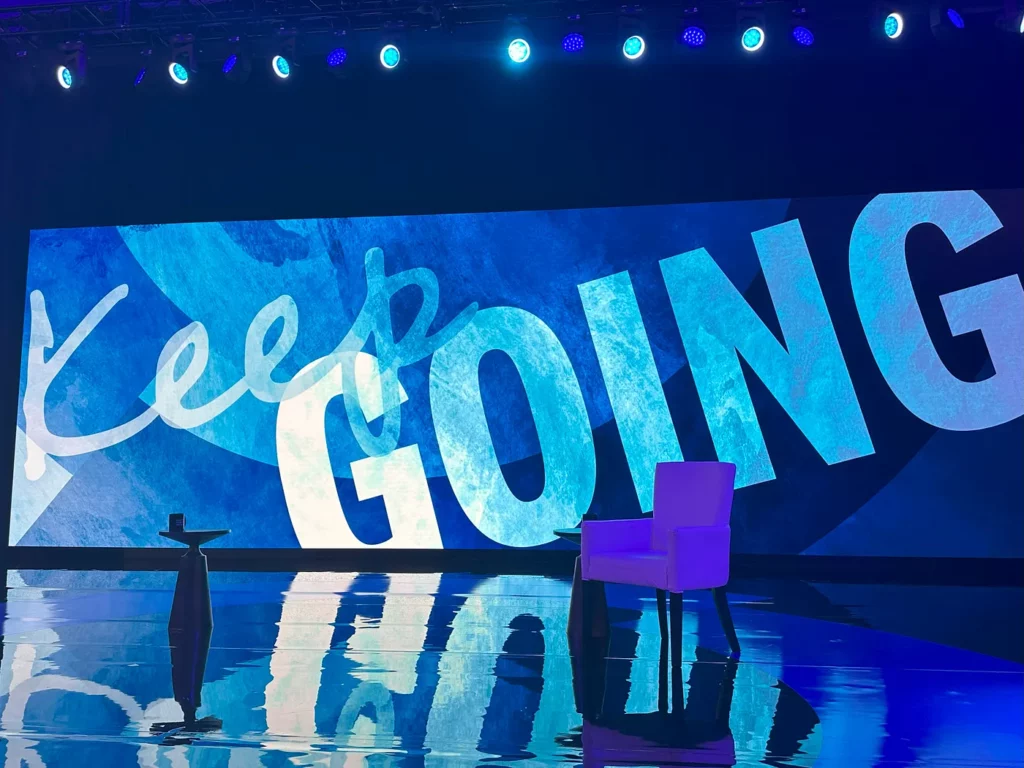 The main theme of the 2023 CGI event was "Keep Going," a fitting call to action for those in the public health world. We are exhausted from a pandemic. Yet, it feels like the world has already moved on, and as a result, we are losing the lessons learned from COVID-19. The reason isn't nefarious. The truth is, there are many competing challenges in the world today. Between poverty, hunger, racial and gender discrimination and climate change, there's only so much time and resources to go around.
While the idea of promoting public health was at the core of my purpose at CGI, the experience gave me a sense of how important the concept of intersectionality is. When I think about progress on health outcomes at the global level, there's no way to disentwine it from the complex web of other challenges, and in particular, climate change.
The energy and inspiration I absorbed at CGI 2023 have reinvigorated my commitment to our work at Sostento. I'm determined to bring that feeling of optimism back to our network, to ensure that our partners and frontline health workers continue to receive the recognition and support they deserve.
CGI 2023 was more than an event; it was a moment of representation, and it was getting a seat at the table. It made me feel that momentum is on our side, but we must seize it by staying inspired and raising our voices as champions of the causes that matter most to us.