The sixth annual National Day of Racial Healing was truly nationwide. More than a five hundred thousand viewers have tuned into the WKKF-hosted signature program on YouTube and dozens of communities, universities and organizations hosted events relevant to their local contexts.  
The National Day of Racial Healing is a moment to pause, take a breath and reflect – but ultimately, it's about fueling and refueling action toward a more racially equitable future.
Here are six things we learned about turning moments into movements:
1. Racism hurts us all. Solidarity heals.
New York Times bestselling author Heather McGhee and WKKF's President & CEO La June Montgomery Tabron reimagined a racially equitable future and spoke of activating ourselves to create it.
McGhee shared her analysis that "Racism has so many economic costs in our society" and we shortchange our future by clinging to it. By building solidarity across race, origin and language, diversity becomes our "superpower" and "our natural resource."
Harvard professor Dr. David R. Williams shared three evidence-based ways to reduce the harmful physical and mental effects of racism on youth of color. All of them are about solidarity:  
Maintaining strong connections and a sense of belonging within community, among peers and supportive adults;
Engaging in faith and faith-based community; and
Advocating for racial equity and justice within culturally-affirming movements.
2. It starts on your block.
Linda Sarsour encouraged us not to try to take on the world when we first step into action. Solidarity starts by building relationships where we live. The first step is as simple as getting to know our neighbors and discovering what they care about.
3. There's a role for each of us.
Student leader and member of the Standing Rock Sioux Nation Connie Brownotter coached us not to be timid in joining this collective work and to make space for one another. "As a young person, it is my responsibility to take up some space and if someone invites me to the table, I'll gladly take a seat."
4. Music and art give us momentum.
The Ndlovu Youth Choir welcomed us from their home in Limpopo, South Africa. EGOT-award winner John Legend and Detroit-based poet activist Reyes, brought us back to our center with a collaborative performance of one of Nina Simone's civil rights anthems. Recording artist and fancy dancer, Supaman, fused elements of hip hop and traditional Indigenous culture to usher us from reflection back into action.
For generations, music and art have carried the movements for racial justice. Do you have a playlist of song and video to keep you motivated and activated? If not, we've started one for you!
5. The movement to heal in solidarity is growing.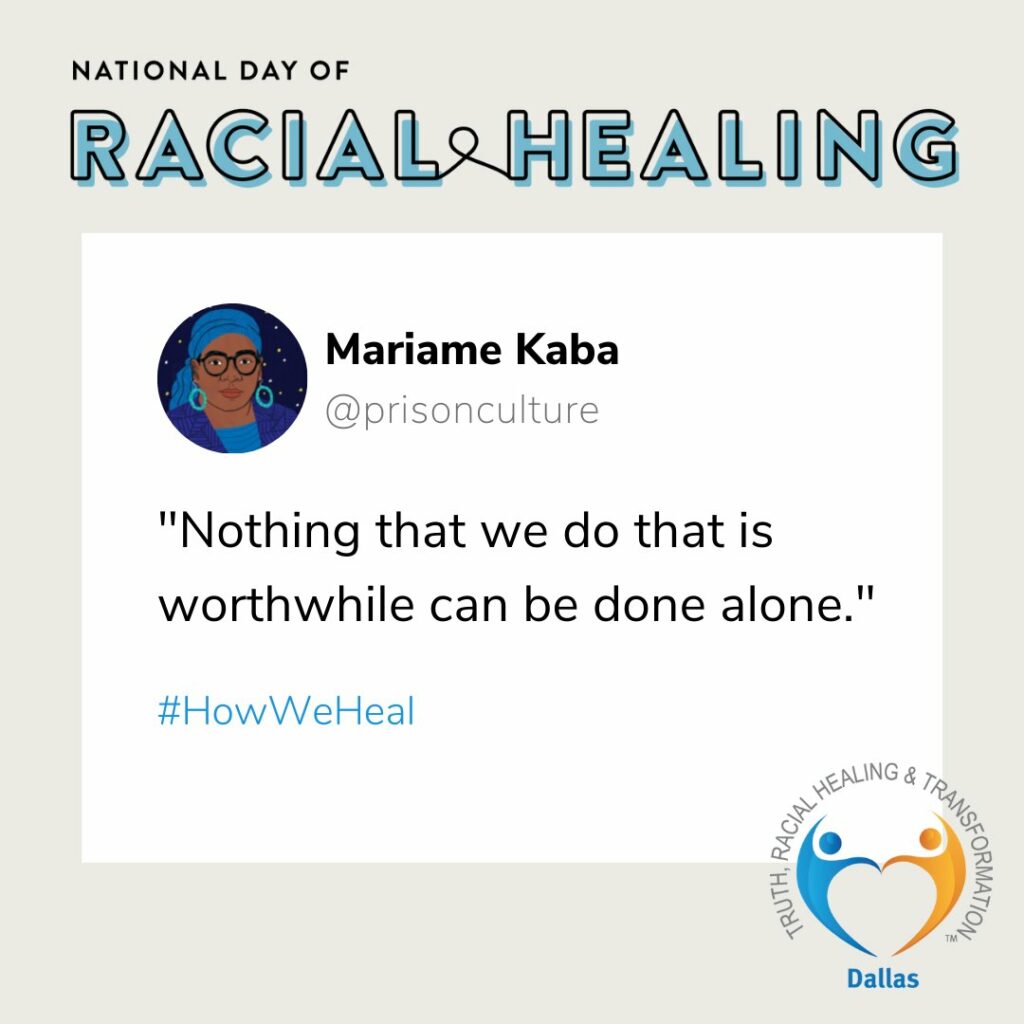 Nearly 80 organizations told us about their local National Day of Racial Healing events – from community walks, to meditations and art therapy. Among our Truth, Racial Healing & Transformation places: Dallas explored collective liberation with bestselling author & organizer Mariame Kaba; Los Angeles curated a live concert connecting the music of West Africa, the Caribbean and New York; Battle Creek explored the importance of Black home ownership; and Selma discussed the film "Civil War" with director and producer, Rachel Boynton.
Institutions of higher learning also hosted events, including Ohio State University's College of Food, Agricultural, and Environmental Sciences panel discussion on "Racial healing through agricultural history."
An excellent editorial on the BoardSource blog, one of dozens of media stories about NDORH, called on nonprofit leaders to pay special attention to racial healing and deepen learning on the connections between racism and the problems they're trying to solve.
6. There's always more to learn.
Throughout our signature virtual event, speakers and panelists mentioned books, articles and other resources that piqued viewers' interests. We've curated this list to help build your racial healing bookshelf, playlist and action plan. And don't forget to take your book-learning into the field with tips from these action kits.