Six-year-old Levi Harter spent last summer learning sight words with Ms. Rach, exploring colors during art time and playing checkers and baseball while enrolled in the Kindergarten Success Program (KSP) at Battle Creek Public Schools (BCPS). 
To Levi, these were fun activities that made him feel successful. But to his mom Corinne Harter, they strengthened his academic, social and motor skills and laid a foundation for success in school. When Levi took the Northwest Evaluation Assessment Measures of Academic Progress (NWEA MAP) at the beginning of kindergarten in fall 2022, he tested at the level of a child finishing first grade – two years ahead of his current grade level. 
"I definitely think that success starts at the ground level and goes from there," Harter said. "We were able to really see him soar after attending KSP."
Created in 2017, KSP is a free, full-day kindergarten preparation summer program that builds foundational skills for future school success. It is just one of the many innovative interventions put in place by community organizations across Battle Creek to create systems-level change to set up students for success from birth. At the root of this community-wide effort is a belief that investing in early education yields major dividends over time, putting students and the broader community on the path towards a more vibrant future. 
Battle Creek's emphasis on supporting its children from birth has been collaborative from the start. In 2012, the first community visioning session was held, with more than 200 people sharing a  commitment to give  Battle Creek's smallest and youngest the opportunity to thrive. The effort has involved programs like family outreach, public education, home visiting programs, playgroups, the expansion of Head Start programming, and the creation of a county-wide data system that tracks children born in Calhoun County and enables partners to better reach each child's family with services. 
Megan Russell Johnson, a W.K. Kellogg Foundation program officer, said that WKKF's support for early childhood education includes evaluating factors affecting children outside of school:
"To invest in our children's academic outcomes, we have to support more than just what happens in the classroom. Children live in families, and families live in communities. Our goal is to ensure children will come to school ready to learn, explore and challenge themselves." 
Battle Creek's investment in early childhood education has paid off, tripling the kindergarten readiness rate (defined as scoring 50th percentile or higher on NWEA MAP assessments) over the past decade. Kindergarten readiness among BCPS students has increased from 15.5% (reading and mathematics combined) in 2013-14 to 51.2% in 2022-23, surpassing the national average despite a community poverty rate that is more than twice the national average.
Dramatic Improvement of the Proficiency Level of BCPS Entering Kindergartners: Battle Creek Public Schools' Kindergarten Readiness Rate Over the Years (Fall Assessments)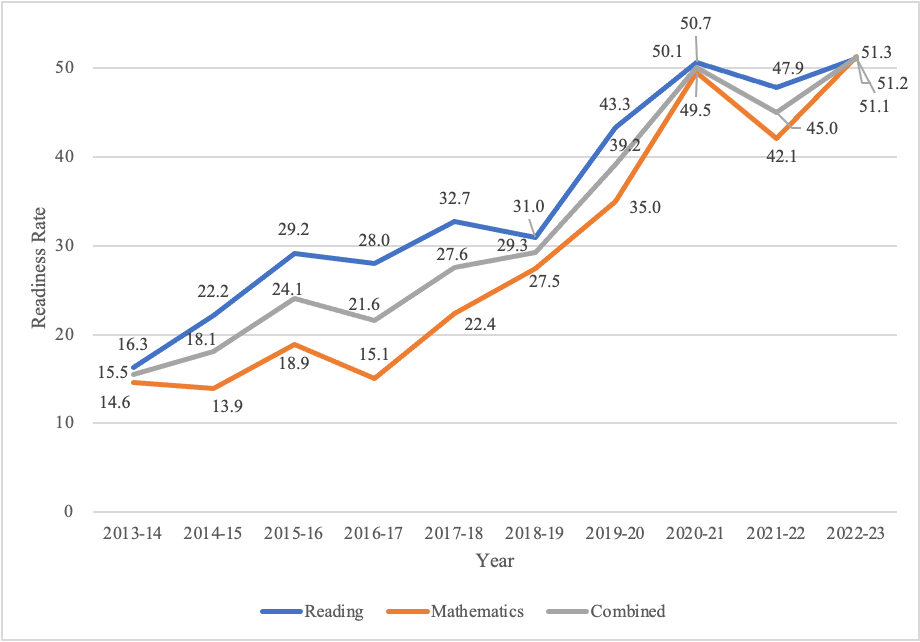 The investments and partnerships WKKF has facilitated in Battle Creek to support early education are based on the conclusion that prioritizing early learning leads to academic achievement gains down the road. Data indicates that additional focus on literacy in early grades, increases in support staff, reading programming and early education have all contributed to sustained early grade improvements in achievement. Investing in early childhood education is one of the smartest and most effective means of improving long-term academic outcomes. For example, former KSP students have better attendance rates than their peers who did not attend KSP. 
"We know that in the absence of a solid start, the catch-up growth needed is much more difficult. We took the strategy of really focusing a lot of resources early on, and we're seeing the return on that investment," said BCPS Superintendent Kimberly Carter.
"If students are showing up ready for kindergarten, it creates a different scenario for students, teachers and the district," said Russell Johnson. "Being kindergarten ready creates a strong foundation for the entire K-12 experience, with benefits that last into adulthood."
Six-year-old Levi knows he has made progress in kindergarten. "I really like it and really feel impressed with what I have done every single day. When I learn, I get tips on how to do stuff, and that's why I'm proud of what I do every day," he said. 
Harter said that Levi thrived emotionally as well as academically. "He came in ready to be successful in class, knowing that he had classmates that let him have the ability to connect and be comfortable in his kindergarten classroom," she said. 
Levi's younger brother Declan will attend KSP this summer, and Harter said she's excited to see how he will flourish too. To prospective KSP parents, Harter would say, "There's no need to think twice about it. It's definitely a great opportunity and it's one you should definitely take advantage of."
Find out more about KSP and the ongoing transformation at BCPS at ChangeStartsHereBCPS.org.