Carla Thompson Payton serves as the vice president for program strategy at the W.K. Kellogg Foundation. In November 2022, she spoke at the United Nations Educational, Scientific and Cultural Organization (UNESCO)'s second annual Global Forum against Racism and Discrimination. Here, she offers her reflections from the event and the global strategies for racial healing which WKKF seeks to inspire and support in its Racial Equity 2030 challenge.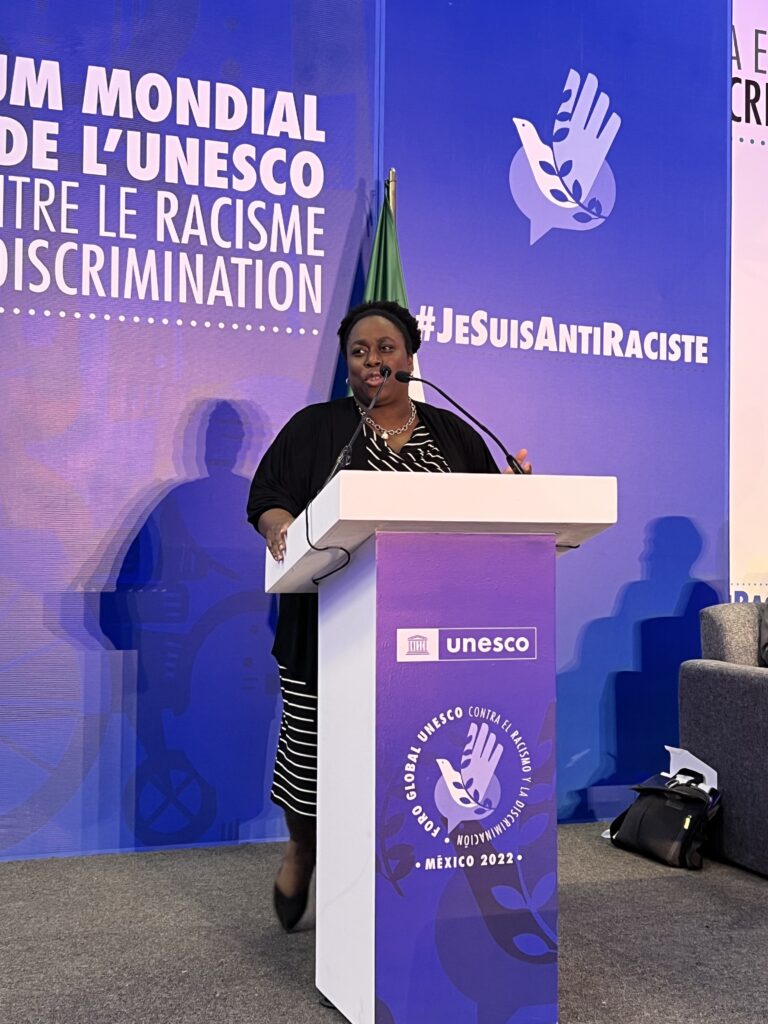 Last week in Mexico City, leaders from around the world convened for a second global forum against racism and discrimination organized by UNESCO. Together, voices from government, nonprofits and philanthropy considered how to overcome the systemic racism that harms children and families around the globe. The forum also rightly emphasized the centrality of the fight against racism in the ongoing COVID-19 recovery. Yet without directly addressing the link between childhood well-being and racism, our collective recovery from the pandemic – not to mention the generations of inequity that preceded it – will remain woefully incomplete. 
This should not be a new conversation. The pernicious impact of racism – both structural and systemic – on the well-being of children cannot be overstated, especially on the critical metrics of childhood poverty and development. In the U.S., for instance, in virtually every economic benchmark, Black and Latinx children suffer higher rates of poverty. Indeed, even as there has been general progress on childhood poverty in the U.S., racism continues to hold back the full potential of the next generation, a trend the pandemic has only worsened.
Importantly, the impact of structural and systemic racism in the lives of children is not unique to the U.S. We see similar trends in numerous and diverse countries around the world. Broad-based programs that target an entire society, like living wages and quality early childhood experiences are necessary, but they are insufficient in addressing the root causes affecting the well-being of children. Presently, their future is bound by the color of their skin, their families' circumstances, or the limits of opportunity because of systemic inequities in their communities.

As a Black woman and a mother of a young Black boy, the implications of this truth aren't just painful statistics, they're personal. They mean that, in addition to doing everything I can to raise my son to be kind, generous, and curious human being, I also have to teach him how to keep himself safe from the pre-conceived notions racism imposes on who he is based on his gender and the color of his skin. 
In 2020, in an effort to respond to this reality as well as the moment created by the pandemic, and the global reckoning on race that exploded in the wake of George Floyd's murder (and the growing global understanding that killings like his aren't isolated incidents) the W.K. Kellogg Foundation launched our Racial Equity 2030 Challenge.  And this October, after receiving more than 1400 applications for projects in 72 countries around the world, we put forward $90 million to support five visionary projects to advance racial equity over the next decade and improve the lives of children and families in diverse communities. 
From programs aimed at ending youth incarceration in Hawaii and securing Indigenous land rights in Mexico and Central and South America to establishing the world's first anti-racist education system in Brazil, building a youth-led movement for community healing in Chicago, and supporting front-line communities in the U.S., Sierra Leone and Kenya to use the law to combat environmental racism, we are working with local communities to transform the systems that prop up racial hierarchy. 
These ambitious, game-changing efforts reflect the complexity of advancing racial equity and the structural changes needed to promote meaningful, long-term impact that improves the lives of children, families and communities. These awardees are stewarding efforts driven by the lived experiences of the communities they serve, committed to supporting leadership at all levels, and dedicated to fostering conversations that recognize and act upon our shared humanity.
The Kellogg Foundation can't end the problem of child poverty and systemic racism alone. But we can support global change by expanding the definition of what's possible and supporting communities to take action.  Deeper cooperation among the nonprofit sector, non-governmental leaders and elected officials is desperately needed to translate rhetoric about improving child well-being into results. 
Racial Equity 2030 reflects our deeply held belief that, through bold, collective action, we can uproot racism across the globe and create a world where every child can thrive.  At last week's UNESCO Global Forum, it was clear the Kellogg Foundation isn't alone in our vision of a world free of racism and racial hierarchy, we just need more leaders in philanthropy, business, and government willing to mobilize the resources necessary to realize it.