The pay gap between men and women is common knowledge. Yet, most people don't know that wealth disparities between men and women—particularly women of color— are even more stark. When we compare for wealth, women own 32 cents on the dollar compared to men. And Black and Latina women own just pennies on the dollar compared to White men and White women, according to WKKF grantee Closing the Women's Wealth Gap. 
Wealth is a measure of financial security and independence. Savings, investments, home or business ownership—all things that allow families to weather downturns and provide economic stability that also can be passed to the next generation—determine wealth. 
Women of color disproportionately work in low-wage jobs that create instability because of poor pay, unpredictable work schedules and minimal benefits. "… women's ability to earn, save and invest plays a critical role in the well-being of their children, the strength of their communities and the economic prosperity of our nation. Yet, today, private sector practices, public systems and policy barriers are limiting the capacity of women—and especially women of color—to reach their full economic potential," writes Director Heather McCulloch from Closing the Women's Wealth Gap.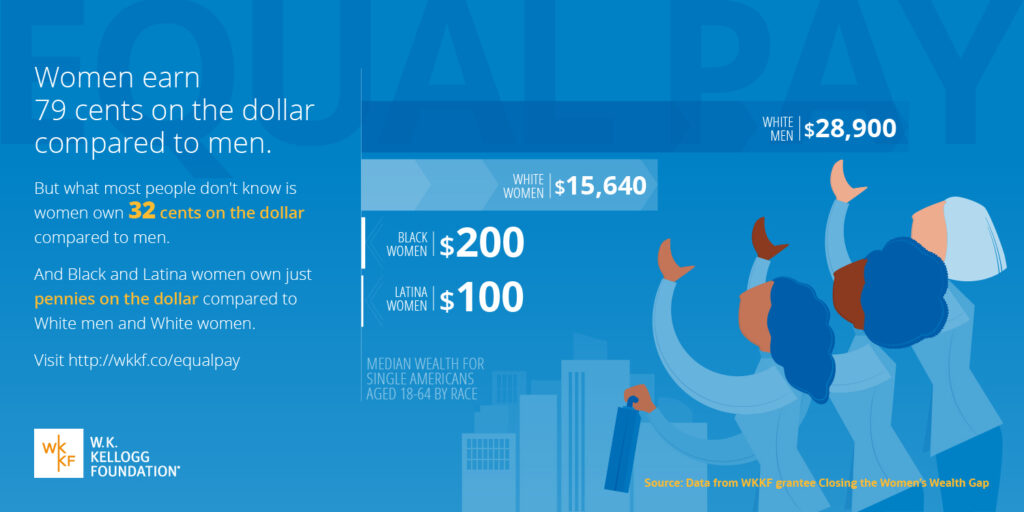 As communities of color continue to bear the brunt of pandemic racial inequities, women's economic security is even more at risk. According to WKKF grantee Equal Rights Advocates, last year, 55% of Black women reported having less than $200 in savings to help cover basic needs during the COVID-19 crisis compared to 37% of White women and 27% of White men. And while the American economy is slowly recovering, Black and Latina women are being left behind. According to Bureau of Labor Statistics data, February 2021 total employment for Black women was 9.7% lower than it was a year prior in February 2020, before COVID-19 hit the U.S., with that figure for Latina women close behind at 8.6% lower. Employment was also down in that same time period for White men (5%), White women (5.4%) and Black men (5.9%). 
Yet, there are solutions.
A cadre of grantees focus on ensuring that the work and the economic contributions of women of color are valued and paid fairly in all occupations and industries. Their efforts include:
Increasing workforce development and career pathways through public and private partnerships and employer engagement;
Expanding support for Tribal, entrepreneurs of color and women-owned business enterprises to accelerate business—and small business—growth;
Increasing economic security with access to savings, assets development and just financial services;
Increasing access to equitable early learning opportunities—including child care—that provide whole child development and meet families' needs; and
Promoting long-term policy and system change for quality employment and wealth building opportunities.
For children to thrive, their families must be stable. Their parents and caregivers—especially mothers— must have access to quality jobs that pay a family-sustaining wage, offer benefits allowing women to build wealth and give them flexibility to be full and active participants in their child's life.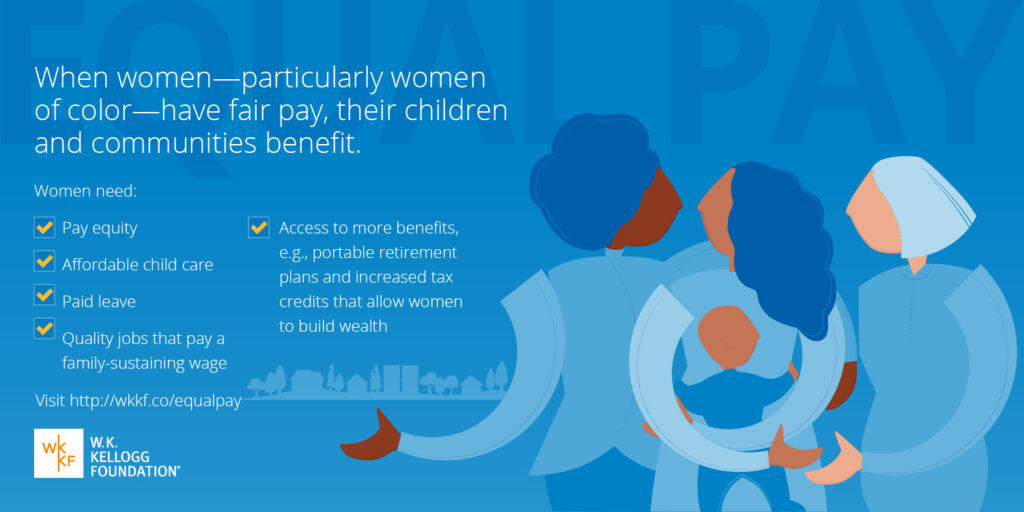 WKKF Grantees Working for Change