In Grand Rapids, Michigan, Rende Progress Capital (RPC) – a  racial equity-oriented emerging community development financial institution (CDFI) – is addressing the relief funding gap by deploying flexible loans to businesses owned by people of color.
Many small businesses are fighting to survive as they face the impacts of the coronavirus. These challenges are compounded for many entrepreneurs of color who are in desperate need of working capital to keep their businesses open.
The Paycheck Protection Program (PPP) was implemented through the Coronavirus Aid, Relief and Economic Security (CARES Act), and managed by the Small Business Administration (SBA), to provide loans to small businesses and nonprofits that keep their employees on payroll. According to a survey by Global Strategy Group for Color of Change and UnidosUS, only 12% of Black and Latinx businesses that sought federal aid in response to COVID-19 received the assistance requested.
This survey adds to growing evidence of small business owners of color being underserved by SBA relief efforts. A report by the SBA's Inspector General stated that the SBA failed to communicate priority lending to underserved markets as directed. In the context of COVID-19, there's an underlying injustice of racial bias that has led to disparate impacts in both public health and economic opportunity.
In June 2020, Rende Progress Capital launched the RACE4Progress Fund [Recovery Addressing COVID-19 and Exclusion], which provides progressive, low interest and flexible loans to existing businesses owned by what they call 'excluded entrepreneurs.' These are African American, Latinx, Asian American, Native American and immigrant business owners who have experienced barriers to capital due to racial bias.
The fund was formed in response to a growing call for small business relief from the city's residents of color.
"We still heard of people missing out. Similar to why we were formed – missing out on traditional bank capital and now missing out on relief initiatives," said Eric Foster, co-founder, chair and managing director at RPC.
With support from the W.K. Kellogg Foundation and the Grand Rapids Community Foundation, the Fund will provide flexible loans to local business owners of color who meet RPC's racial equity criteria and can show a hardship due to COVID-19.
An Overview of the RACE4Progress Fund
1% interest rate on small business loans, with amounts ranging from $10,000 to $25,000.
No principal and interest payments for the first 90 days after the loans are approved.
For Grand Rapids/Kent County excluded entrepreneurs owning existing businesses meeting RPC's racial equity criteria and who can describe how COVID-19 has affected their business.
Patient loan terms from 12 months to 60 months.
Convenient application process with other flexible criteria that is also open to undocumented immigrant business owners.
Community Collaboration Garners Inclusivity
The fund's structure was co-developed by leading area professionals of color representing entrepreneur service organizations and businesses, including Ana Jose, West Michigan Hispanic Chamber of Commerce; Jamiel Robinson, Grand Rapids Area Black Business; Jorge Gonzalez, Start Garden; Kimberly Slaikeu, Luxe Artisan Preserves; and Bing Goei, Eastern Floral.
"We did not predetermine [the loan structure], we asked for their ideas to co-develop the relief product," said Foster. The committee provided on-the-ground insight and perspectives that added value to the fund and helped to make the fund more authentic to the community. Foster said the committee brought light to many underserved communities. "This [also] needed to be an opportunity for undocumented immigrants, [who] were being missed or missed out, [or] reticent and hesitant themselves to participate in any relief initiative."
Foster credits a special ethos in Grand Rapids that brings people to the table, but says cooperation emerges through complex challenges.
Rapid Response to COVID-19
Since the onset of the coronavirus, RPC has been deploying loans to help sustain entrepreneurs of color in the greater Grand Rapids area. As the impact of the pandemic brought many communities to a halt, entrepreneurs were left hanging on the fringes, some forced to close their doors, cancel appointments or lose clientele. Isabel Lopez-Slattery, photographer and owner of Dreams by Bella, wasn't sure about the future of her budding business, but landed a loan from RPC at just the right moment.
"For me, [receiving the news] was a not only very happy, but a very blessed moment because of how my business has been affected right now," Lopez-Slattery told the Grand Rapids Business Journal. "This is going to help me not only to innovate, because my business plan when I applied for a loan was very different, but modify and make adjustments to take it to the end of the year and continue being in business," she said. RPC led Lopez-Slattery through the loan process and acknowledged her tenacity to succeed.
When considering a loan applicant, RPC takes into account business history, solvency and their resolve to overcome hurdles despite the barriers they face because of racial bias. RPC is dedicated to addressing the racial wealth gap through its lending. For them, one business impacts many employees and a host of families and children.
Committed to Racial Equity for the Long-Haul
As global outcry swells in response to the murder of George Floyd and countless others, the response of the business community leaves Foster at a paradox of hope and caution.
"This is systemic racism. So the awareness, the actions have to not be episodic, they have to be sustained. And that's the thing that I'm keeping my eye on," said Foster. "While I'm appreciative of institutions and individuals either committing to awareness [or] committing to resources, I don't know if it's going to be episodic and just of the day. I hope it's sustained because again, we're dealing with systems and you can only do that through sustained work."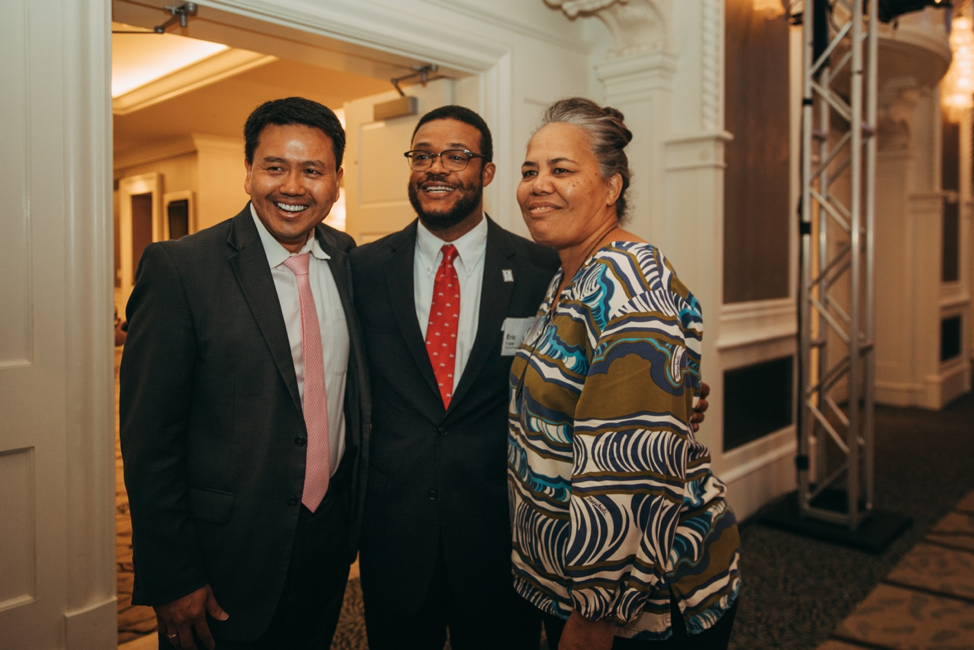 Launched in 2018, Rende Progress Capital (RPC) is the first racial equity-oriented emerging community development financial institution (CDFI) in the U.S. Co-founded and led by Eric Foster and Cuong "CQ" Huynh, alumni of the W.K. Kellogg Foundation's Community Leadership Network. Read their story.