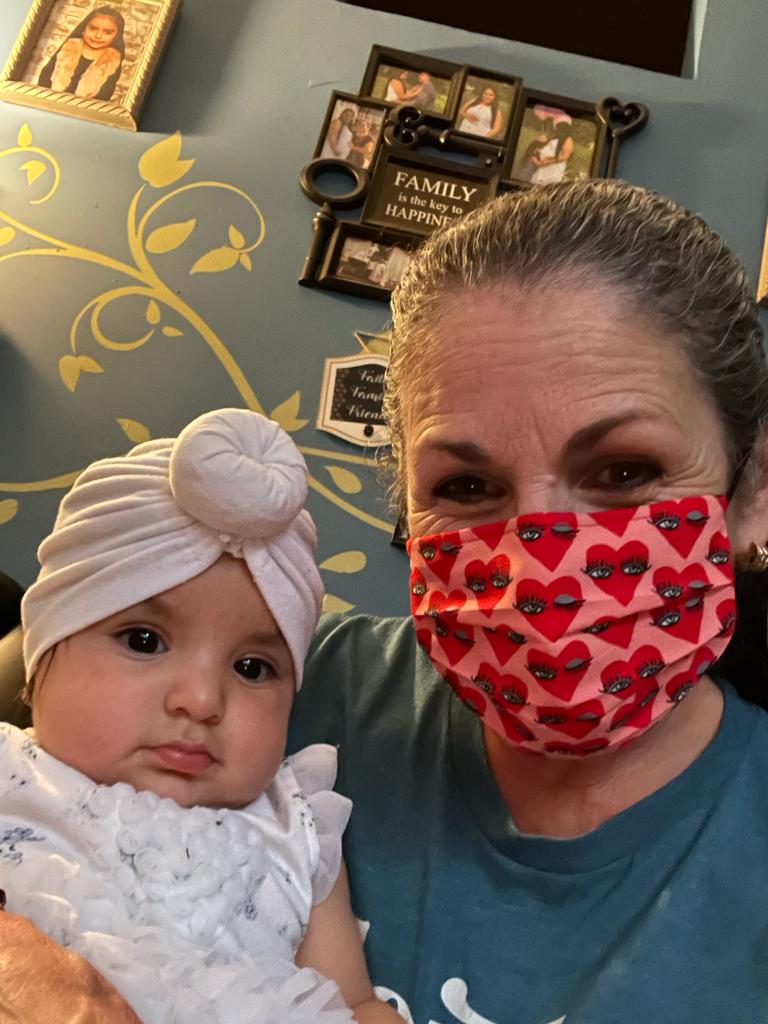 During the COVID-19 pandemic, Teresita Carrasquillo and a team of women in Trenton, New Jersey have supported dozens of undocumented mothers-to-be and COVID-19 positive people through labor. For Carrasquillo, this meant stationing herself in birthing rooms for upwards of 18 hours at a time to avoid exposing other hospital patients to the virus. 
Carrasquillo left Puerto Rico for New Jersey about twenty years ago. She came with a dream to provide warm, attentive and loving support to expectant mothers. 
"Back home, I practiced with my friends and sisters," says Carrasquillo, "I wanted to work with my people." 
She postponed her dream while raising her daughter with special needs and, once her daughter arrived safely in adulthood, became a certified doula and childbirth educator.
Drawn from Greek, doula means 'serving women.' Following a millennia-old tradition of women supporting women, doulas are professionally trained to provide emotional, physical and informational assistance to birthing people. They deliver health education, translate medical terminology, help create birth plans and stick with a birthing person through labor, ensuring their voice is heard by medical personnel.
"Unlike the midwife or OB-GYN who come and go, the doula stays with moms until maybe two hours after the baby's born," explains Carrasquillo. "Once we see the baby breastfeed, the baby's healthy, mama is fine and they're ready for private time, the doula leaves the room."
According to the American Pregnancy Association, the presence of doulas reduces c-sections by 50%, labor duration by 25%, epidural use by 60% and the administering of oxytocin by 40%. Doulas use breathing, relaxation and massage techniques to ease labor. Massage, for instance, causes the pituitary gland to produce its own oxytocin as a natural painkiller.
In some circles, women who hire doulas are seen as indulging in a luxury. But, for families of color and low-income families broadly, this traditional practice helps mitigate the U.S.'s maternal and infant mortality crisis.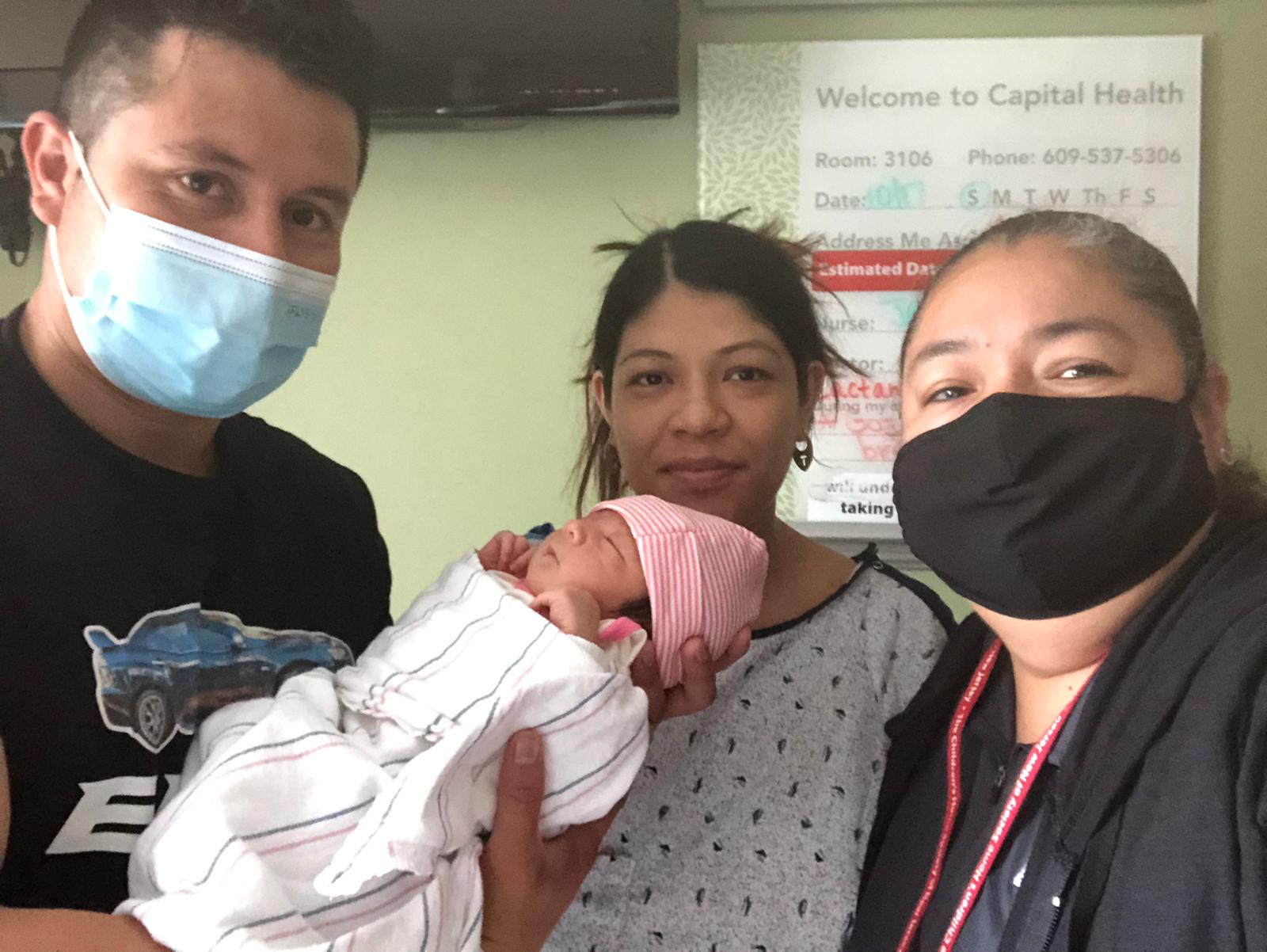 Once certified, Carrasquillo volunteered to support Spanish-language prenatal education and offer doula support for the Children's Home Society of New Jersey (CHSNJ). 
 "After Teresita started volunteering, nurse-midwives from the local hospital came to us saying 'your prenatal health programs are phenomenal,'" Karen Courtney, chief operating officer for CHSNJ, recalls. "They said, 'we always know a CHSNJ mom when they come to the hospital – they're good self-advocates.'"
 "The providers, nurse-midwives and doctors know they're CHSNJ participants because they know to ask about their prenatal vitamins and their blood sugar level," says Sarah Stecker, CHSNJ's external relations coordinator, "and they understand the information they're given."
When local midwives encouraged CHSNJ to formalize a doula program, Carrasquillo was the natural choice to lead it.
"When Teresita came to us, it answered a prayer," says Maritza Raimundi-Petroski, vice president of strategic initiatives at CHSNJ. Raimundi-Petroski first became aware of the role of doulas in traditional cultures while visiting Indigenous communities in Mexico. "I was inspired by how highly respected they were. So, I always wanted CHSNJ to have a doula service. All credit goes to Teresita."
Carrasquillo knew doula training for immigrant women needed to cover more than health information. Doulas in Trenton would be helping clients navigate discrimination within the healthcare system, which contributes to maternal and infant mortality. More Black, Indigenous and Latinx mothers and infants die of childbirth-related causes than White women, often because their pain is dismissed or symptoms indicating severe complications are overlooked.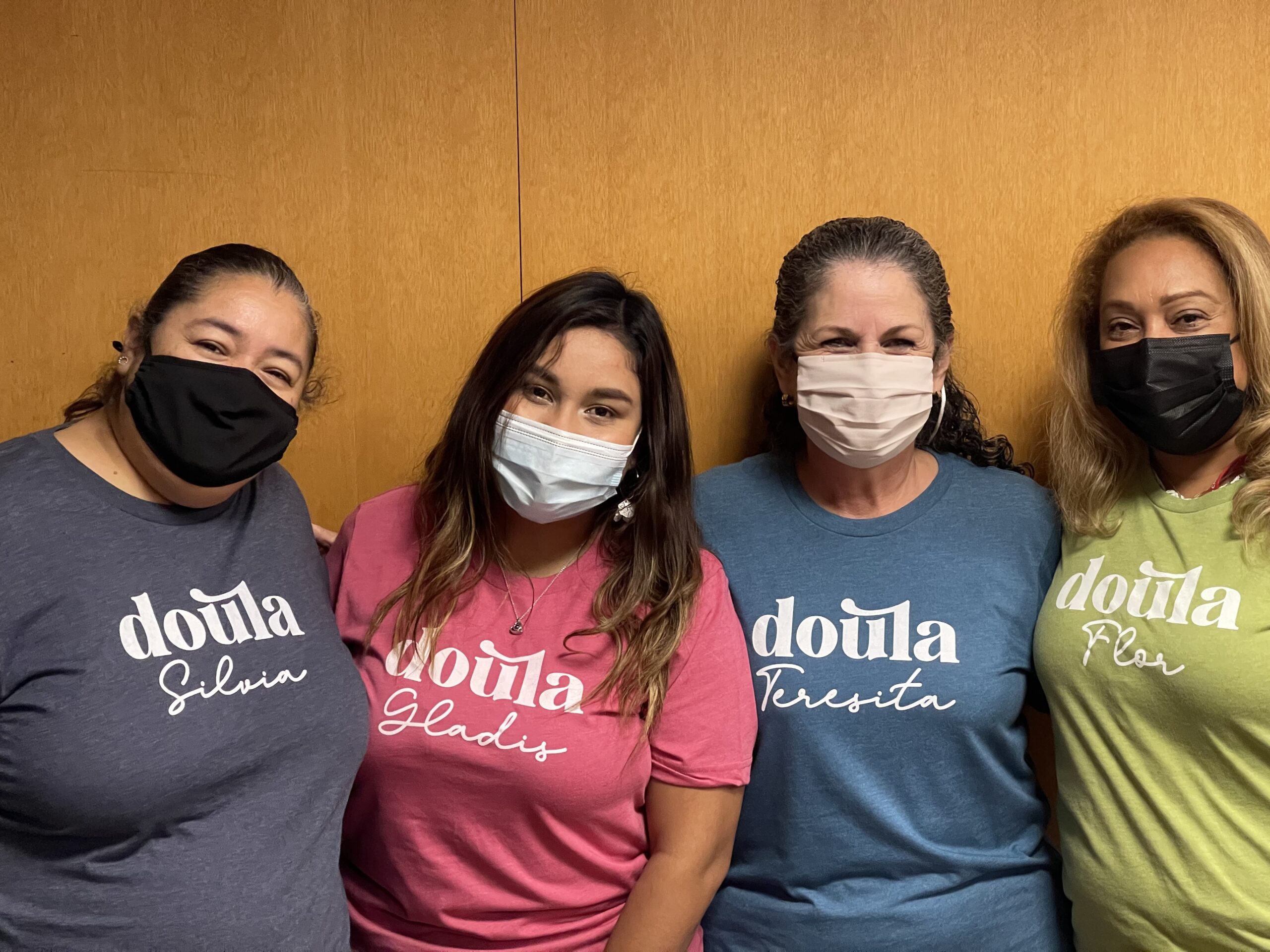 Carrasquillo found a match for her vision in the approach offered by HealthConnect One, a WKKF grantee. 
Operating with the awareness that birth equity is fundamental to racial equity HealthConnect One develops programs to support under-resourced communities and families. HealthConnect One recruits Black, Brown and Indigenous individuals who are already trusted within their communities and trains them to deliver a curriculum based on the Freirean popular education model. 
"The training is bi-directional," says HealthConnect One's executive director, Twylla Dillion. "Trainers absorb insight from the trainees, which is also what doulas do – they learn from birthing people in order to best support them." 
HealthConnect One's curriculum brings cultural wisdom and community strengths to the forefront.
"The HealthConnect One training prepares members of the community not just to be doulas, but to be doulas as people who suffer racism within a system that is so difficult to manage," Carrasquillo explains. "It's important for new doulas to know how to help families that will experience discrimination during their birthing experience, to help those families have their voices expressed and make decisions for themselves." 
Twenty-three percent of U.S. babies are born to immigrant families. Studies show immigrant women are often treated as charity cases undeserving of the best care. Meanwhile, language barriers can be deadly when doctors need to make split-second decisions or recommend unexpected procedures. In these cases, doulas can save lives.
TRANSFORMATIVE PARTNERSHIPS
The hospital where CHSNJ's doulas attend births recognizes the lifesaving and life-affirming impact of a doula's presence. Stecker says, "At the beginning of the pandemic, our doulas supported births virtually. They talked to moms through an iPad and the nurses would say 'turn the iPad around so we can see the doula.' They were so happy we didn't close during the pandemic."
The hospital's community advocate also sets up meetings between doulas-in-training and hospital department heads. Photos of trainees are sent to hospital staff, so they are recognized in birthing rooms.
This kind of partnership between a hospital and community birth workers is rare; a direct result of Carrasquillo's mindfulness to design a program that supports, rather than interferes, with hospital staff.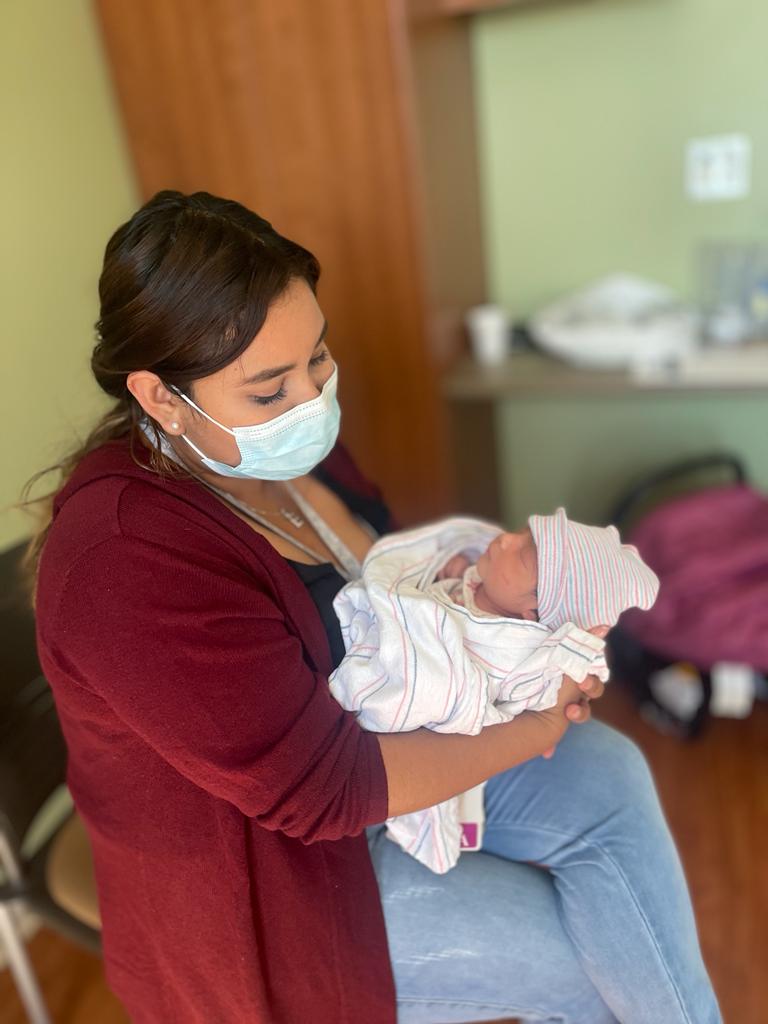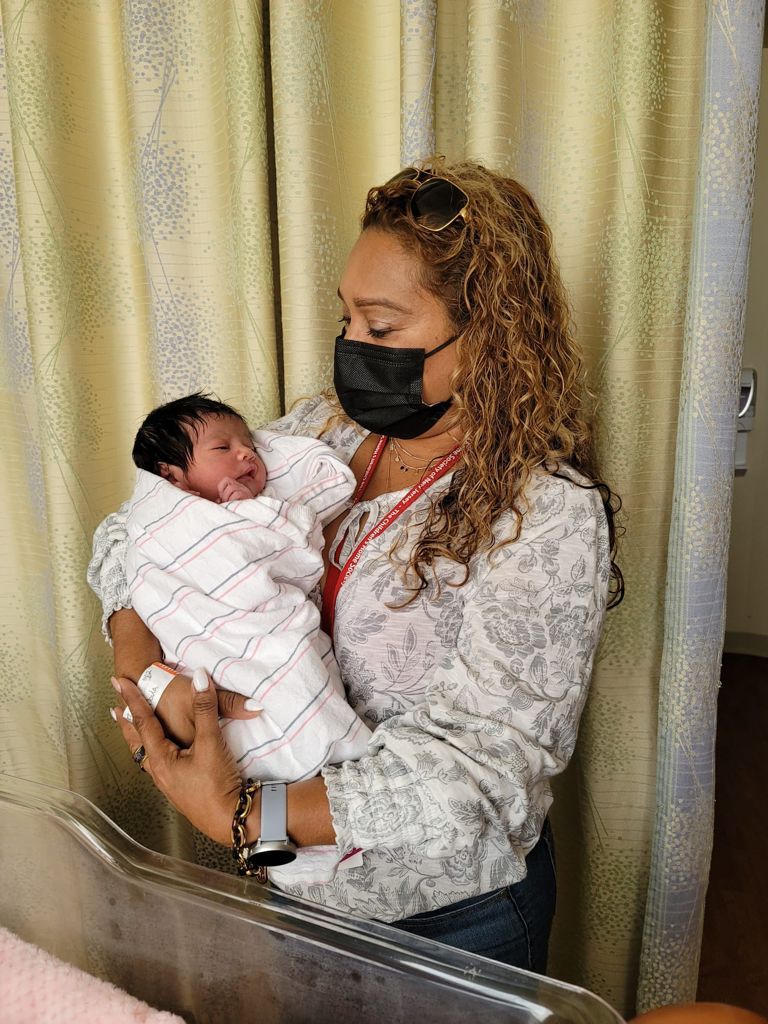 State-level support for doulas is also rare. But New Jersey's first lady, Tammy Murphy, is actively involved in improving maternal-child health. 
"When Tammy Murphy became First Lady," Courtney explains, "she learned of New Jersey's unacceptably high maternal and infant mortality rates and decided to dedicate herself to turning it around."
Murphy convened national experts to develop a strategic plan called Nurture NJ. CHSNJ's community-based doulas were among the experts.
"The doulas have been asked to get out of their comfort zone," says Courtney. "They signed up for hard things – waking up at three in the morning and running to the hospital and advocating for women in all kinds of situations. But they've also found themselves meeting with the first lady or a hospital's head medical officers or doing Facebook Live with Medicaid. They didn't sign up for that, but they're advocates for the field."
Nurture NJ includes state-level Medicaid reimbursement for doulas – a game-changer for organizations like CHSNJ that rely on grant-funding.  
 "State-level support is transformative," says Stecker. "Because of the first lady's commitment to low-income, diverse families and talking about structural racism in an unapologetic way, we can have a discussion centered on birth equity for the most vulnerable. But state-level leadership in partnership with communities and philanthropy makes it the most robust."