For those unfamiliar with the city, Buffalo, New York's reputation for snowstorms, unpretentiousness, and a hard-luck pro football team can overshadow the city's storied history. 
While some are only aware of it as a "notch" on the Rust Belt, Buffalo is also known as "the Queen City." It boasted the second largest trade port in the northern U.S., after New York City, from the mid-nineteenth century into the early 1940s. During that same period, it was the largest and most prosperous city on the Great Lakes.
Buffalo's industrial history has indelibly shaped the Community Foundation for Greater Buffalo (CFGB), which was founded by manufacturing and banking scions, and celebrating its centennial this year. Led by President and CEO Clotilde Perez-Bode Dedecker, CFGB has also become known for transformative, successful engagements with local business and civic leaders, through the Greater Buffalo Racial Equity Roundtable. 
Established in 2015, the Roundtable – more than 30 community leaders from public, private, nonprofit and faith institutions – emerged from conversations in the community and on CFGB's board. In a city recovering from more than three decades of economic loss and disinvestment, there was a marked interest in creating a more expansive, inclusive economy.
Indeed, demographic shifts in Buffalo have only underscored the need – and heightened the political will – for more effective diversity and antiracism strategies. According to a 2014 report by the U.S. Census Bureau, Buffalo is a "majority-minority" city, with people of color accounting for 55% of the city's residents. Of the 260,000 people who live in Buffalo, 36% are Black/African-American; nearly 11% are Hispanic/Latinx; nearly 6% are Asian, including Pacific Islanders, 2% are multiracial; and nearly .5% are Indigenous/Native American.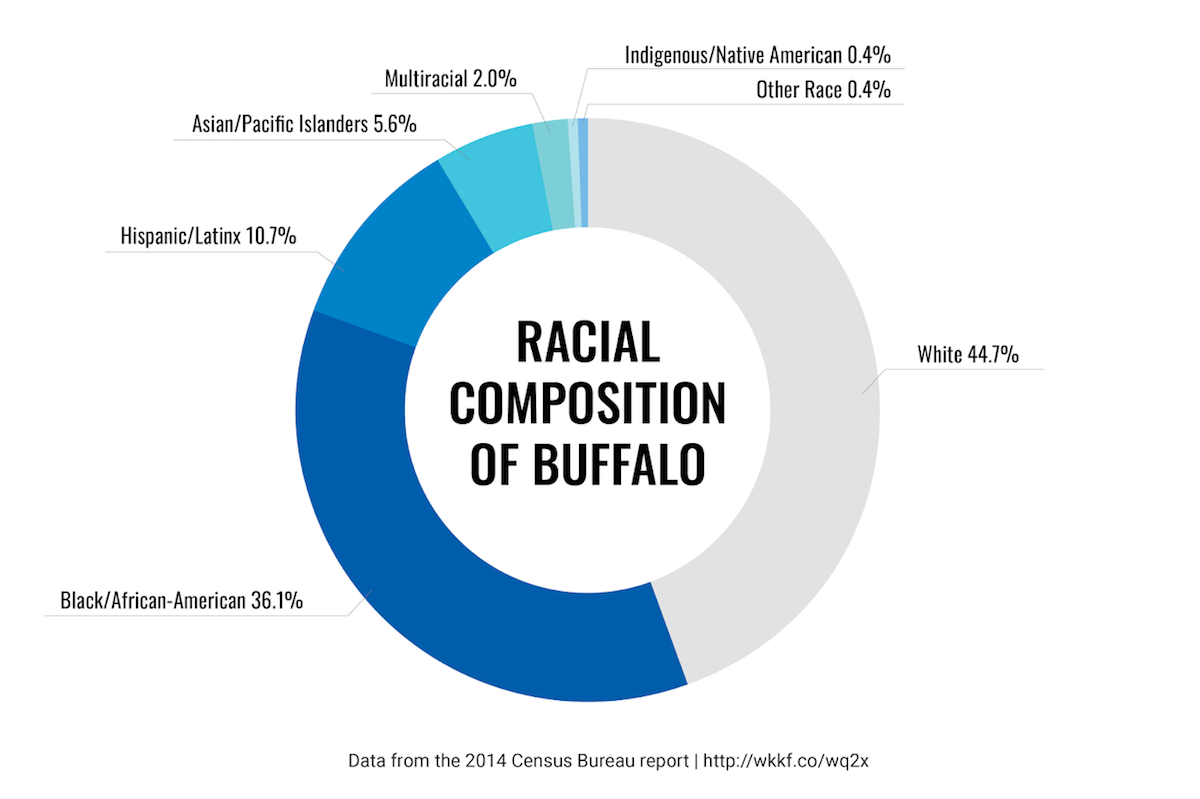 (By contrast, Buffalo was a predominantly white city when the CFBG opened in 1919. It was home to half a million people – primarily Poles, Germans, Irish and Italians – and Black people made up the largest nonwhite community, comprising less than 1 percent of the population.) 
While economic downturns devastated the entire city and region, structural racism amplified its effects on communities of color. In 2008, the United Nations rated the Buffalo-Niagara Falls area one of the worst cities in the world for economic inequality and racial bias. Around the same time, the Census Bureau reported that the area was the eighth most segregated in the country. 
Yet in the last five years, the Roundtable has become change engine and chief resource, advancing awareness, policy change, and systems change to increase racial equity in the city. "I would say convening, supporting, and informing are the three key roles for philanthropy in this work," says Perez-Bode Dedecker. "Let the CEOs do what they do – lead their institutions, with the benefit of a peer learning cohort, and access to the best thinking about building more inclusive workplaces." 
Perez-Bode Dedecker and Felicia Beard, Director of Racial Equity Initiatives at CFBG, say three strategies matter most when partnering with business and civic leaders.
NUMBER ONE: START WITH A COALITION OF THE WILLING TO LEAD THE EFFORT.
"A visit by Dr. Gail Christopher to Buffalo in November 2014 actually resulted in the launching of the racial equity roundtable," recalled Perez-Bode Dedecker. "Dr. Christopher, who was then at the Kellogg Foundation, presented to our board, and again to key civic leaders with track records that demonstrated their commitment to building a more racially equitable community."
"In that meeting," she said, "we went around the room, and I asked to hear from each person who wished to be a partner in advancing racial equity in Buffalo. Every single person gave a very compelling reason for doing the work. And hence, the racial equity roundtable was born!"
"At the end of the meeting I said, here's your charge – within a week, email me two names of individuals who should be invited to be part of crafting and creating this effort. So again, our community partners had the authority to shape the group and the agenda, rather than the Community Foundation saying 'This is what we want you to do!' 
"It was the first of many steps we took to get started," she said, "and then get out of the way. And you know, these people are good at making decisions. They are also good at leading and they have a track record, which is why they're in their current positions. And, you know, peer accountability is super motivating as well. So, you give them the right information, and they will do the right thing."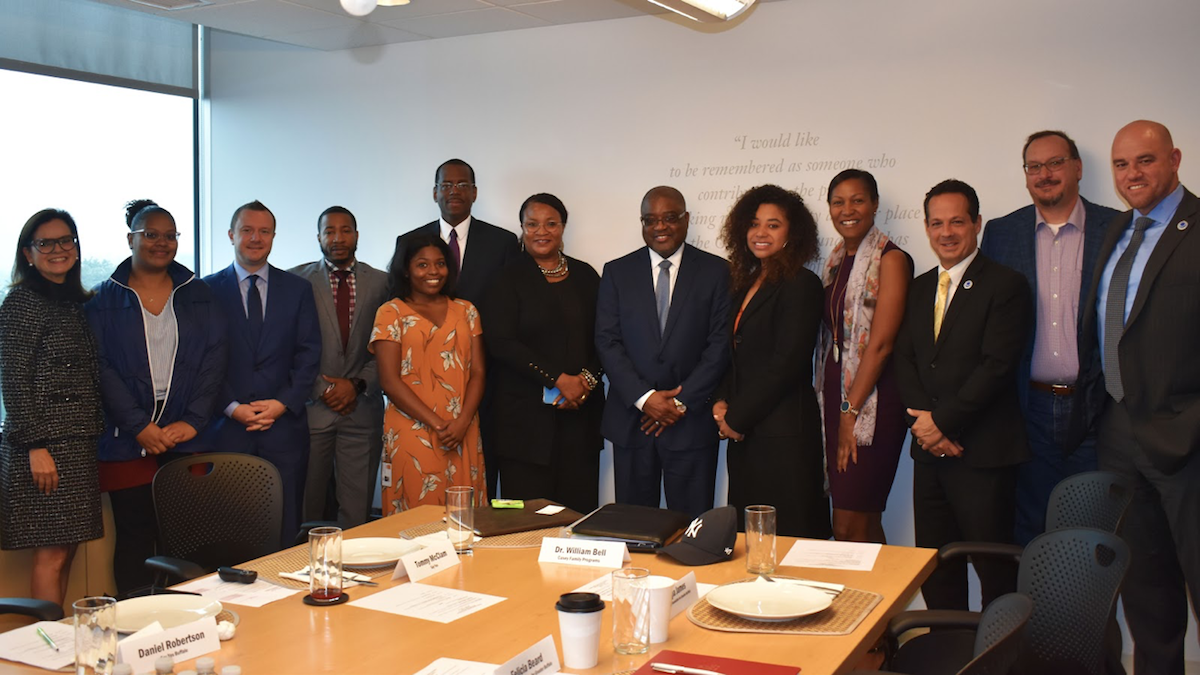 NUMBER TWO: MAKE THE BUSINESS CASE.
"As we were pulling the roundtable together, I remember speaking with Angela Glover Blackwell," said Perez-Bode Dedecker. (Glover Blackwell is a well-known equity advocate and expert, and founder of PolicyLink, a prominent nonprofit that promotes racial and economic equity.) "We were having some struggles determining which case to make – the moral case or the business case."
"She was pretty direct and said, 'Look, just leverage your faith leaders – they're in charge of making the moral case. But what your community hasn't had is a strong business case. So lean into that – be complementary to the work that's already underway," she said. "That's what we did." 
Ultimately, the Roundtable commissioned the University at Buffalo Regional Institute and Make Communities to develop a report, using publicly available data measuring 16 indicators across four areas that span education and job readiness, criminal justice and safety, quality of life and neighborhoods, and income and wealth. In 2016, The Racial Equity Dividend: Buffalo's Great Opportunity was published; Perez-Bode Dedecker says it quickly became an essential educational and awareness-building tool. 
"Our region's renewed economic outlook gives us the unique opportunity to fulfill this vision and ensure we are creating enduring prosperity for our shared future," according to the Report. "But the inability for all to participate in what Buffalo has to offer has divided us for too long. We live in separate and unequal neighborhoods, attend inequitable schools, and have inequitable access to jobs, housing, parks, entertainment, and services." And "with each passing generation, people of color make up a larger share of our population, so the region will continue to grow more diverse in the future." 
Beard said, "I can tell you that data matters! And these are not future predictions. This is about catching up to today's reality right now, and getting it right on behalf of your mission and your bottom line."
"I recall sitting in the meeting next to one of the CEOs," she continued. "And he was looking at a number he was writing – a number that summed losses connected to standard, non equitable employment practices. He was writing it down because, well, nobody really ever made the case for doing better like that."
"He just said, I don't understand this. When you look at employment and you look at these particular pieces. And as we kept writing and he realized what he had before him. I think he knew it was a moment for him, and that he'd need to do something about this." 
NUMBER THREE: CREATE A CONVENIENT SPACE FOR PEER ENGAGEMENT AND PEER LEARNING—MAKE IT EASY FOR REALLY BUSY PEOPLE TO COME TOGETHER.
"The easier it is to meet, the easier it is for CEOs and others to think about leading their workplaces in new directions," says Perez-Bode Dedecker. 
"So our job is to pay attention to the details, and not to waste anybody's time. it's the only resource that we're all equally limited by, and the more influential a person is, the less time they have to waste."
"We do all of the support work. Having accurate minutes that honor and reflect the dialogue, having good food, a good warm meal – these are essential things," she continued. "We make certain that they are fully supported as they do the work we need them to do, which is leading change in their institutions, and by extension, in our community. That's our role. It is a servant leadership role."
"And the racial equity and impact analysis training, developed by the Race Matters Institute, is so powerful," said Perez-Bode Dedecker. This tool makes the concept of racial equity actionable and measurable. "It's a four-hour training where CEOs and others get the information to make cases to their leadership teams, and to tie this back to their bottom lines." 
Beyond providing opportunities to "test-drive" the tool, the session offers grounding in shared language to reduce misunderstandings about race, as well as background about how Buffalo's racial inequities resulted from policy and practice choices that can be changed. The session is highly interactive, using small group discussions, videos and application exercises to engage participants' knowledge and insights. 
Now they can't unlearn what they've learned. So, they approach the world with better information about the institutional forces that create barriers for large swaths of our community.
"And as they sit there together, learning about institutional racism, it boils down to having this tool to think through decisions – all institutional decisions – through a race equity lens. It's powerful stuff," Perez-Bode Dedecker said.
"I cannot tell you how many individuals out of 1,800 that have gone through the training and said 'Wow, I didn't know what I didn't know,'" Beard said.
"Now they can't unlearn what they've learned," she continues. "So, they approach the world with better information about the institutional forces that create barriers for large swaths of our community."
RELATED LINKS: