Sovereign Bill is the 17-year-old actress who is the voice of Molly on the PBSKids animated show, Molly of Denali. She lives with her family in Washington state, where she also attends high school. Of Tlingit and Muckleshoot descent, Sovereign shared her thoughts and feelings about playing a groundbreaking Indigenous character in a show that has developed a large following of children, teens and families across the United States, Canada and Native communities.
As a funder of Molly of Denali, WKKF has no involvement in the editorial process, content decisions or making of the program.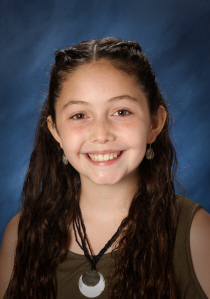 Kari: Tell me a bit about Molly as a character. What do you like best about her?
Sovereign: Molly is a 10-year-old Native girl. She's very adventurous, upbeat and very good at problem-solving. She's incredibly intuitive and also loves education. She always wants to learn more and teach others. What I like best about Molly is she's persistent. She keeps going, keeps working at what she's working at and doesn't give up. I try to incorporate that into my life.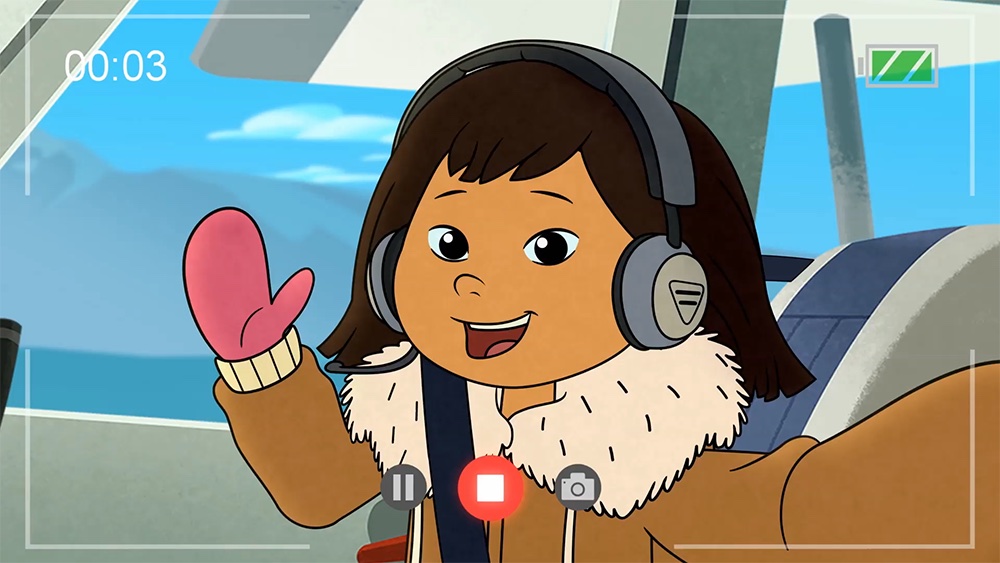 Kari: What have been some of your favorite episodes?
Sovereign: One of my favorites is Grandpa's Drum. It was the first episode of season one and also the first episode I ever recorded. So, it's a special memory for me. I was able to go up to Canada and meet the other cast members, work on a song, meet Princess (Daazhraii Johnson, creative producer) and the people behind the scenes. I was only 13 at the time and I'd never done any acting. So, it was all super fun and super new.
Also, the episode is beautiful because it touches on boarding schools and how they affect us still through generational trauma. The show does it in a way where everyone is able to hear it and where children can see it and understand it. But it's not too dark. It allows for children to see that part of our history that many people don't see.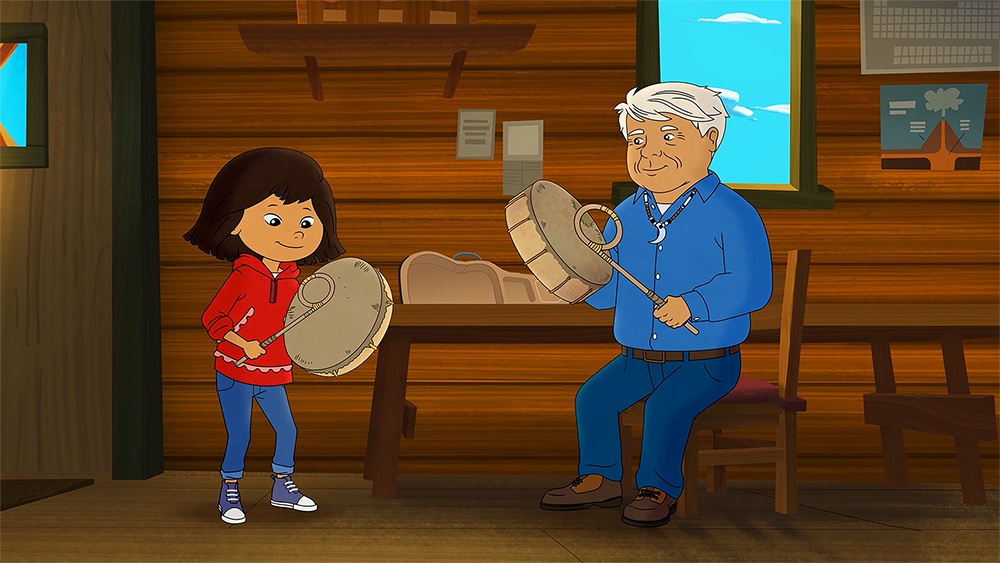 Kari: I've been hearing a lot about that episode and can't wait to see it. Sounds like a moving experience. So, why do you think kids like the show so much?
Sovereign: I think overall the show is super fun. It's so different. The adventures they go on, things they deal with, languages they speak that you don't get to see in other cartoons. It's different from anything else out there so far. For Native kids specifically, it's positive and important to see themselves in a show, see their culture represented and see other kids like them.
Kari: How did you become a voice actor? Did you have training to become one?
Sovereign: Before I started the show, I only ever did one school play – and that was a month before I auditioned for Molly of Denali!
I had experience in public speaking and having creative outlets before that. I'd always put on little shows for my family even if they didn't want to see them. I was very much a character. I'd put on accents and costumes. My mom points out, that played a role in getting the part.
So, I just went off natural instincts.
But over time, I learned from a voice director, Nicole. We'd get on Zoom and she'd teach me tips and the language. She taught me a lot about the way recordings go. I learned everything from that.
Kari: What does it mean for you, as an Indigenous person, to play the role of Molly?
Sovereign: For me it's everything. When I was a kid there wasn't much for me to watch and I'm still young. There wasn't a cartoon to see my life and my ways represented. It's groundbreaking for Native people. I'm always super proud and honored to be able to do this. Even if I wasn't the voice of Molly, I'd be a huge supporter, because it's such a big deal for the Native community.
Kari: What do you hope children are learning and absorbing as they watch the show?
Sovereign: I hope they're learning more about Native history and that Native people are still alive. A lot of people think of Native people as people of the past, which is a harmful idea. [Children] being able to learn our history and our culture is important – they get to see different values. I hope they're internalizing our history and culture and learning respect for it.
Kari: How do you hope the stories shape who they become as they grow and interact with the world?
Sovereign: I think every episode has a lesson and a lot of Native stories.  When I was growing up – elders who were storytellers – every story would have a lesson. In the show, I hope they are able to pick up different things like how to treat the Earth. In Native culture we always thank the plants we're harvesting and always respect our elders. Even if they don't use those values, I hope they at least value them and respect them, to see a different person and still reflect their way of life.
Loves Grandpa Nat's ice cream, jelly on fry bread, salmon and dried fish.
She loves all animals, but puffins. She LOVES puffins so much. Puffins.
THINGS TO DO AFTER SCHOOL
Molly loves to play basketball. But, she always likes to help around in the trading post and help her community members.
Molly would say "keep working hard and stay persistent and keep a positive outlook on the world."
My staple would be smoked canned salmon.
Just like Molly, I love every animal. For me, I can't name just one.
THINGS TO DO AFTER SCHOOL
I'm doing a play at my school, so I go to rehearsal and do drama club. I also enjoy weaving and different cultural activities. I like to have relax time, because school can be draining at points. I love to thrift as well. I thrift a lot. Maybe I thrift too much.
Don't let fear stop you from making a decision that won't be liked by everyone, or is a little out of the box, or is a little different or weird. Don't let fear stop you from doing what you want to do and making a change in your life and making your life better.