This post is also available in: Español (Spanish) Kreyòl (Haitian Creole)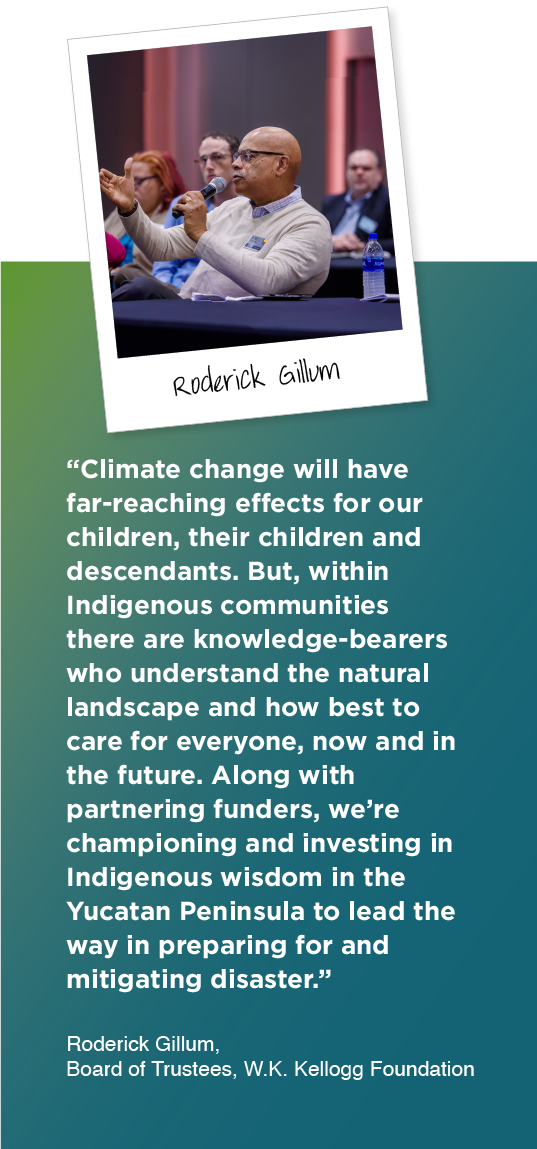 At the 2021 United Nations Climate Change Conference (COP26), a young Samoan activist named Brianna Fruean chanted this rallying cry in her speech to world leaders: "We are not drowning; we are fighting."
Those words drove home the image of communities vulnerable to climate change as active agents, rather than victims. Later, she told NPR,
She could have been talking about Basilio Velázquez Chí.
Chí grew up thousands of miles from Samoa, in a traditional Mayan farming community on Mexico's low-lying Yucatan Peninsula. There, he's experienced not only the worsening effects of climate change, but also natural disaster response efforts that fall short, because decisions about the community are not made by the community.
"Sometimes there is a kind of rain that a hurricane brings that causes trees to not bloom, which is a problem for the survival of the bees, and that causes a lack of agricultural production," Chí said, "but as it is not something that's visible, because it's just known in the communities, it doesn't provoke a reaction from the government." It's the same when those rains bring infestations of pests to the corn crops, Chí said. "In the end, it is not an economic crisis as such, but it is a food crisis, so people have to find ways to survive, and there is very little support for this."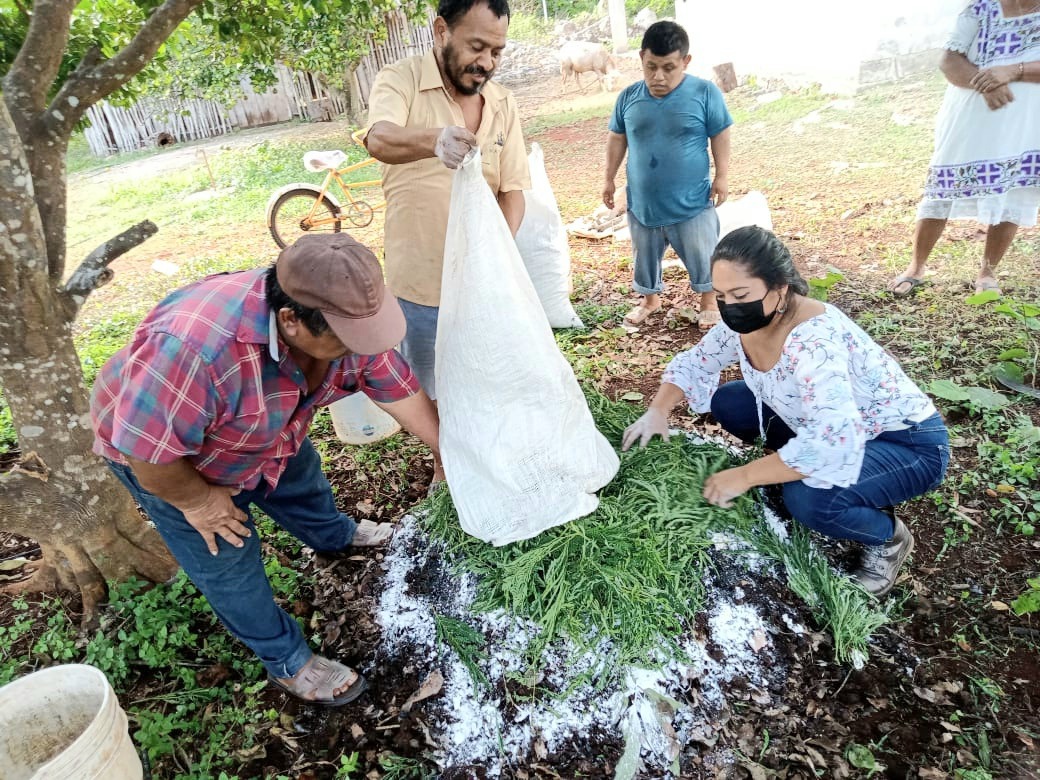 Outside funders' inclination to help fix only what is most visible to them, such as electricity grid problems and other infrastructure damage, is just one of many problems Chí sees with traditional disaster response. Seed donations, for example, might be well-intended, but if they are not local, they might not do well in the climate and soil. Even efforts to get funding to local farmers often fail because of technical hurdles such as documents locals don't have or Internet they can't access.
There are other problems with outside assistance, like the health threat posed by people coming into small communities during a pandemic, or how imported donations can hurt the local economy, and the power dynamic created or perpetuated when external organizations deliver aid.
These are entrenched ways of operating, but in a twist of fate, a catastrophic year might have spawned some new ways.
A new experience in response after a year of relentless natural disasters
The 2020 hurricane season was the most active on record in the Atlantic, and the Yucatan Peninsula suffered drought followed by rain, including Tropical Depression Cristóbal, which caused floods that displaced thousands of families and destroyed most of the area's crops. Then came plagues of pests. It was a devastating illustration of worsening climate challenges in vulnerable settings across the world. Yet, in the aftermath, Chí experienced something new.
Túumben Kóoben, a cooperative that promotes local production, became the manager of a new disaster response fund – one that is community-based and that Túumben Kóoben's president, Dulce Magaña, called, "more sensitive, more empathic, more humane."
The Agroecology Fund of the Yucatan Peninsula (FAPY) supports grassroots initiatives to recover food systems and strengthen the resilience of communities affected by Cristóbal. Chí, a founding member of Túumben Kóoben, sits on the FAPY committee that selects local initiatives for small grants. The term 'agroecology' refers to a science involving the application of ecological principles to sustainable agricultural production. According to Magaña, it is essentially a traditional practice of Mayan communities on the Peninsula.
FAPY was developed with support from the international AgroEcology Fund (AEF) and the W.K. Kellogg Foundation. It is one of a cluster of initiatives that WKKF helped set up after Cristóbal with three funding partners and scores of grassroots organizations.
Community visions guide plans for the future
After the launch of the initial response phase that followed Tropical Depression Cristóbal, when locals helped neighbors meet urgent food and shelter needs, WKKF collaborated with partners to develop plans for subsequent phases: rebuilding and future disaster mitigation and preparedness. For that, WKKF's Mexico team, led by Program Officer Veronica Fernández de Castro Robles, reached out to the AgroEcology Fund (AEF), United Nations Development Programme (UNDP) and Hispanics in Philanthropy (HIP).
"There's an alignment of values that these partners brought to this," Fernández de Castro Robles said. They have the same conviction, she said, "that communities have the knowledge to lead the way, and that their vision should be the one guiding investments." She said there is also a common recognition that the latest disasters are neither the first nor the last for the region, and that the funds will ideally work together while following community visions of "mitigating the impact of climate change in the region."
Tropical storm Cristóbal created a humanitarian nightmare in southeast Mexico
Cristóbal arrived as a tropical storm and became a slow-moving tropical depression that for three days swamped the states of Campeche, Yucatán, Quintana Roo and parts of Chiapas. Thousands of families were displaced, roads washed out, communities cut off, thousands of apiaries and more than 80 percent of crops in the heavily agrarian region destroyed.
While the AEF, UNDP and HIP developed distinct initiatives with local partners, they did so in coordination with one another – sharing calls for proposals, advising each other, and meeting regularly to discuss learnings, challenges and reflections, thus strengthening the various efforts.
"There's no manual" – a new approach for funders to collaborate with community at the center
Each organization in the funding partnership was willing to operate in a new way, and they were all inspired to make changes after listening to community voices.
In January 2021, with support from WKKF, the international AgroEcology Fund launched the Agroecology Fund of the Yucatan Peninsula (known by its Spanish acronym, FAPY). Under the management of Túumben Kóoben, FAPY completed two rounds of funding in 2021, supporting 31 organizations. AEF was launched by a partnership of foundations in 2012 and works with organizations around the world, but this is the first time it has developed a regional fund. And not the last. Using lessons learned from FAPY, AEF is now turning to India and East Africa to support the development of locally governed agroecology funds there.
Hispanics in Philanthropy (HIP)'s #TierrasMayas crowd funding campaign inspired donors through matching contributions and connects them with grassroots organizations in the Yucatan Peninsula, in support of communities' reconstruction and resilience. The campaign had three fundraising stages, between Nov. 2020 and Nov. 2021, with the last one bringing in more than $161,000 to 23 organizations. Projects ranged widely but included environmental education, training in food production and improving access to clean water. In addition to helping these groups fundraise, HIP also worked to stimulate a culture of giving in the Yucatan region and helped participating nonprofits build their organizational capacity. It is the first time that HIP has focused a crowdfunding campaign on Mayan communities of the Yucatan Peninsula.
United Nations Development Programme (UNDP)
A grant with the UNDP Risk Management Program to help residents of southern Mexico recover from the impacts of COVID-19 expanded into a broader recovery and resilience initiative after the disasters of 2020. The initiative supports local efforts in beekeeping, food security and tourism that benefits small local businesses.
In the wake of the storms, a second grant, with the UNDP Small Grants Program (SGP), helps community-based organizations set up financial resilience funds. The SGP has been supporting seven local organizations in a process of imagining future needs and identifying ways to meet them. This is the first time the UNDP has focused its investment on building resilience funds, rather than implementing response actions, and it has done so with the leadership of Indigenous communities.
Sebastien Proust, the UNDP's national coordinator of the Small Grants Program, said working with community organizations on planning for climate change resilience is a process for which "there is no manual," because it has not been done before.
The result on the ground of the cluster of Yucatan Peninsula response funds is support for a vast array of grassroots initiatives that are strengthening livelihoods and natural systems in a way that is homegrown. Many are simply reinforcing traditional, local, Mayan agricultural practices.
While success lies in that local focus and leadership, the funding strategies could have a global impact.
"We feel that what we are learning there can be very useful for other communities around the world that are facing the climate crisis," Proust says.